Thomas Thornton's 14-Barrel Flintlock Volley Gun
Russ Chastain 06.09.20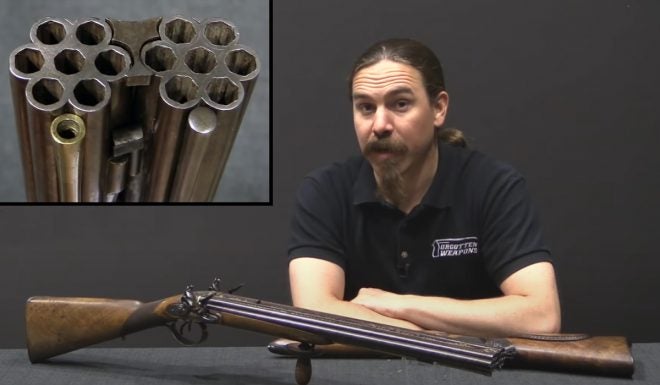 So you want a flintlock rifle, and you want more than one barrel. You also happen to have plenty of ye olde golde. What to do? Why, commission a 14-barreled rifle with two triggers, two locks, and two clusters of 7 rifled barrels of course.
The gun in question was more or less made as a symbolic piece, but it's certain that this is a well-made arm which was fully capable of being fired.
It was made in London around 1800 for Lt. Col. Thomas Thornton, who apparently harbored some resentment for a concerted effort by fellow officers to have him drummed out of the military, which explains the gold-filled writing on the barrel proclaiming "Perdition to Conspirators."
The fourteen 7-cornered polygonally-rifled twist steel barrels are roughly .30 caliber, and were probably intended to use non-round projectiles. Each trigger pull will fire 7 barrels.
This frightening assault flintlock has a vertical foregrip, which probably makes it illegal in some locations (derp).
When you're as well-to-do as Thornton obviously was, you don't load each barrel individually. Heavens no! Instead, you use your handy-dandy custom-made 7-chambered powder measure.
When he got tired of toting all 14 barrels about the countryside, he could slap one set of barrels into his second stock, which only holds one lock and one cluster of 7 barrels — and which is apparently of French manufacture.
I reckon Thornton was fond of the number 7.
Enjoy the video.