NEW Cerakote Desert FDE Finish for the Springfield Armory Hellcat 9mm
Adam Scepaniak 06.10.20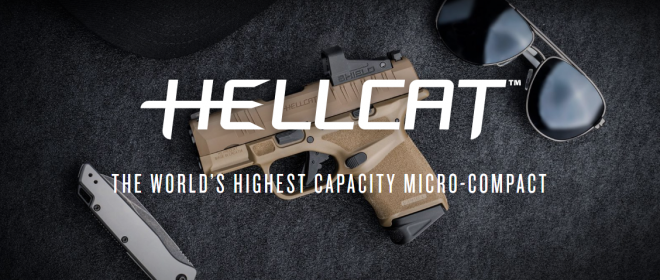 Springfield Armory has given their Hellcat 9mm a NEW Cerakote Desert FDE (Flat Dark Earth) finish as a new discreet color for carry. Now anyone who wants to use the world's highest-capacity micro-compact has two color choices to pick from: Black Melonite or Cerakote Desert FDE. The Hellcat 9mm being offered in a new color palette is not just an upgrade in curb appeal, but for many it can blend in better to their daily lives.
Many of us sport tan tactical pants like those from 5.11 Tactical on a daily basis, and even wear khaki colored shorts in the summertime. So, the NEW Cerakote Desert FDE Hellcat 9mm can be a great companion for carry in the hotter summer months. At the moment you have two options to pick from with that color:
For those who may not currently own a Hellcat 9mm or had the opportunity to shoot one yet, all of the traits from the original Black Melonite version carry over into the newer Cerakote Desert FDE model. All of those specifications can be read below as presented by Springfield Armory:
Caliber: 9mm
Magazines: One 11-Round w/ Finger Rest, One 13-Round Extended
Barrel: 3″ Hammer Forged Steel w/ a Melonite® Finish & 1:10″ Right-Hand Twist
Sights: U-Dot™ Tactical Rack Rear & Tritium/Luminescent Front
Frame: Desert FDE Polymer w/ Adaptive Grip Texture™
Slide: Billet Machined w/ a Cerakote Desert FDE Finish
Recoil System: Dual Captive Recoil Spring w/ Full Length Guide Rod
Overall Length: 6″
Overall Height: 4″ w/ Flush Mag, 4.5″ w/ Extended Mag
Overall Width: 1″
Weight w/ Empty Mag: 18.3 Oz w/ Flush Mag, 18.6 Oz w/ Extended Mag
Click here to read a full review of the Springfield Armory Hellcat by our own Russ Chastain.
As with all new releases from Springfield Armory, they are not only happy to provide this new offering to the public, but simultaneously proud. They are in tune to what their customers are clamoring for and a simple Cerakote finish like this is one iteration the public has been requesting. A simple Press Release from Springfield Armory can be read below elaborating more:
"GENESEO, ILL. (06/10/20) – Building on its strength as the highest capacity micro compact 9mm in the world since its launch in 2019, Springfield Armory® is proud to announce an exciting new variant of the Hellcat® in Desert Flat Dark Earth (FDE). It is being offered in both standard and OSP™ versions.

The Hellcat was an immediate hit upon its release late last year, offering shooters and CCW enthusiasts a paradigm-shifting combination of high-capacity and compact size as well as the ability to mount an optic. The result was a pistol that fully lived up to the mission statement established by Springfield Armory CEO Dennis Reese when he said, 'Every detail of the Hellcat has been shaped by a singular mission — to deliver the definitive concealed carry handgun.'"
For all of our CCW (concealed carry weapon) holders in the reading audience, what do you think? Have you personally had the opportunity to shoot or carry the Springfield Armory Hellcat 9mm? Would you dive in on this new Cerakote Desert FDE finish version? Let us know all of your thoughts in the Comments below! We always appreciate your feedback.
---
About Springfield Armory
In 1794, the original Springfield Armory began manufacturing muskets for the defense of our young, free Republic.  The Armory functioned as a firearms supplier for every major American conflict until 1968 when the government sadly closed its doors. In 1974, nearly two centuries after its inception, Springfield Armory Inc. in Geneseo, Ill. revived the iconic heritage of the Armory to carry on its legacy.
We strive to honor this responsibility as guardians of the original Springfield Armory legacy by manufacturing the highest quality firearms to enable responsible citizens to preserve their right to keep and bear arms in the defense of life, liberty and the pursuit of happiness.
With an unmatched emphasis on craftsmanship, performance and exceptional customer service, our mission is to forge superior firearms and provide the tools necessary to defend individual freedoms and equality for those who embrace the rights and principles secured by our Founding Fathers.  For more information, please visit us at: springfield-armory.com.