Federal Offers New Ammo for Waterfowl and Upland Bird Hunters
Terry Nelson 06.15.20

Federal Premium Ammunition, always a leader in new and innovative products for the shooter and hunter has released two new products. Just now being made available as of June 2020, these two shot shell offerings are sure to please waterfowl and upland bird hunters alike for the fall hunting season.
Black Cloud TSS 20 Gauge
Duck and goose hunters can now get the same performance in a 20 gauge they found in Black Cloud TSS 12 gauge. The new Federal 20-gauge load is a blend of No. 3 FLITESTOPPER Steel with No. 9 Tungsten Super Shot. More than double the density of steel and denser even than lead, TSS pellets maintain velocity further, hit harder and penetrate deeper according to a Federal Ammunition spokesman.
The TSS pellets make up 60 percent of the payload and the FLITESTOPPER steel pellets make up the remaining 40 percent. A raised cutting ridge encircling the exterior gives the pellets the ability to slice through feathers and flesh with little to no loss of penetration. Federal uses their FLITECONTROL FLEX wad and a reliable primer with clean, fast burning propellant. The end result of this new Federal 20-gauge load is, extending the effective range past 50 yards.
MSPR for Federal Black Cloud TSS 20 Gauge load is $38.99 for a 10-round box.
MeatEater Bismuth 12 and 20 Gauge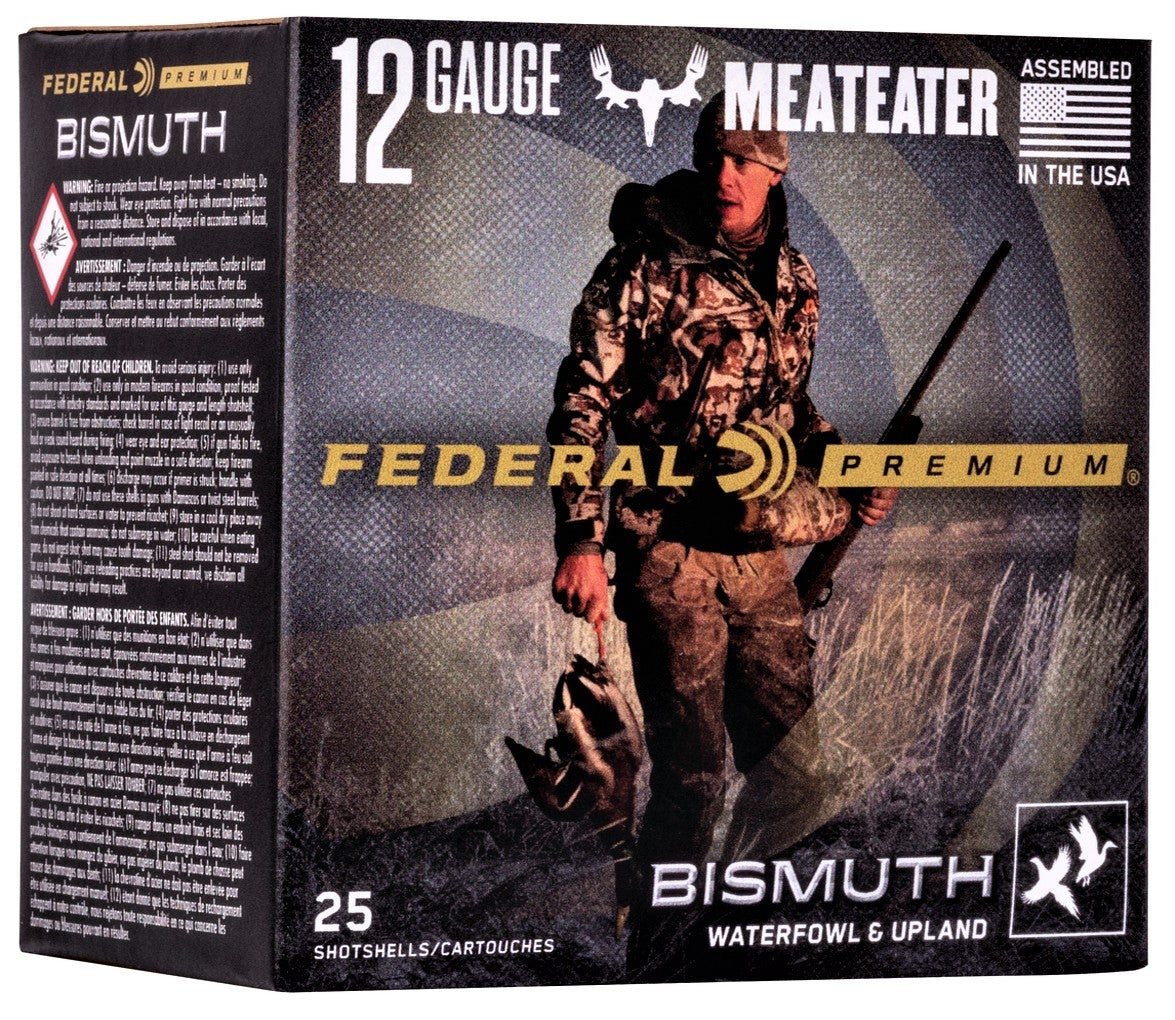 This new offering made especially for waterfowl and upland hunting brings back the performance of lead without the heavy metal. The MeatEater line of ammunition features high quality and density bismuth pellets. Offerings in this new line will come in 12-gauge, 3 and 2 ¾ inch shells while the 20 gauge will be offered in 3-inch shot shells. Shot size will be offered in 3, 4 or 5 shot.
Federal Premium Bismuth is softer than tungsten and steel therefore allowing use in older shotguns. In addition, bismuth is considered nontoxic meeting state and federal requirements for waterfowl hunting and in many cases upland bird hunting regulations. Federal MeatEater line of shot shells also uses the FLITECONTROL FLEX wad that as mentioned, tightens patterns for greater range and lethality.
MSRP for Federal MeatEater Bismuth is $71.99 for a 25-round box.
Both of these new offerings from Federal ammunition have begun to arrive at dealers and are coming up on the Federal Premium website. Federal has been is the ammo business for over 100 years now and continues to bring products to shooters that produce quality results. I would say that record speaks for itself.