Multiple Sighting Products Already Online for Taurus G3c Pistol
Eve Flanigan 06.18.20

On June 15, Taurus announced the release of the G3c, a compact version of their G3 pistol, with clone-like resemblance to their G2 carry gun. On the same day, numerous companies sounded off regarding accessories for the pistol—a surprisingly speedy industry response.
Sighting systems are one of the most popular aftermarket purchases for defensive pistols, and with good reason. Aiming responsibly is a tenet of gun safety. Whether it is for the G3c or other handgun, products like those presented here can customize a gun to make it more functional for its owner. While replacement sights and lasers represent a significant expense in comparison to the G3c, sights are a long-lasting investment and deliver great value to improve both confidence and accuracy.
Here is an overview of offerings announced on the aiming device front. Companies represented are Truglo and Viridian.
Truglo
Truglo Tritium Pro in darkness
Based in Texas, Truglo has a good selection of sights suitable for the G3c. These include:
Tritium Pro Orange – Similar to TFX Pro, with orange highlighted front sight
Tritium Pro White – TFX Pro sights with white contrast on front sight. Available in standard and tall heights
Tritium – Standard three-dot tritium sights in CNC-machined steel housing
Fiber Optic – Contrasting green rear/red front fiber optic sightsTruglo Tritium Pro in daylight
Truglo products can be found through dealers, and thorough product information is available on the company website.
Viridian
The E-Series by Viridian is a trigger guard-mounted, red laser. It fits many Taurus models including the G3c. It's housed in polymer and has a laser with a purported range of up to 25 yards in daytime and one mile in darkness.
After an easy clamshell-style installation using two screws and a provided Allen wrench, the laser is operated via on-off push button (located on both sides for ambi convenience). It is adjustable for windage and elevation and has a five-minute shutoff function to save the (included) battery. Viridian says the red beam will work for up to six hours of constant use. The E-Series laser can be ordered direct with free shipping for $132.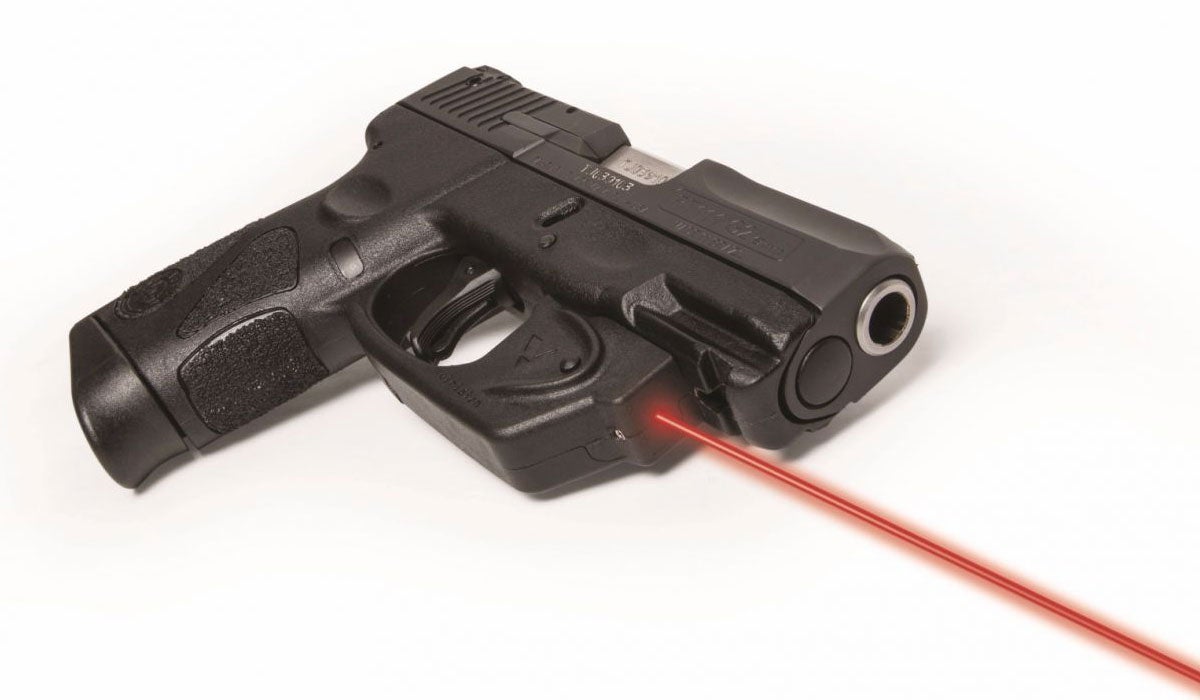 May your aim be ever true.