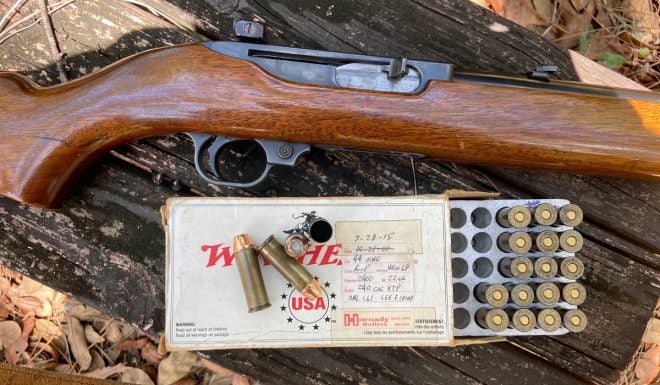 This past Father's Day, I found myself somewhere my late father would've loved: an off-grid hunt camp deep in the swamps of Levy County, Florida. I was there to visit with friends, have a lot of laughs, and hopefully slay a pig with the first centerfire rifle I ever carried in the woods: a Ruger 44 Magnum Carbine.
It all began for me at age 13, when I was allowed to hunt deer with something larger than the little double barrel 410 shotgun I'd been using up until then. I don't guess I'll ever forget the way Dad showed me how to use the gun, especially the loading and unloading. This was an early model without the magazine release button, so you have to run each cartridge through the action in order to unload the magazine.
Dad showed me, and then had me load and unload the gun as he watched. Then he made me do it again. And again. And again. I don't recall just how many times he made me repeat the actions, but it was a lot, and almost 40 years later that moment remains one of my most-important hunting memories.
I loved the little rifle, with lines Bill Ruger had obviously borrowed from the M1 Carbine. The simple stock is well-designed, which is a good reason Ruger kept the same overall appearance when he conjured up the 10/22 some years after the Model 44 was born.
With an overall length of just 37 inches and an 18-inch barrel, the compact 44 magnum had already proven deadly, and by the time I started carrying it Dad had brought home 3 deer and 5 hogs with it, and no telling how many squirrels and rabbits it beheaded over the years. To date, I have used it to slay 14 deer and several swine.
Its short length and low weight of 6.4 pounds unloaded (6.7 with the pictured leather sling), even a skinny kid like me could tote it easily.
The sights were superb for my young eyes, because the Williams peep sight Dad had mounted to the rear of the receiver pairs perfectly with the rugged and sensible front sight, which Ruger unfortunately discontinued shortly after this one was made in 1962.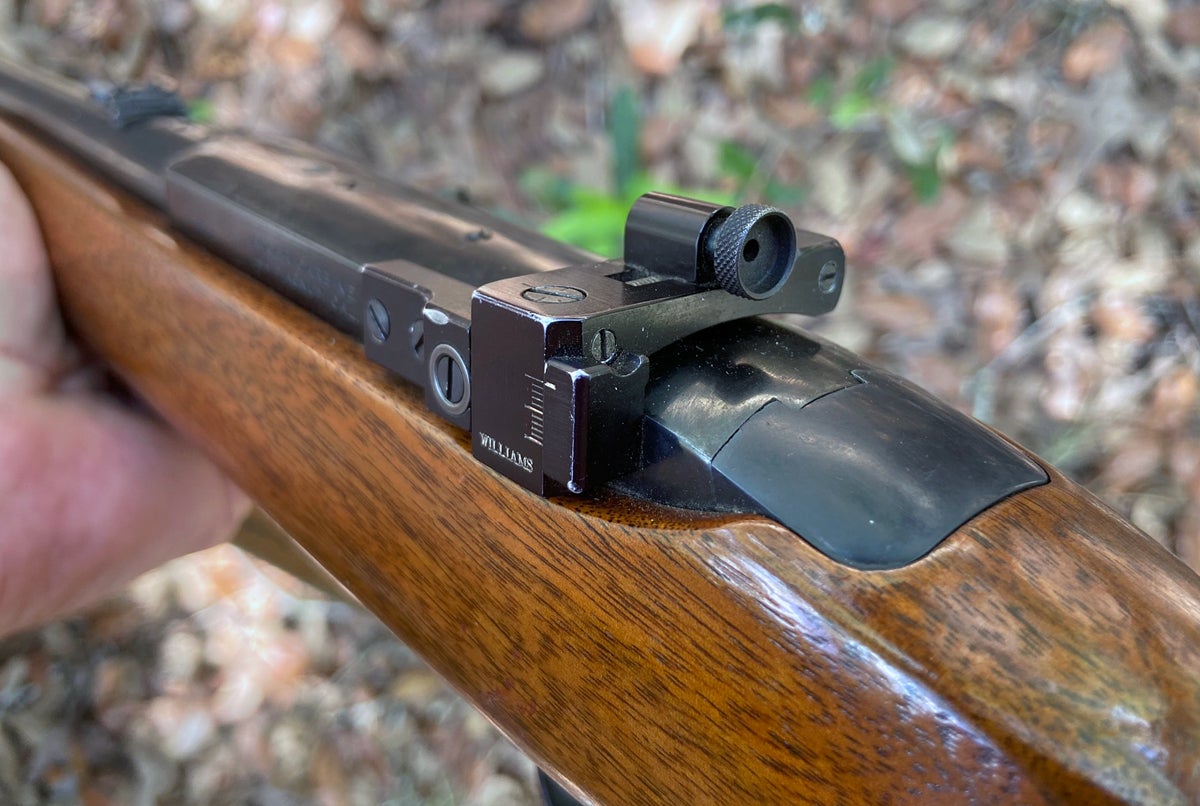 I will never understand why Bill Ruger got rid of the superb front sight and replaced it with the wimpy version used on most 44 carbines as well as 10/22s, that skinny thing with the brass bead that's easily broken off.
Anyhow, back to my youth: I was deeply in love with the rifle, which was of course not mine at the time… officially. One day, the klutzy teenager that I was managed to clobber the stock with part of a metal tree stand, gouging the wood deeply. Oh, the horror!
Awash with fear and self-loathing, I hiked to the truck with the marred rifle. Dad was waiting there, and I wasted no time 'fessing up and apologizing. I'm pretty sure I burst into tears, as un-manly as that may seem.
Dad looked at me and asked, "Well, did you learn anything?"
"Yessir."
"What?"
"To be more careful, put the gun farther away when I'm handling the stand."
"Okay then."
And that was that.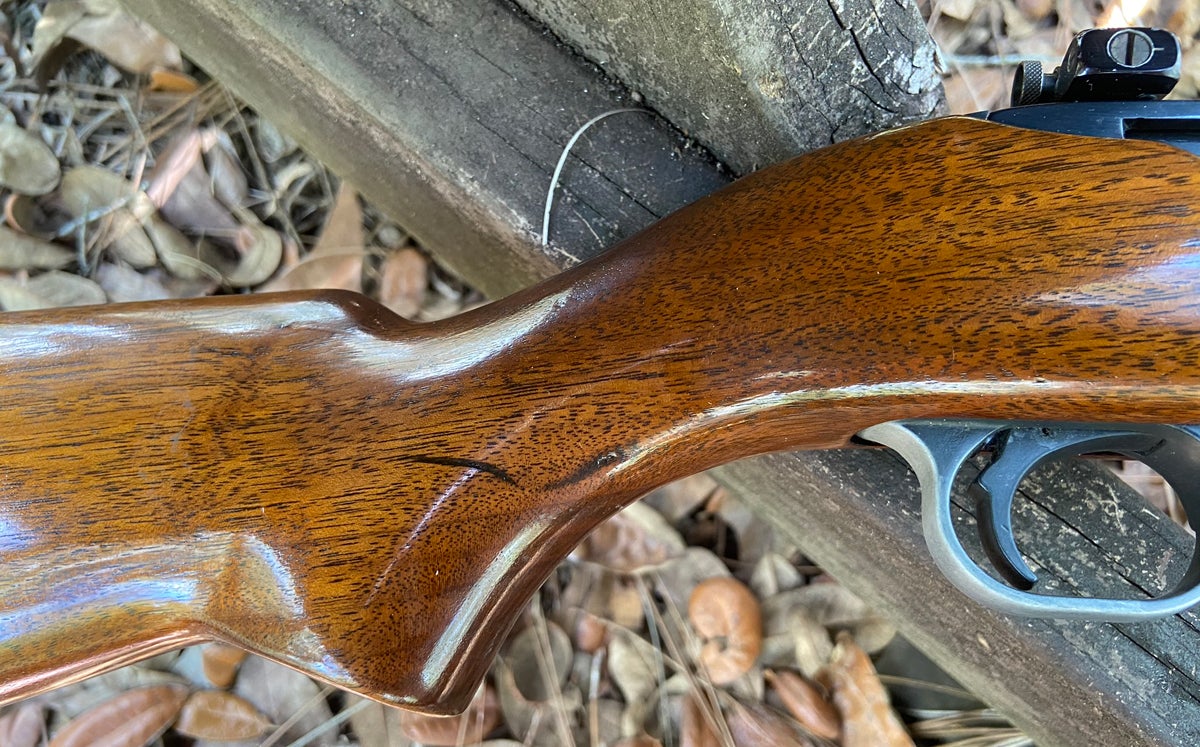 After the gun became mine I refinished the stock, and years later refinished it again… and although I sanded the stock lightly after stripping off the old finish, I couldn't stand to remove all the wood necessary to fully erase the damage, so it remains as a reminder of youthful ineptitude and fatherly forgiveness.
As the years progressed and my hunting skills came into existence, I put many miles on the little carbine… so many that the rear of the trigger guard is devoid of the original black finish, and much of that finish is missing from the remainder of the trigger guard & magazine well area. Every bit of that wear is from hand wear or from riding on my shoulder.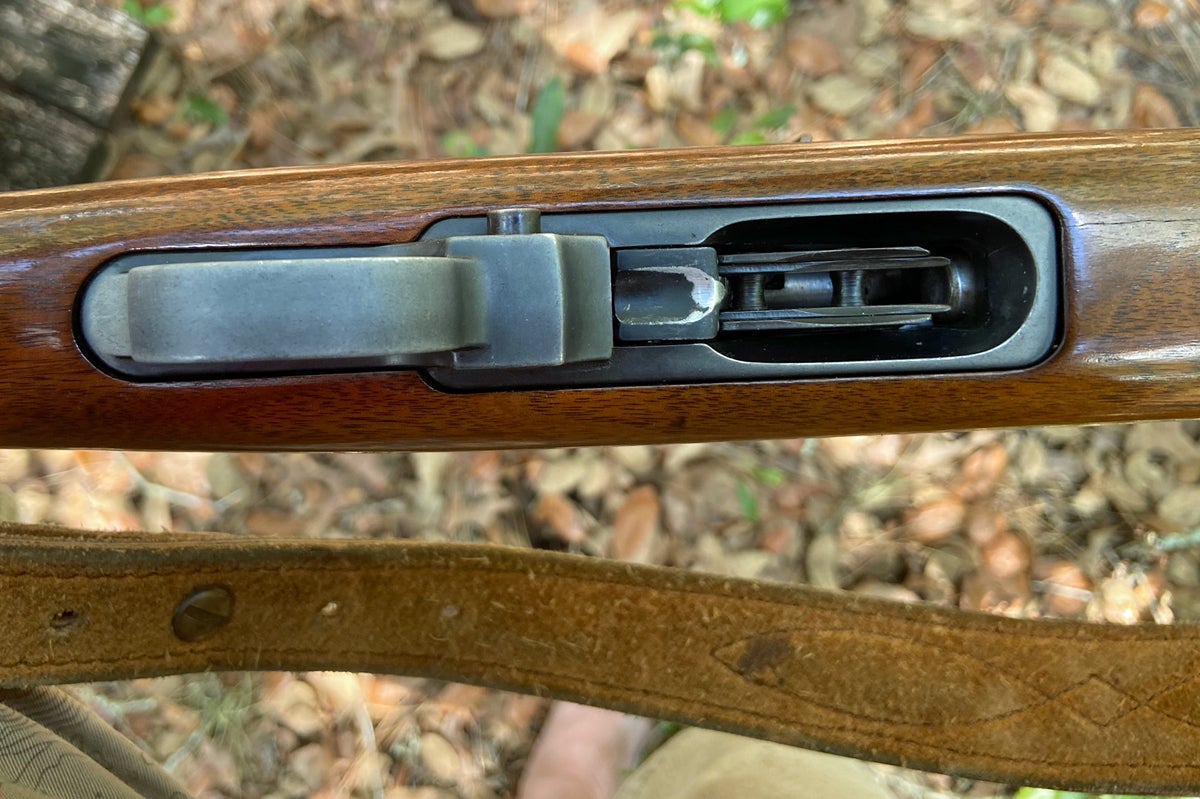 Early on, Dad came home with an old shotgun he'd picked up somewhere. It wore a suede sling with which I immediately fell in love, and I glommed the sling then & there. Thereafter, this rifle and that sling simply went together, and an original set of Uncle Mike's QD sling swivels made it easy to remove the sling in the tree stand so it didn't flap in the breeze and alert critters of my presence.
Dad loved the 44 carbine so much that he bought another one for himself to hunt with. We took care of our rifles, but we also used them. This meant they lost bluing and other bits of finish over the years. Dad refused to mourn deeply over such things, dubbing them "character marks."
In the early days I hunted with ammo Dad had reloaded, always with 240-grain jacketed bullets except for the few 250-grain Hambrick half-jacketed bullets I used for a year or two. After a decade or so I needed more ammo, and found great success with Winchester "white box" factory ammunition with 240-grain jacketed soft point bullets.
Years later I got some reloading gear and started building my own hunting ammo, like this current batch of groceries consisting of Remington brass, Winchester primers, 22 grains of 2400 powder, and 240-grain Hornady XTP bullets, which brings me back to the present, or more accurately yesterday.
Father's Day.
My buddy Henry and I were visiting the aforementioned hunt camp, owned by our mutual friend Gary. A good time was had by all, and especially by me when I used my handy-dandy 44 carbine, which had been purchased and blooded by Dad before he generously passed it on to me, to kill a nice little hog.
Before and after — especially after — my companions and I had an awful lot of fun. All in all, it was one of the best Father's Days I've had. My father wasn't there physically, but his presence was all around us, in the skills and humor he'd instilled in me as well as the physical tools he'd given me. Like my first hunting rifle, the 44 carbine.
Thanks, Dad.