The Ruger New Model Super Blackhawk 44 Magnum Revolver
Russ Chastain 06.25.20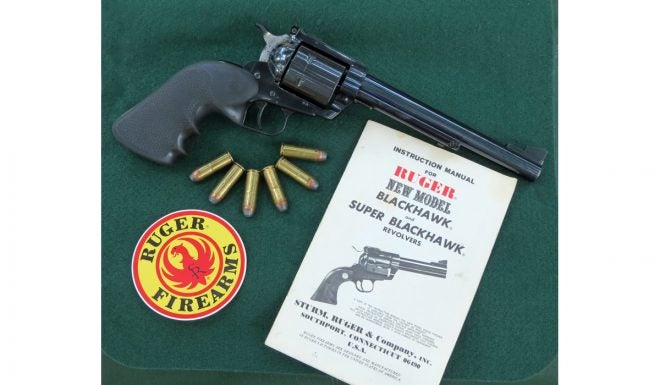 We've been talking Ruger 44 magnums lately, so why not keep it going? Here's a look at a New Model Super Blackhawk single action revolver chambered for 44 Remington Magnum.
Ruger's first centerfire handgun was the Blackhawk, introduced in 1955 to great success. One year later the 44 Remington Magnum made its entrance, and the first single action revolver available for that round was Bill Ruger's Flat Top Blackhawk 44. The 44 mag was a bit much for the Blackhawk's frame, and a few years later that chambering moved to a beefed-up wheel gun dubbed the Super Blackhawk.
Fast-forward to 1973, when William Batterman Ruger, ever the tinkerer, decided to overhaul his single action designs to make them safer by preventing the hammer from ever touching the firing pin directly. Another notable feature is that no movement of the hammer is required to load or unload the redesigned revolvers, because the loading gate itself releases the cylinder when opened.
These new versions were called "New Model" and were met with both cheers and jeers by handgun lovers; cheers because now they could more safely carry a single action revolver with a full load of 6 rounds in the cylinder, and jeers because the trigger pull was not as nice and the cylinder indexing can make loading and unloading a pain the butt.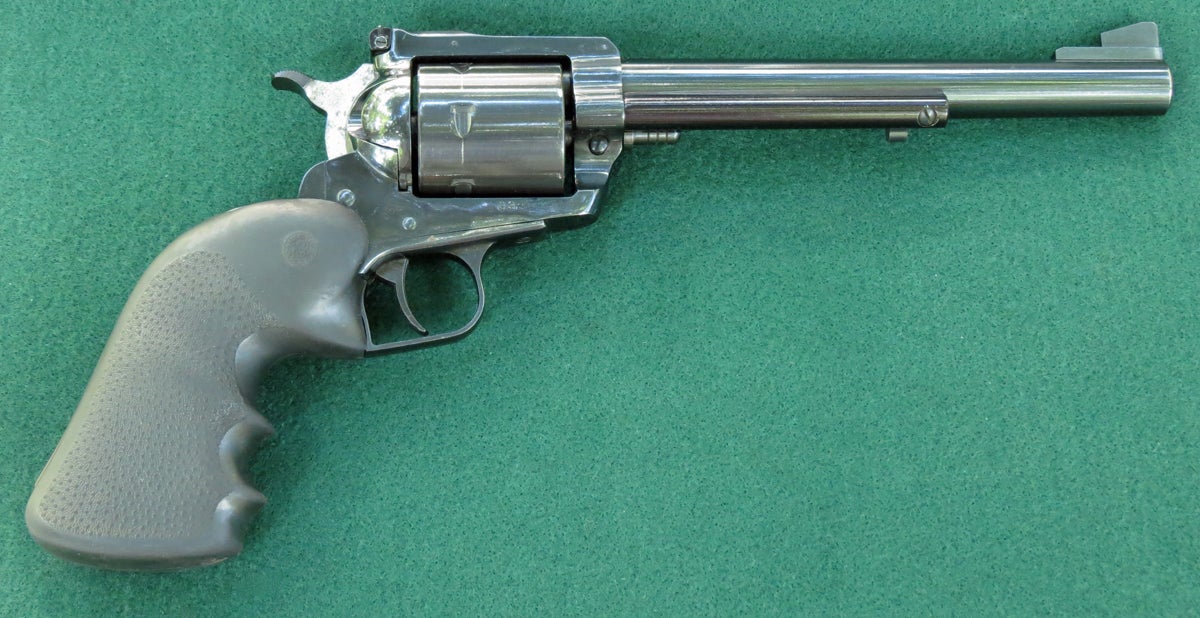 This particular one has a 7.5-inch barrel and was made around 1981. This was one of my first firearm purchases ever, and it's been good to me, although I have never taken any big game with it.
The ejector rod housing is made of aluminum alloy rather than steel, but most of the metal on this popper is ferrous. The only marking evident on the right side is the serial number, stamped at lower right portion if the frame.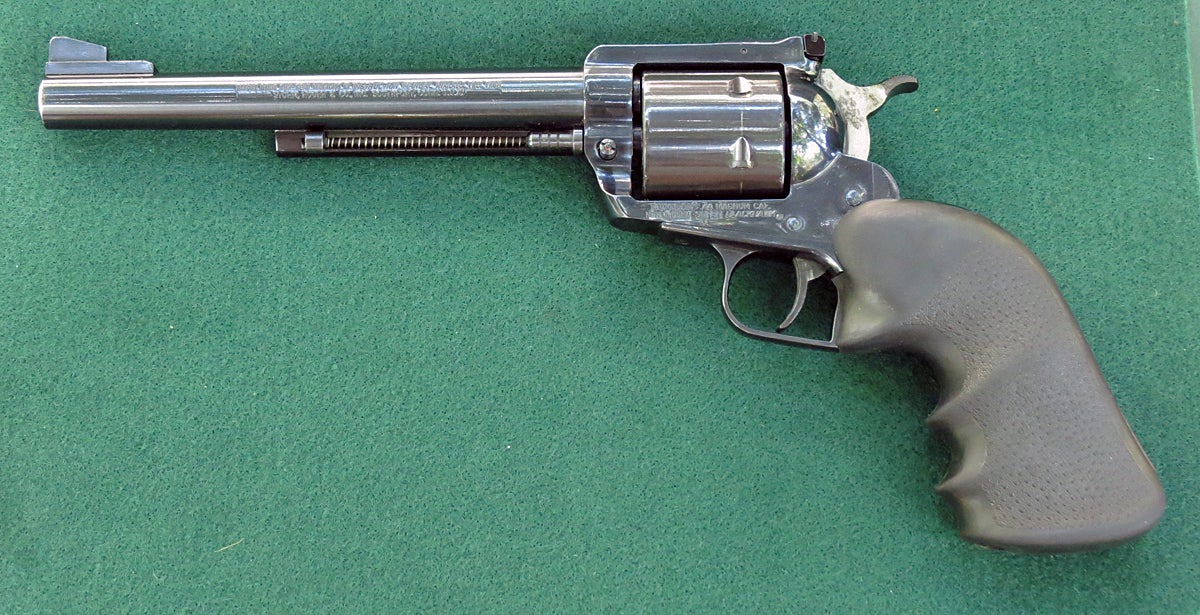 Most of the markings are on the left side of the New Model Super Blackhawk, like so:
Left side of barrel:
BEFORE USING GUN-READ WARNINGS IN INSTRUCTION MANUAL AVAILABLE FREE FROM
—–STURM, RUGER & CO., INC. SOUTHPORT, CONN. U.S.A.—–
Left side of frame:
RUGER .44 MAGNUM CAL.
NEW MODEL SUPER BLACKHAWK
(in various fonts)
Interestingly, the Ruger "phoenix logo" is not marked on this gun, although it was on the metal inserts in the tiny factory wood grips.
If you look closely, you'll notice the frame and barrel are a different color than the cylinder. This is most likely due to different steel alloys reacting differently to the bluing salts when the metal parts were finished.
Ruger always used itty-bitty walnut grip panels on its single action revolvers; grips which I dislike to the extreme. Therefore, I started hunting for new grips just as soon as I got this revolver. Fortunately, I found this Hogue Monogrip early in my search, and it was thus over. I've been pleased with it, although I have little or no positive feeling for the Hogue company or its other products.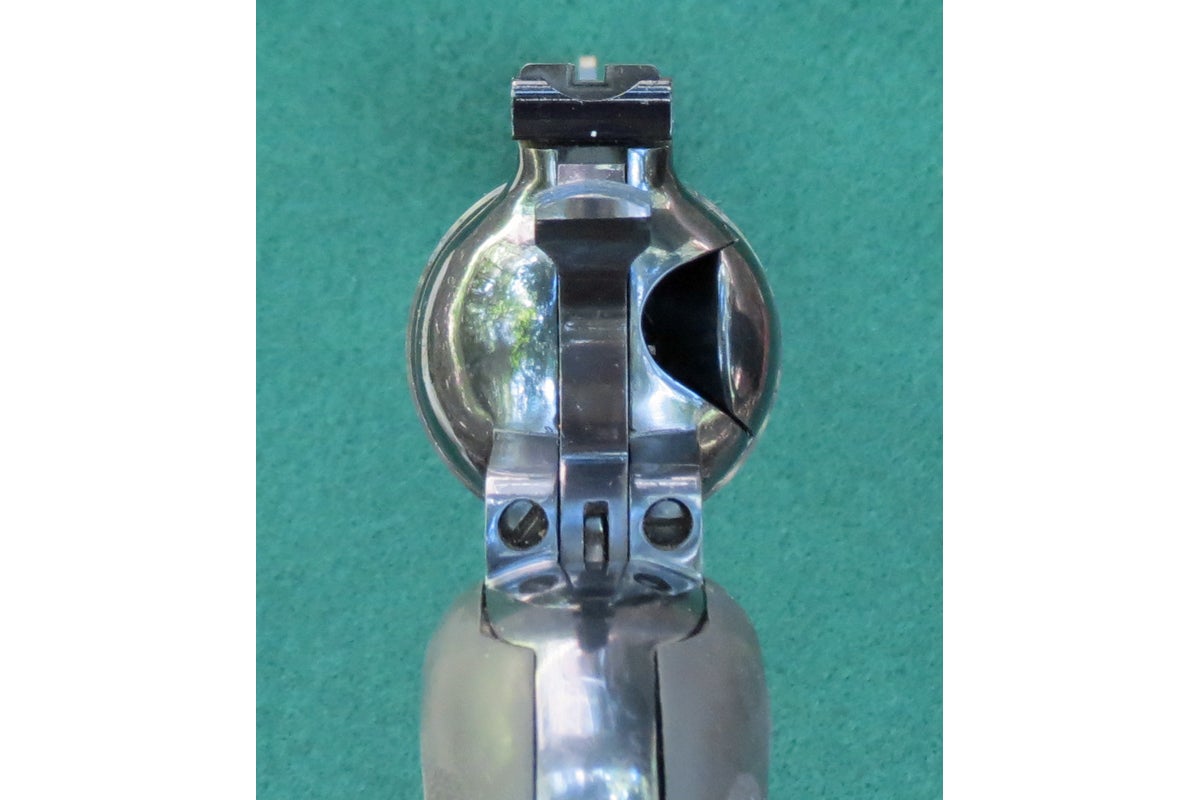 The sights on this revolver are sturdy and useful. The rugged all-steel front ramp sight appears to be soldered to the barrel, while the fully-adjustable rear sight seems to be of Ruger's own manufacture as a more-or-less imitation of the Micro brand sights used on earlier Blackhawks. It is mounted in a recess milled into the top of the frame — and the raised portion of the frame illustrates the difference between most Blackhawk frames and the old "Flat Top" versions.
While I prefer the Flat Top Blackhawk 44 I'm blessed to own, this New Model gun does have some better features. One is the nice wide hammer spur, which has a good grooved top surface to aid in cocking. Another is the wide comfortable grooved trigger.
Those are two of the things which make this Blackhawk "Super" rather than being "just" a Blackhawk. Other Super features include a larger grip frame, an unfluted cylinder, and a square-back trigger guard.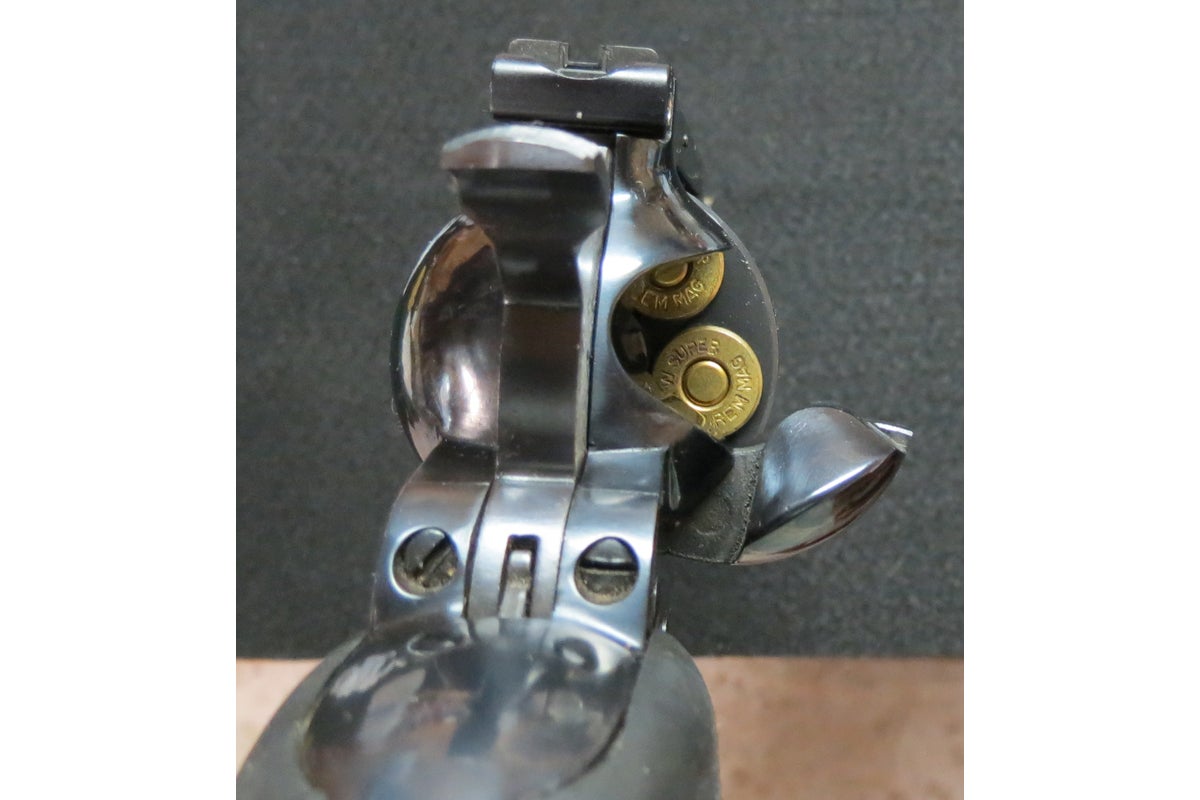 Since it's a pet peeve I might as well talk a little more about the indexing of the cylinder, meaning the position in which it comes to rest as it's rotated. New Model Ruger revolvers index the cylinder in such a way that each chamber fails to line up with the frame opening that's normally filled by the loading gate. This requires the user to use his or her fingers to stop the cylinder in between its index positions in order to load or unload it.
This is, in my opinion, ridiculous at best. It's simply poor design, and in light of that it's a bit unusual that Bill Ruger never corrected it, considering his penchant for changing things.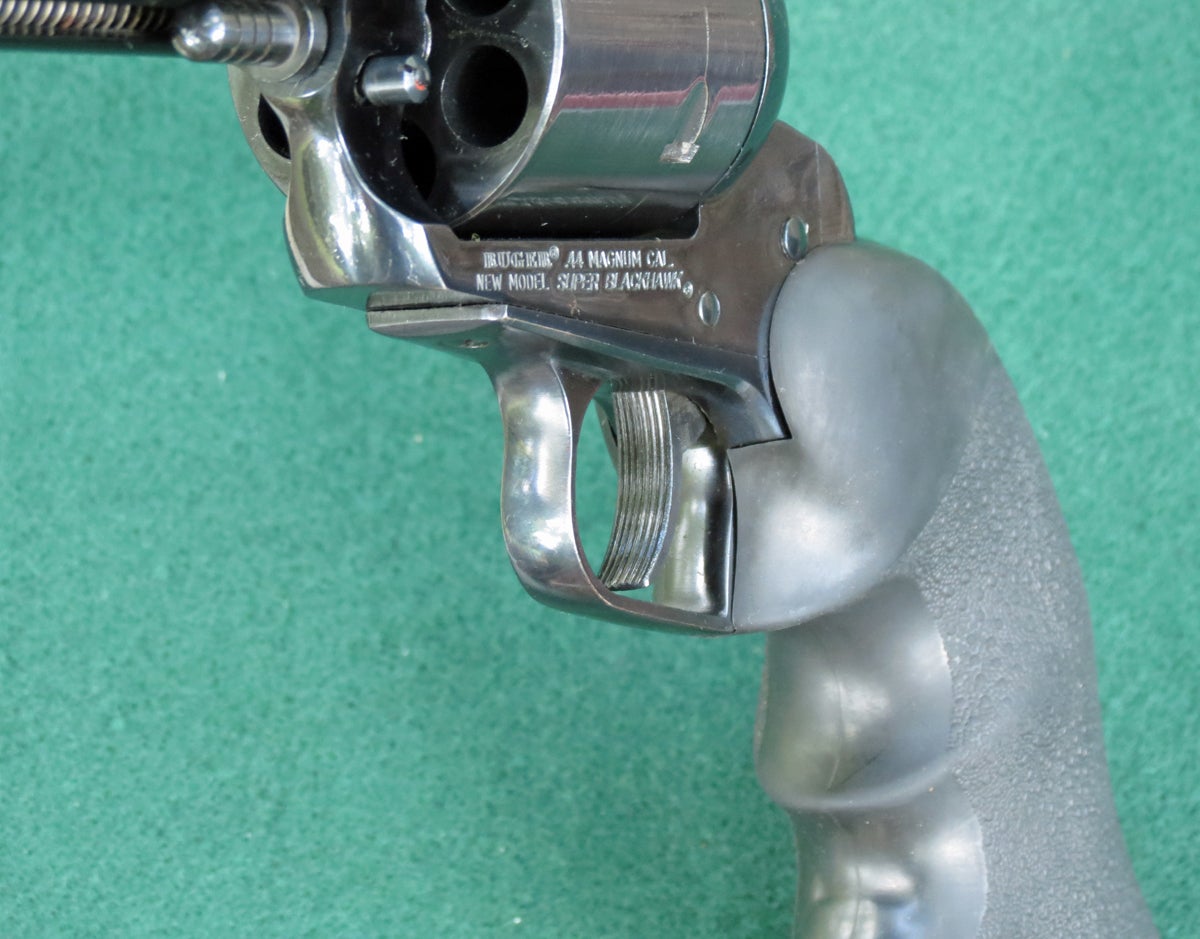 As I mentioned earlier, I'm a fan of the Super Blackhawk's trigger. It's nice and wide, has vertical grooves to give it some texture, and it's located in the middle of the frame — unlike Blackhawk triggers, which are off-center, skinny, and slick.
This one's trigger pull is not awful, with a pull weight of roughly 3.3 pounds but with enough creep to make one long for an old model.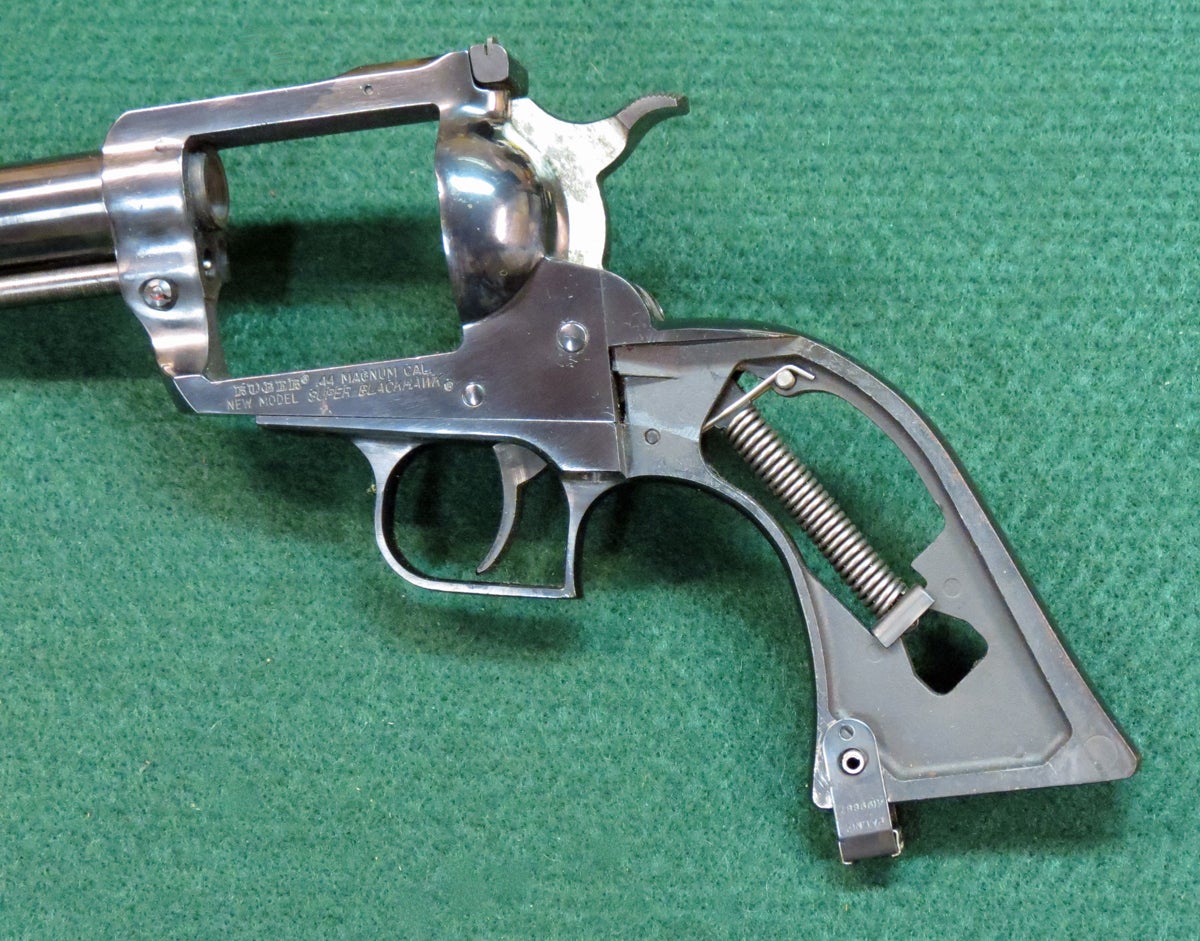 With the six rounds of 240-grain JSP ammo shown at the top of this page and with this Hogue grip, this handgun weighs 3.43 pounds. It's a solid beast built for strength, not comfort.
The 7.5-inch barrel length seen here is probably the most popular length for the Super Blackhawk, which is fully capable of digesting a steady diet of heavy loads.
Conclusion
If you want a tough and reliable single action revolver with a long track record of actual service afield, look no further than the Ruger New Model Super Blackhawk. The 44 magnum cartridge is perfectly capable of bagging big game and defending one against dangerous animals with 2 or 4 legs.
This Super Blackhawk shoots very well, and has never failed me.