Jerry Miculek vs. Bump Stock: Which is More Dangerous?
Russ Chastain 06.26.20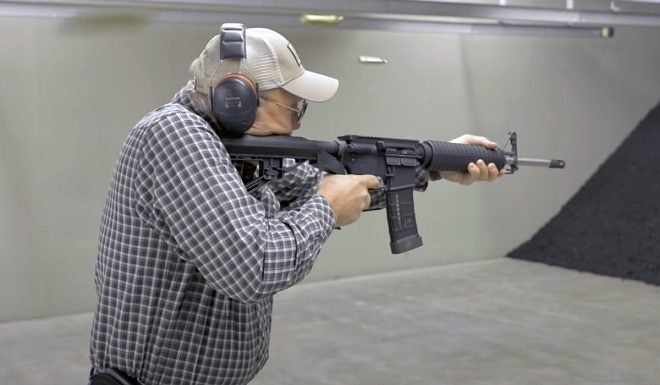 Here's a video Jerry Miculek uploaded a while back, which was spurred because his super-fast trigger finger was reportedly cited in a lawsuit as an example of the futility and idiocy of banning bump stocks.
Jerry says he'd never used a bump stock before and wanted to see what all the yakking was about. He borrowed one from a friend and went to the range to "race it against his finger."
He gets off to a slow start, although during the first mag he does get off a few "bursts."
"Well I can see it's gonna take a little bit of practice. It goes against all my fundamentals of accuracy and control of the firearm… it's gonna be a challenge."
Sadly, his bump-stock-equipped AR didn't cooperate with him. But then he lays it aside and grabs one of his competition rifles and places two shots on each of three targets in less than one second.
The man is a machine.
What's it prove? Mainly that Jerry Miculek is way more dangerous than any bump stock! But he's got nothing against them.
"If you like to go out and giggle and shoot fast… hey that's up to you."
Yep.