Florida Sheriff Vows to Deputize Every Lawful Gun Owner in his County
Russ Chastain 07.02.20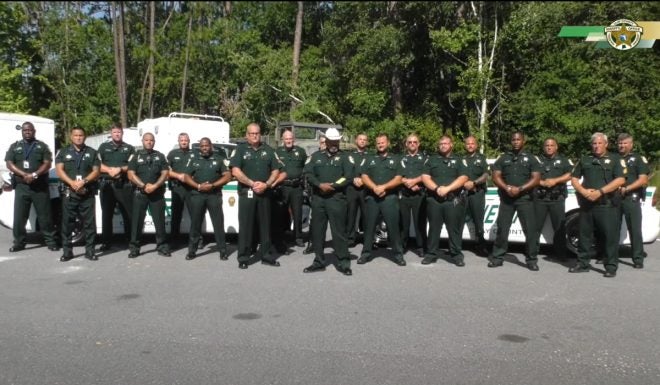 Remember last month when I said police cannot protect homes and businesses from violent criminals? I'm referring to the type of criminals who choose to "demonstrate" by way of destruction of property and assault during the riots of late. Well, one Florida sheriff has reportedly admitted that — but has also gone farther by announcing his intention to deputize every gun owner in his county!
The location was Green Cove Springs, Florida, a formerly-sleepy waterfront town not far south of Jacksonville (and considered one of its suburbs) and the county seat of Clay County.
Sheriff Darryl Daniels, who is himself black, opens the video by discussing his department's oath, which ends with the words, "So help me God." He then goes on to say this:
"God is absent from the media's message, or Black Lives Matter, or any other group out there that's making themselves a spectacle, disrupting what we know to be our quality of life in this country.

"In Clay County, we have a great quality of life…

"Lawlessness: That's unacceptable in this country… in Clay County. And if you threaten to come to Clay County and think that for one second that we'll bend our backs for you, you're sadly mistaken."
The white-hat-wearing sheriff says he and his department will "stand in the gap between lawlessness and the good citizenry that we're sworn to protect and serve."
Peaceful protests and peaceful marches are just fine of course, but "the second that you step out from up under the protection of the Constitution, we'll be waiting on ya — and we'll give ya everything you want: all the publicity, all the pain, all the glamour and glory for all that five minutes will give you."
"Is this a threat? Absolutely not. But somebody has to step up in front of the camera and say, 'Enough is enough.'

"Tearin' up Clay County, that's not gonna be acceptable; and if we can't handle you, ya know what I'll do? I'll exercise the power and authority as the sheriff and I'll make special deputies of every lawful gun owner in this county and I'll deputize them for this one purpose: to stand in the gap between lawlessness and civility.

"That's what we're sworn to do, and that's what we're gonna do.

"You been warned."
Stay safe out there, folks. Here's the video if you'd like to watch for yourself.