Springfield Armory Hellcat 9mm Devours 20K Rounds… and is STILL Hungry
Adam Scepaniak 07.02.20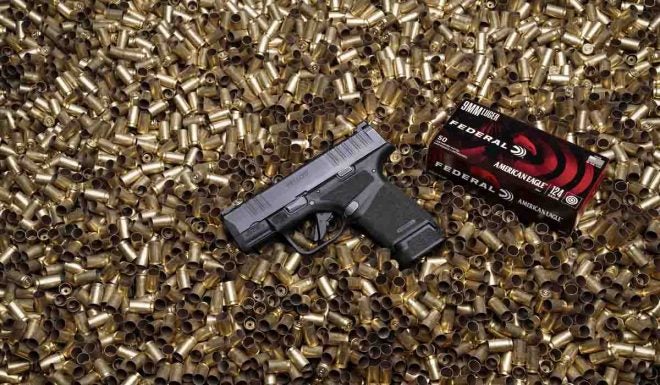 The Springfield Armory Hellcat 9mm has experienced a meteoric rise to popularity after being released roughlyone year ago as the world's highest-capacity micro-compact pistol. While capacity is a high priority for most concealed carry holders, reliability always trumps capacity. So, Springfield Armory took one Hellcat 9mm at random and laid a gauntlet of 10,000 rounds before it last fall and it chugged through them like it was an appetizer. That brutal, single-day range session was thoroughly documented HERE on TheArmoryLife.
While a round count of 10,000 rounds is nothing to sneeze at it is very possible some shooters may launch even more lead down range throughout the ownership of their pistol. So, with that in mind Springfield Armory recently upped the ante. They worked with Federal Premium  and Action Target™ to shoot another 10,000 rounds through the same pistol as before! That endurance test can be witnessed HERE once again on TheArmoryLife.
For Round 2 of endurance testing Paul Carlson, owner of Safety Solutions Academy, was recruited to document every round fired. Carlson is a respected self-defense and personal-protection trainer, but a task this daunting merited the help of some friends so he brought along a team of shooters who helped him push the 10K round Hellcat (serial # AT234795) all the way through to 20K rounds total!
Over the span of a single 10-hour day, Carlson and his team of shooters discovered — and proved — what Springfield Armory already knew: that the Hellcat possesses durability and strength beyond anything that should ever be reasonably expected from a micro 9mm. Steve Kramer, the Vice President of Marketing at Springfield Armory, shared his own thoughts on the experience:
"We are very proud to see that the Hellcat once again proved its dominant position in the market as the finest and most durable micro 9mm available. Carlson's test held the Hellcat to a very high standard, and it once again showed that the pistol has what it takes to deliver the performance and capability concealed carry users should demand."

For many people, it might not come as a surprise at all that the Springfield Armory Hellcat 9mm was able to achieve this 20,000 round endurance test. As of right now, shooters have their choice of the Hellcat 9mm in 6 different configurations between different colors, iron sights, and the option of an OSP (Optical Sight Pistol) model. All of those can be read below along with their associated price-points:
Hellcat 3″ Micro-Compact Handgun w/ Fiber Optic Sight | HC9319BFO | MSRP $569
Hellcat 3″ Micro-Compact OSP Handgun w/ Fiber Optic Sight | HC9319BFOOSP | MSRP $599
Hellcat 3″ Micro-Compact Handgun | HC9319B | MSRP $569
Hellcat 3″ Micro-Compact OSP Handgun | HC9319BOSP| MSRP $599
Hellcat 3″ Micro-Compact Handgun FDE | HC9319F | MSRP $610
Hellcat 3″ Micro-Compact OSP Handgun FDE | HC9319FOSP | MSRP $643
With that many options and color schemes to choose from, you can have a reliable yet stylish concealed carry pistol that is unique from all of your range buddies who may also own one. Dennis Reese, the CEO of Springfield Armory, had no doubt in his mind when starting this endurance test that the Springfield Armory Hellcat 9mm would come out on top and he elaborated those thoughts in the comments below:
"No one would ever expect a micro-sized pistol intended for CCW to be subjected to such an incredibly demanding test, but we never doubted the Hellcat would come out on top. Quality is our number one priority and it always will be, and the Hellcat proved that during this test. We'll be watching as it continues to prove itself for the next 10K rounds, and beyond."
As stated earlier, the Springfield Armory Hellcat 9mm burst onto the scene turning heads for its incredibly high capacity in a micro-compact frame, but now it is carving out its legacy in the industry through its reliability. You can read an AllOutdoor review of the Hellcat here.
For everyone in the reading audience, have you shot a Hellcat 9mm yet? Do you own one? Let us know all of your thoughts in the Comments below! We always appreciate your feedback.
---
About Springfield Armory
In 1794, the original Springfield Armory began manufacturing muskets for the defense of our young, free Republic.  The Armory functioned as a firearms supplier for every major American conflict until 1968 when the government sadly closed its doors. In 1974, nearly two centuries after its inception, Springfield Armory Inc. in Geneseo, Ill. revived the iconic heritage of the Armory to carry on its legacy.
We strive to honor this responsibility as guardians of the original Springfield Armory legacy by manufacturing the highest quality firearms to enable responsible citizens to preserve their right to keep and bear arms in the defense of life, liberty and the pursuit of happiness.
With an unmatched emphasis on craftsmanship, performance and exceptional customer service, our mission is to forge superior firearms and provide the tools necessary to defend individual freedoms and equality for those who embrace the rights and principles secured by our Founding Fathers.  For more information, please visit us at: springfield-armory.com.