Utah Encourages Hunting of Invasive Bullfrogs (No License Needed)
Luke Cuenco 07.03.20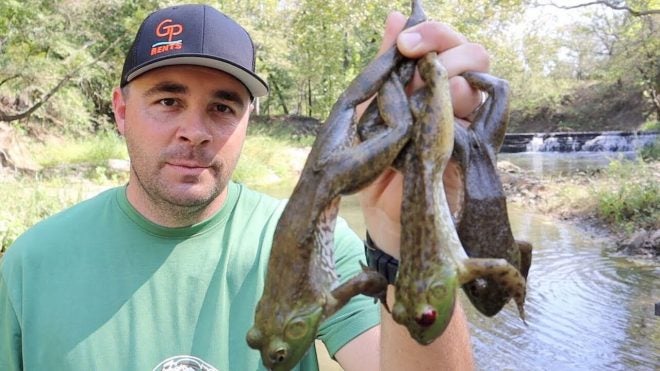 The state of Utah has declared open season on an invasive species of bullfrog and is actively encouraging people to hunt them to combat the growing population. The Utah Division of Wildlife Resources (DWR) has even gone as far as to allow the hunting of these gigantic bullfrogs without a hunting license.
In a tweet on June 24th, 2020 the DWR officially stated that people could catch as many as they wanted and provided a link to a blog post with tips on catching and cooking them.
These bullfrogs are purported to be as large as 8 inches and weigh up to 1.5 pounds. The bullfrogs are normally native to eastern parts of the United States, most notably in the marshes of the Great Salt Lake. According to the DWR, it is unclear when the bullfrogs first arrived in Utah, but they do note there have been breeding populations of the frogs since the early 1970s.
Typically you would use fishing gear to hunt for the frogs (often called frog gigging), but some hunters will opt to use archery equipment while bowfishing to snag some bullfrogs (bowfrogging). Ja Eggett, the supervisor of the Lee Kay Public Shooting Range Facilities and Grounds explains in detail how to find, catch, and cook them in his blog post on the DWR website:
"Most of the ponds and marshes along the Wasatch Front contain bullfrogs. A quick evening trip and some listening will reveal if you've found a spot where bullfrogs are present. They breed from late spring through early summer, during which time you'll hear males call together in a chorus. Bullfrogs are typically green or gray-brown with brown spots and have easily identifiable circular eardrums — or tympanum — on either side of their heads. Based on how much they have spread, I think you could find them in many locations throughout the state."
Ja goes on in his article to warn potential hunters that it is illegal to transport the frogs while they are still alive. Dues to the invasive nature of the bullfrogs, transporting live ones increases the risk they will spread even further. There is no limit and no season for bullfrog in Utah and a license is not required to catch them, but Ja recommends that you have a fishing license with you if you inadvertently catch a fish to avoid any legal trouble.