AllOutdoor Review: Springfield Armory SAINT Victor B5 5.56mm NATO
Adam Scepaniak 07.05.20

Springfield Armory has been producing high-quality, modern sporting rifles for quite a few years now. If you want an actual SBR (Short-Barreled Rifle) or simply an AR rifle or pistol, they have got you covered. While most people would agree that they burst onto the scene with some good quality offerings there is always room for more. A tiny inkling to tweak and make things better, and that is where the SAINT Victor B5 variant comes in.
This is a new permutation of the SAINT Victor rifle now offered by Springfield Armory and we recently had the opportunity to test one out. So, in this AllOutdoor Review we take a look at the NEW Springfield Armory SAINT Victor B5 5.56mm NATO AR-15 Rifle and see how it holds up!
Specifications: Springfield Armory SAINT Victor B5 5.56mm NATO
The Springfield Armory SAINT Victor B5 rifle is very similar to most of the previous offerings through the SAINT Victor line of firearms. The key differences are in the B5 Systems upgrades to various pieces on the rifle. This includes most notable the stock, pistol grip, trigger guard, and handguard. The complete specifications for this rifle can be read below as presented by Springfield Armory:
CALIBER: 5.56x45mm NATO (223 REM)
BARREL: 16″ CMV, Melonite®, 1:8
SIGHTS: Low Profile Spring-Loaded Adjustable Flip-Up
UPPER RECEIVER: Forged 7075 T6 Aluminum, Type III Hardcoat Anodized, Forward Assist, M4 Feed Ramps
LOWER RECEIVER: Forged 7075 T6 Aluminum, Type III Hardcoat Anodized, Accu-Tite™ Tension System
BOLT CARRIER GROUP: Enhanced M16 w/ 9310 Steel Bolt, HPT/MPI, Melonite®
GAS SYSTEM: Direct Impingement Mid-Length, Low-Profile Pinned Gas Block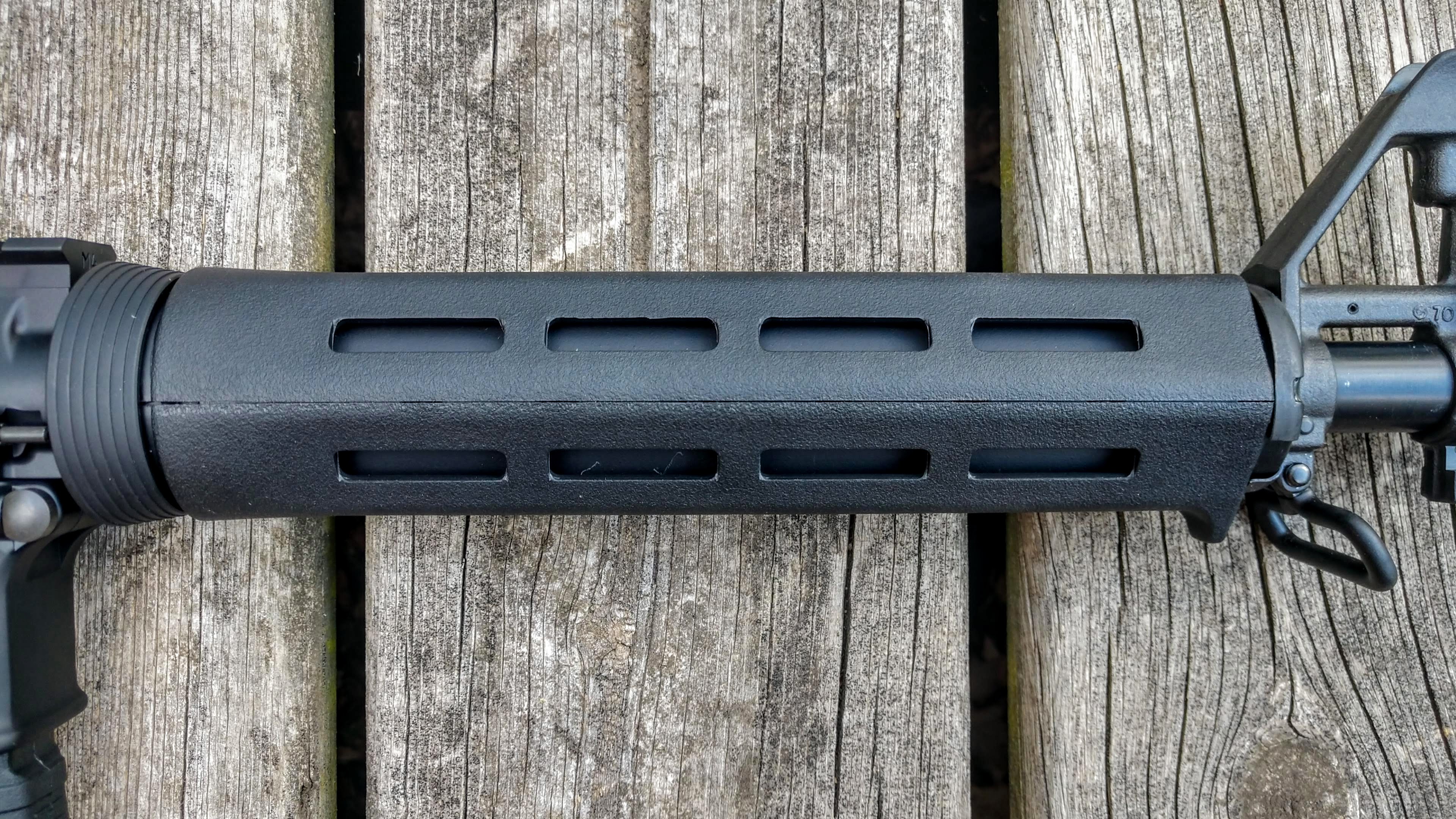 HANDGUARD: Aluminum Free Float w/ SA Locking Tabs, M-Lok
STOCK: B5 Systems Enhanced SOPMOD
TRIGGER: Nickel Boron Coated Flat GI
MUZZLE DEVICE: SA Muzzle Brake
RECEIVER EXTENSION: Mil-Spec
RECEIVER END PLATE: QD
BUFFER ASSEMBLY: Carbine "H" Heavy Tungsten Buffer
CHARGING HANDLE: GI Style
SAFETY SWITCH: Ambidextrous
TRIGGER GUARD: B5 Systems, Polymer
PISTOL GRIP: B5 Systems Type 23 P-Grip
MAGAZINES: (1) 30-Round Magpul® PMAG® Gen M3™
WEIGHT: 6 lbs 12 oz
LENGTH: 33.25″ – 36.75″
The MSRP for the Springfield Armory SAINT Victor B5 is currently benchmarked at $1,073. Like all Springfield Armory products, it is covered by their Lifetime Warranty in the rare event that you should need service for your firearm. A final Press Release statement can be read below from Springfield Armory that further outlines the New SAINT Victor B5 rifle:
"The SAINT® Victor 5.56 takes the already superb SAINT rifle and amps up the features. The full-length 15″ aluminum handguard has ample M-Lok® real estate for accessories and reaches out far enough to accommodate modern shooting styles. The mid-length gas system ensures reliable operation, smooth function and long life, while the flat trigger face lends itself to serious precision. Nickel boron fire controls help you put rounds on target every time, and B5 Systems furniture rounds out the package."
First Look: Springfield Armory SAINT Victor B5 5.56mm NATO
For those who are familiar with the line of SAINT rifles from Springfield Armory, this rifle from afar will look nearly identical to previous ones, but the pivotal differences are in the finer details. While much of this rifle is comprised of the same premium yet proprietary Springfield Armory components, there are 4 new pieces added into the SAINT Victor B5 rifle. You have a B5 Systems stock, pistol grip, trigger guard, and handguard.
All of the B5 Systems components appear to be simple enough upon face value, but once you begin to handle this newly equipped rifle you realize just as the B5 Systems mantra states it's about function, not flash. I appreciated the update to a lot of the B5 components chosen by Springfield Armory like the small circumference of the M-LOK handguard and the robust nature of the collapsible stock. The true test would come once I got out to the range and placed some rounds on steel.
Range Time: Springfield Armory SAINT Victor B5 5.56mm NATO
Once I got the Springfield Armory SAINT Victor B5 rifle out to the range the real fun began. One of the first things that I noticed was the Type 23 P-Grip from B5 Systems. It was set at a much steeper grip than traditional AR-15 pistol grips which placed my hand in a more upright position. This allowed me to have more of a benchrest trigger press and follow through; better ergonomics to pulling the trigger. Also, since there were multiple panels of stippling for dexterity you had a truly positive grip.
Right next to the Type 23 P-Grip was the B5 Systems trigger guard. It was more spacious, thick, and robust than other simple trigger guards I have seen on modern sporting rifles. This would allow for plenty of room while shooting with a glove whether it is a thick one for inclement weather or a thin one for high-volume, competitive shooting.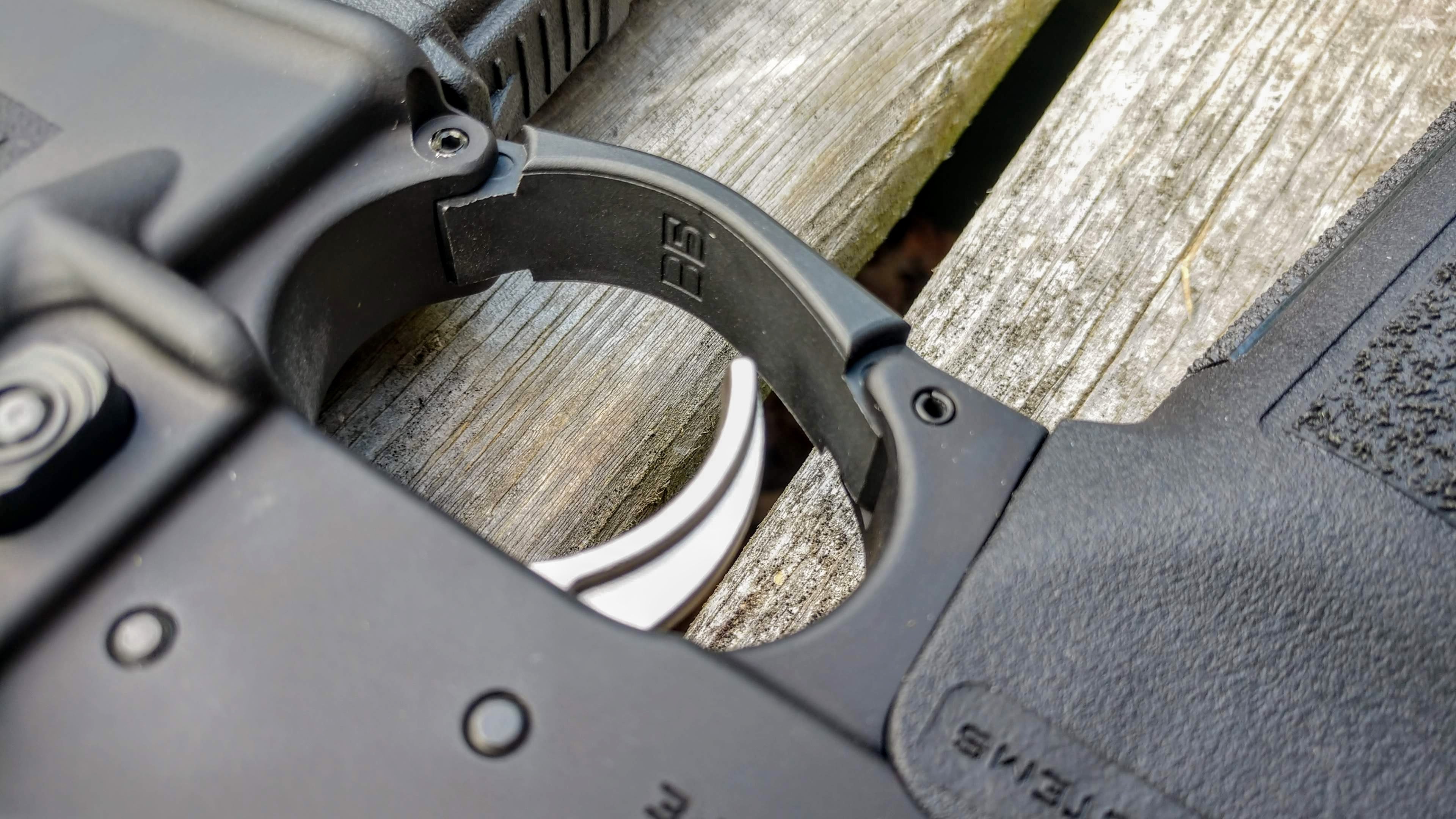 The next piece of furniture that you will reach for is the B5 Systems M-LOK handguard. It felt like one of the slimmest handguards I have ever handled, and B5 actually advertises it as one of the narrowest on the market. I liked this because I could fully get my hand wrapped around the handguard (this coming from a shooter with average sized hands) and better control of the rifle for faster transitions and movements.
The final B5 Systems component you will encounter on this rifle is the Bravo SOPMOD stock. It truly embraces the B5 mantra of function not flash. It is incredibly light, streamline, and has no "gucci accessories" hanging off of it to slow you down. The angled buttstock ensures a positive shouldering of the weapon every time, and an overmolded, steel anti-rotational QD sling mount plus two different fixed sling mounts let you carry your rifle in an assortment of ways.
As far as accuracy goes, the SAINT Victor B5 was as accurate as all previous SAINT rifles I have ever tested. Meaning, if you buy premium ammunition or handload your own, this rifle can be a 1 M.O.A. (Minute of Angle) shooter. The bulk of the shooting I did was on steel roughly 25 – 75 yards away because I was aiming to get a feel for the new B5 Systems components. Through those different range exercises I constantly was ringing steel as long as I did not jerk the trigger or completely fudge a shot. The rifle always did its part.
Final Thoughts: Springfield Armory SAINT Victor B5 5.56mm NATO
So, what are my final impressions about the NEW Springfield Armory SAINT Victor B5 5.56mm NATO rifle? Overall, extremely positive. You have an American manufacturer producing a high-quality rifle with a lifetime warranty. The accuracy is absolutely there as long as you are a good student of your weapon system by training and feeding it good ammunition. I definitely appreciated the upgraded components from B5 Systems chosen by Springfield Armory. Do they lack curb appeal? Absolutely. Do they completely slay on function and practicality though? Absolutely.
Some people might argue that the MSRP of $1,073 is a bit much, but quality is never cheap. Accuracy, practicality, reliability, and good quality control has a price tag. This rifle is very appropriately priced for the value it provides to the end user. Some of the components might be a bit thin or small if you are big dude, but for the other 80% of the shooting population it will feel fantastic. If you are in the market for a new AR-15 I would not hesitate to recommend this one.
In closing, I want to say thank you to Springfield Armory for allowing AllOutdoor and myself the opportunity to try out their Springfield Armory SAINT Victor B5 5.56mm NATO rifle. That is greatly appreciated. Also, we would like to know what all of you guys and gals think? Do you believe that the Springfield Armory SAINT Victor B5 5.56mm NATO rifle is something worth spending your money on? Would you carry it while camping or hiking? Shoot a league with it? Hunt with it? Let us know all of your thoughts in the Comments below! We always appreciate your feedback.