110 Ridge Warrior — New Rifle from Savage Arms Proves Itself on Range, Afield
Eve Flanigan 07.10.20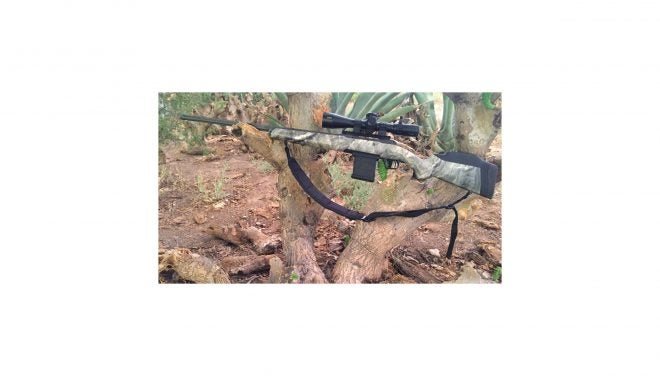 I have been a fan of Savage Rifles for years, based on their excellent accuracy and modularity for the price. So when I had the chance to do a field test of a new release, the 110 Ridge Warrior, I jumped at the chance. If you're up for a short article, it works as advertised! But here are the fun details.
Savage uses the 110 designation for most of their bolt action centerfire rifles. The Ridge Warrior is a 2020 addition to that line. It's currently available in 6.5 Creedmoor and 308 Winchester. I chose the 308 for this test, as I was headed afield after being fortunate to draw a permit for an "off-range" oryx (gemsbok) hunt in New Mexico and wanted the heaviest possible bullet for an animal that can weigh up to 600 pounds.
This rifle is marketed as being capable of moving from the precision range to the hunt field with ease. Though its NRA Mossy Oak Overwatch trim places it on the hunting side of the fence in appearance, this rifle truly can do it all.
It was easy to set up the Ridge Warrior for my hunt as sling studs are included fore and aft. And for real versatility, there's a second one under the forend that can be used to attach a bipod for long-distance work — from the bench or your chosen hill or mountainside.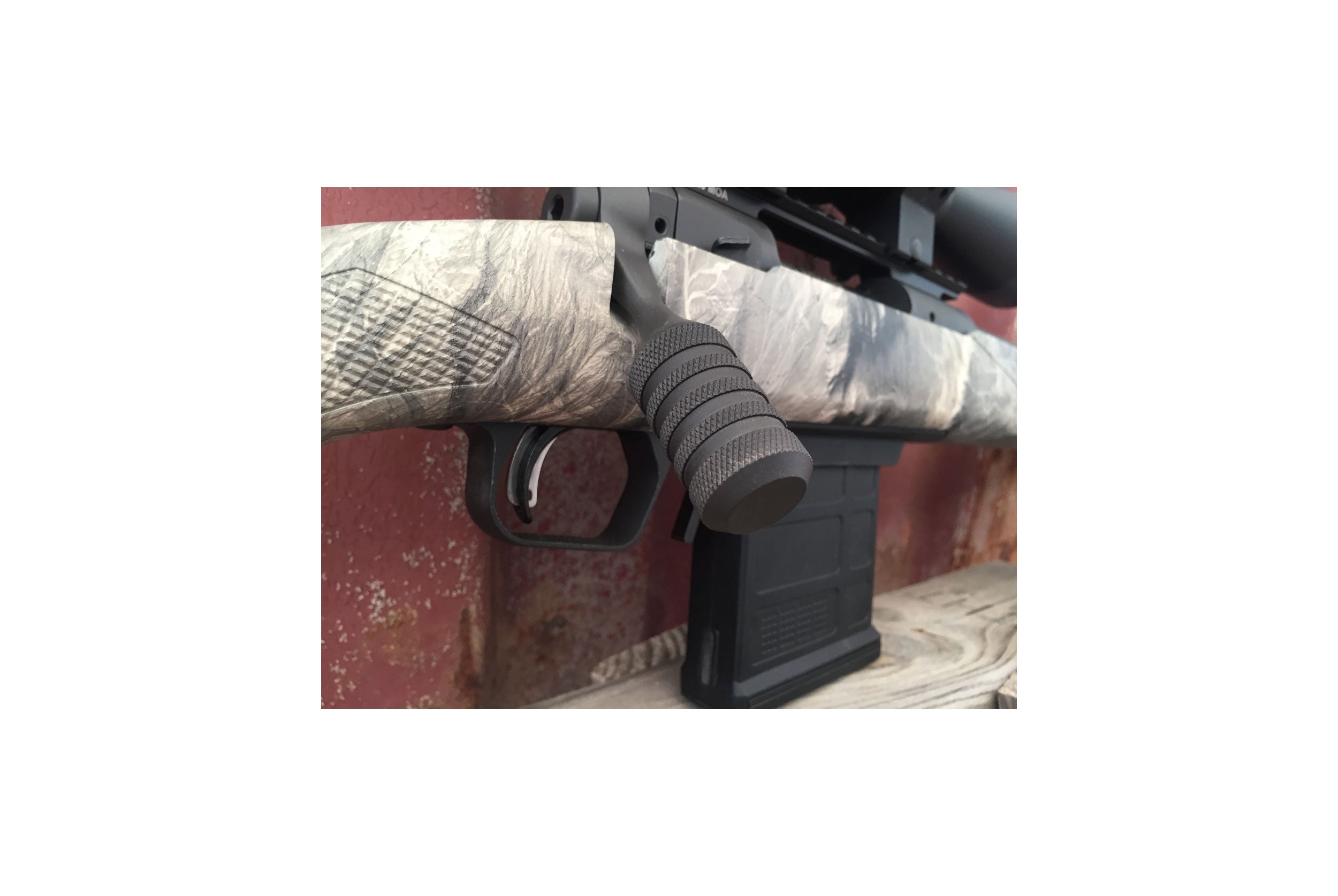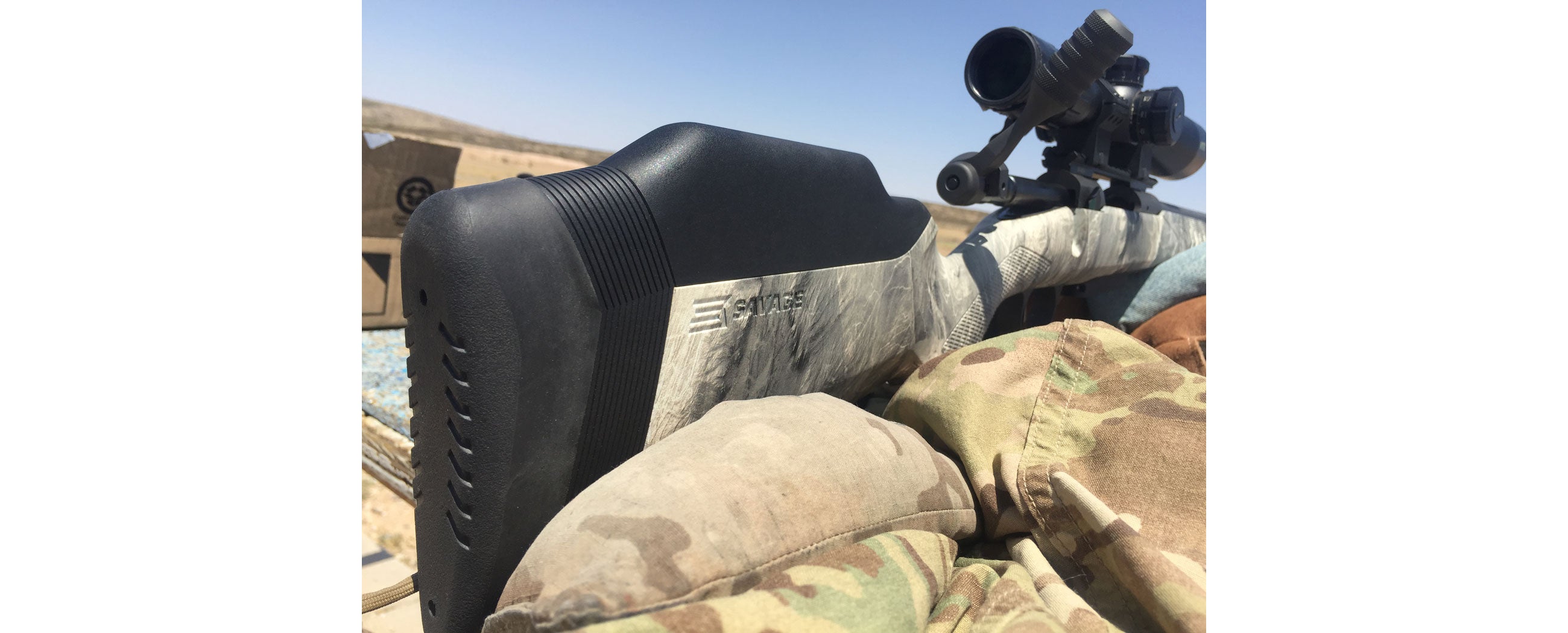 As with many Savage rifles, the Ridge Warrior features the company's Accu-Trigger system that's customizable for your own preference. I've never found one that I desired to lighten from its not-quite-three-pound pull. I did take advantage of the Accu-Fit system at the rear end of the stock, keeping the recoil pad and length of pull as they were, but adding good height for a cheek weld by using the second-largest cheekpiece component. These pop in and out with a little help from a slotted screwdriver, a good thump with the blunt end of the screwdriver, and your tongue held just right.
Although I wouldn't want to change the cheekpiece on a daily basis for fear of breaking the polymer tabs that hold it in place, a change here and there on a one-person or minimal-use hunting rifle is easy and advisable for a perfect fit.
This rifle has a heavy 24-inch, 1:10 twist threaded barrel with fluting. A thread protector is included. The barrel and receiver are stainless steel and coated with handsome matte gray PVD. The synthetic stock is Savage's Law Enforcement beavertail design, with grooves and texture placed just right for shooting offhand. The three-position safety is conveniently tang-located for left- or right-handed shooters.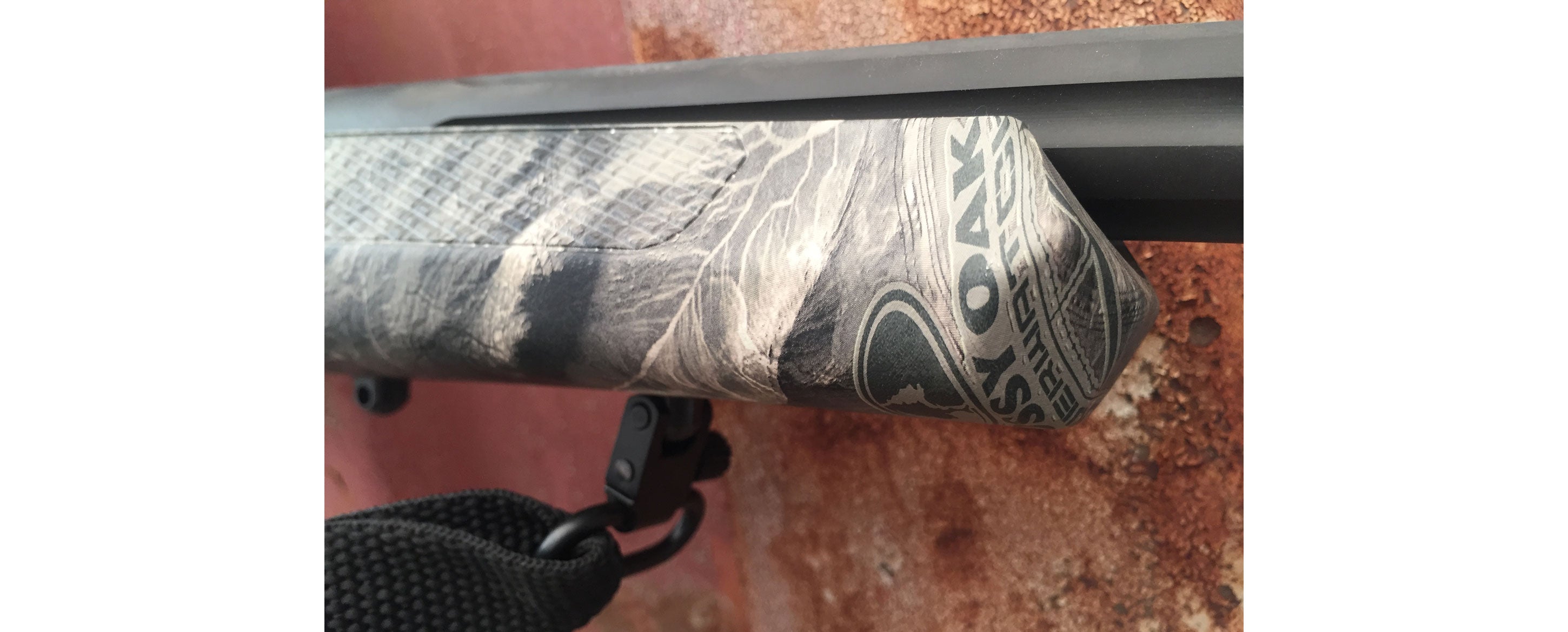 Shooting offhand is one thing I didn't do much of with this rifle, at least on live fire. On the weeks leading up to the hunt, I'd shoulder and dry fire it a few times per day to practice my snap shot technique, only to aggravate an existing support-hand wrist injury. This rifle is 8.4 pounds naked, and the better part of 11 pounds with five rounds in the 10-round magazine and my Bushnell LRTSi 4.5-18×44 scope on top of the rifle's own 20 MOA Picatinny rail. By the time opening day arrived, just maneuvering it was painful; shooting offhand out of the question. Thankfully my "snap sit," with elbows supported, is as fast as my snap shot—I deployed it on the hunt! On the upside, the rifle's weight delivers 308 recoil as a nice thump rather than a bruising smack.
In the past year or two, Savage has apparently remedied past problems with magazine feeding. The removable Magpul magazine fed well with no overrides. The operator must ensure the bolt is fully back and thrust forward assertively to run reloads, but it works and works well. A little oil on the bolt when the rifle was new out of the box fixed the slight roughness I felt when cycling the bolt — an advisable treatment for any new bolt-action rifle.
Ammo is dear these days, and this test was limited to one brand which I intended to, and did, take to the hunt field.
Federal Premium Ammunition has its own new-for-2020 product, polymer-tipped Terminal Ascent. The 308 Winchester variety sports a 175-grain bullet and ballistic coefficient of .520, I anticipated easy shot placement at the 100 to 400-yard shot distance. This ammo performed very well, especially for gemsbok. But that is a topic for a dedicated article in the near future.
The combination of great ammo and a fine barrel resulted in expectedly great groups during zeroing. Any errors outside of a single hole are the responsibility of this shooter or the wind moving the target stand! After some bench time, I'm convinced the Ridge Warrior is another Savage rifle that is perfectly accurate, leaving the shooter to mind his or her own technique. My best three-shot group was just ½ MOA, unfortunately not reflected in the photo as the best groups got shot-through as the day went on. Even the "bad" group was sub-minute of angle.

Although looks don't matter much, this rifle is definitely easy on the eyes — and less detectable to game. The smoky gray PVD receiver and barrel finish don't reflect light, and the camo design blends beautifully in a desert environment. It would match very well in wintry woods. On close inspection, Mossy Oak's art looks more like the intricate printing on the back of a dollar bill rather than what you'd expect to see on a rifle. Even a wooden-stock diehard would have to admit, this is one handsome firearm.
Overall, the Ridge Warrior proved itself extremely accurate with reliable feeding. Its heavy weight and relatively long length are both a blessing for recoil control and a disadvantage for maneuverability, especially for a person of small stature with wrist pain or similar injury. Nevertheless, I would feel confident taking it on a spot-and-stalk hunt again, or taking to an entry-level long range class or match with a proper bipod. This rifle can do it all.
With an average market price around $770 before shipping/transfer fees, it's yet another example of Savage Arms' record of match-grade accuracy from sub-$1,000 rifles, accessible to the everyday hunter and marksman.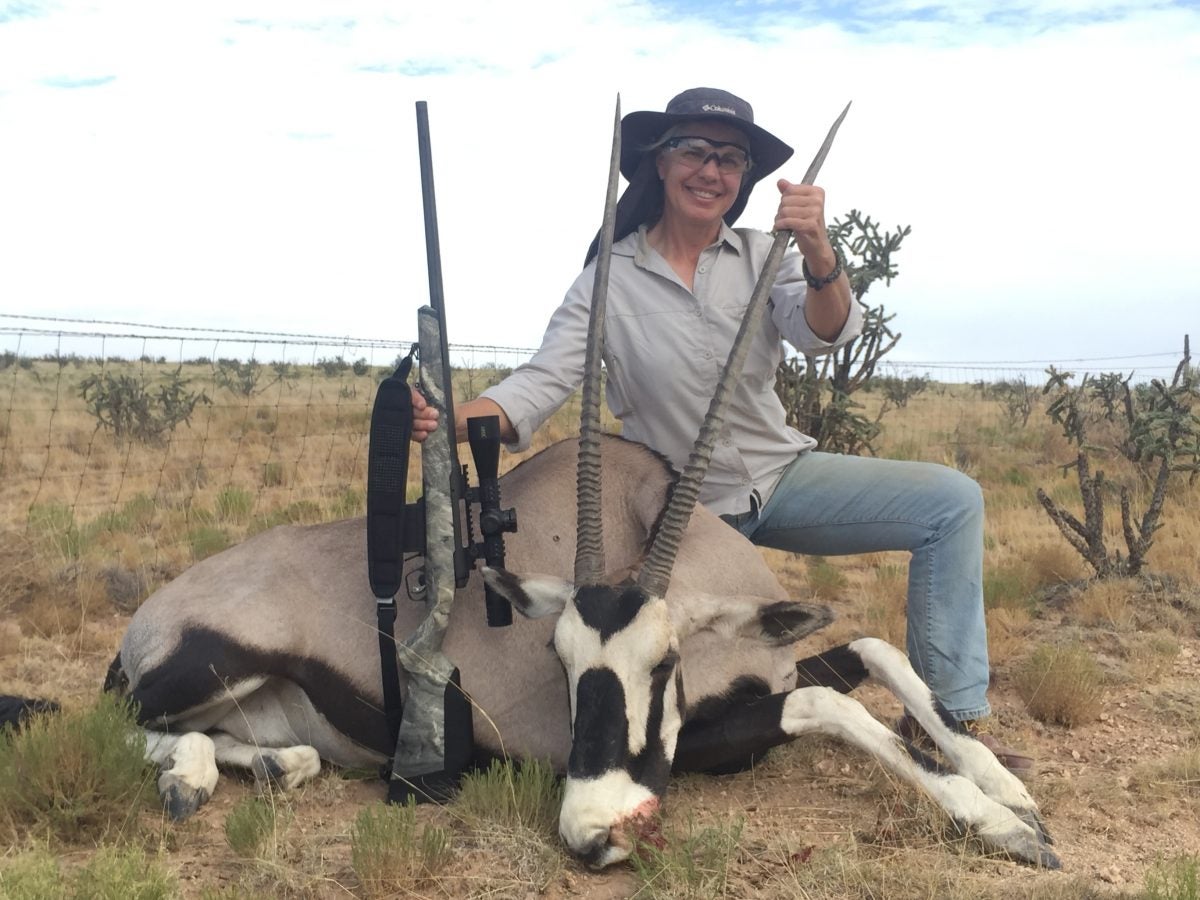 Specifications
MSRP:  $949.00
Action:  Bolt
Barrel Color:  Gunsmoke Gray
Barrel Finish:  PVD Coating
Barrel Length:  24 inches
Barrel Material:  Stainless Steel
Caliber:  308 WIN
Magazine Capacity:  10
Hand:  Right
Length of Pull:  12.75 – 13.75 inches
Magazine:  Detachable Box Magazine
Overall Length:  46.5 inches
Rate of Twist:  1 in 10 inches
Receiver Color:  Gunsmoke Gray
Receiver Finish:  PVD Coating
Receiver Material:  Stainless Steel
Stock Color:  Camouflage
Stock Finish:  Matte
Stock Material:  Synthetic
Stock Type:  Law Enforcement Beavertail
Weight (unloaded):  8.87 pounds