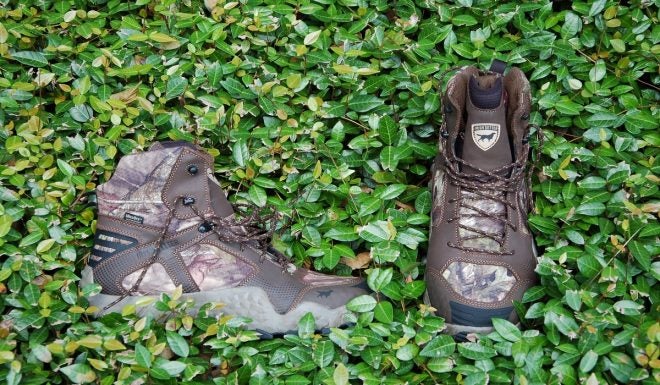 It's July. It's hot, humid, nasty outside. The last thing on most hunters' minds right now is the impending hunting season. But, let me remind you in just a short span of three months, we will be on the doorstep of the opening of archery hunting seasons all over the country. Gun seasons for deer and other big game will shortly follow after that. In prep for the coming season ask yourself one question. Got boots?
Irish Setter has been making boots since 1950. That was the year I was born, so I know it has been a long time. In that span of years, one would imagine the corporate group of Red Wing Shoes has learned a thing or two about making footwear. Truth is that brand name has had boots on the ground in work places and outdoor venues for a long time. Their quality footwear has been tested again and again by millions of workers and outdoorsmen. They make great boots.
Their new Vaprtrek 8-inch hunting boots are designed to handle the harshest of environments offering maximum support, waterproofing, and insulation for woodland trekking and hunting. These are not your everyday traditional style of hunting boots. Out of the box the appearance of these hunting boots takes some getting used to. They look more like sturdy mountain hiking boots than hunting boots, but trust me they are.
Noted specifications on the Vaprtrek boots includes the Armatec abrasion resistant covering that helps the boots defray harsh use in tough terrains. The ScentBan scent control is an internal lining to help reduce game spooking scents. The Exoflex feature is a locked-in fit to ensure secure foot fitting and comfort. These boots are insulated with 400 gram Primaloft which produces warmth without bulk with breathable waterproofing.
Other features include Irish Setter's RPM lightweight durable outsole. The Energ high rebound energy return underfoot adds to long wear comfort in the woods, fields, or mountains. The outsole pattern is aggressive for wear in wet, muddy, and slippery environments. The sole goes up the sides of the boots for shoe and foot protection. Breathable side panels are patterned in Mossy Oak camouflage.
Wearablility? That's not even a real word, but you'll know it after a day of use in the wilds. Pre-season treks have already endeared me to the comfort of these boots. I can't wait to give them the full treatment of deer camp just short months ahead. Check them out at www.irishsetterboots.com.