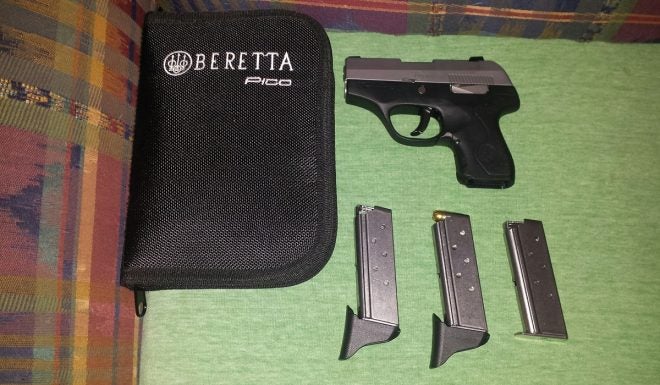 Have you noticed in the past year or so that pistol makers are creating new models trying to jam more and more rounds into smaller and smaller guns? First there were compact pistols, then micro pistols, and now there are micro compact models. The pistols get smaller, but the payload is bigger. This is a unique phenomenon in pistol manufacturing.
A couple years ago I was in the search for a new pocket pistol. I was waiting on Glock to bring out the 43 for 9mm instead of buying the 42 in "only" 380 ACP. When it finally arrived I bought the Talon version with special high-viz sights. I knew its magazine would only hold six rounds, but that was the best option available in a small package at the time.
It wasn't long until SIG shocked the world with their Model 365 (days in a year?) that would take 10+1 in the tank. The 365 was slightly smaller than the G43, but roughly the same, except for nearly double the ammo capacity. Then SIG offered accessory magazines for the 365 holding 12+1 and even 15+1 rounds. So, naturally, I had to have the SIG, too. I use both the G43 and the 365 as concealed carry guns and truck pistols.
Then other pistols arrived in the marketplace with increased magazine capacities. Kimber came out with their Micro 9 with a standard six rounds, but added accessory mags upping the number of rounds to seven or eight. Taurus introduced the G3 striker pistol with magazines holding 10, 15+1, or 17+1 in a slightly larger package, though still considered a compact gun as compared to say a Beretta 92. The new SCCY DVG1 totes 10+1 and the Springfield Armory Hellcat 9mm is a micro-compact that comes with two mags for 11+1 and 13+1 capacity. There are certainly other pistols that would fall into this classification, as well, but the list is hard to keep up with, changing constantly.
So, what becomes the strategy for deciding which specific magazine to carry given a variety of situations, or assignments? Are you more interested in increasing levels of available firepower or in maximizing carry concealment? Lower capacity magazines that fit flat can be hidden quite well in a good holster or pocket sleeve. However, some of the larger capacity magazines can protrude out of the grip making concealment much trickier. I guess the bottom line is having the options available to adjust to balance total available rounds with being able to hide the gun.
Whichever compact or micro compact pistol you purchase, go ahead to get the optional accessory magazines to give you the advantages a total system will allow. Go light or heavy as you deem necessary.