Harrell on the Ruger PC "Pistol Caliber" Carbine
Russ Chastain 07.30.20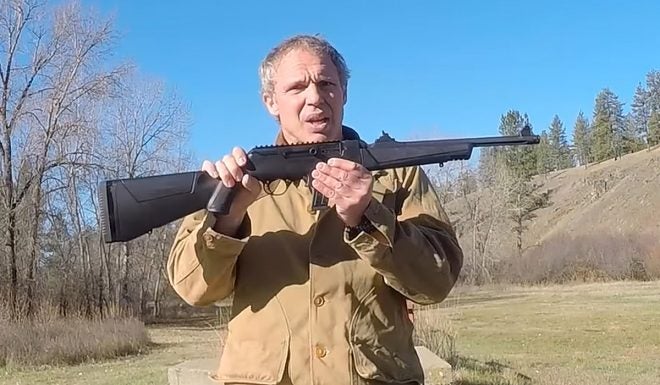 (Image: Screenshot from video)
Some of Harrell's viewers asked him to take a look at the Ruger PC carbine, so he did. But he also decided to include some other 9mm carbines. He included a Beretta Cx4 Storm and the considerably older Marlin Model 9 "Camp Rifle."
His first test is accuracy, so he shoots 50-yard offhand groups with each rifle. Ruger loses the match. Both the Marlin and the Beretta do pretty well and essentially are on par with one another.
Incredibly (for anyone familiar with Rugers over the years), he says the Ruger has a really good trigger pull, far better than the others. He also notes that the Ruger fits him the best, has a peep sight, and is zeroed for him, but it still did poorly in terms of accuracy. One reason is the odd decision by Ruger to place the peep sight far from the shooter's eye — which is really a terrible place for it. Peep sights do best when the aperture is relatively near the shooter's eye.
Next, he compares the trio in a different scenario, i.e. rapid target acquisition and fire at 25 yards. This is not an unrealistic way to test a carbine that may conceivably be used for home defense.
Once again, the Ruger comes in last for accuracy. The Marlin beats both for group size, but it also malfunctioned a few times.
This is followed by magazine changing drills, to see how well magazines can be changed on each model. followed by a lengthy demonstration on magazine interchangeability between pistols and carbines. It's clear he's setting us up for something, and indeed he is, but you'll have to watch to see which Ruger pistol only has one-way interchangeability with the PC Carbine.
After a few other comparisons, he decides to run a bunch of different ammo through the PC Carbine to see if it will reliably function and feed it all. It does pretty well.
He does bring up the question of whether the Ruger PC Carbine is actually a carbine. It's neither short nor light, which is generally a requirement of carbines. Happily, though, it does have a takedown feature, which acts much like that of the 10/22 takedown model, and which possibly explains the decision to mount both front and rear sights on the barrel, even though the rear is a peep.
Check it out and see what you think about the PC Carbine. Does it match up with your experiences?