Smith & Wesson Debuts NEW Performance Center M&P9 Shield EZ
Adam Scepaniak 08.05.20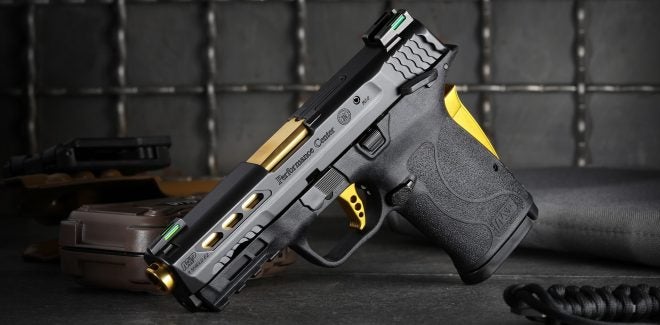 Smith & Wesson has taken all of their Performance Center goodness and applied it to their M&P9 Shield EZ 9mm pistols to the delight of many shooters and concealed carry advocates. While the standard Shield EZ in both .380 Auto and 9mm is wildly popular by itself, the Performance Center version gives it a lot of valuable upgrades to improve its functionality, accuracy, and handling. Smith & Wesson shared this Press Release statement regarding the unveiling of these new firearms:
"Springfield, Massachusetts – Smith & Wesson Inc. launched the new Performance Center M&P9 Shield EZ, chambered in 9mm and featuring a variety of Performance Center upgrades.  Building on the popular M&P9 Shield EZ pistol, the new Performance Center models share the same easy-to-use features found across the entire M&P Shield EZ series, and are further enhanced with premium Performance Center features. The Performance Center M&P9 Shield EZ pistols are available with striking black, silver, and gold accents, and include a ported barrel, flat face trigger, tuned action, and more.

Built for personal and home protection, the new Performance Center M&P9 Shield EZ pistols are the latest addition to the M&P Shield EZ family and feature an 8+1 round capacity and a 3.8" barrel.  The Performance Center M&P9 Shield EZ pistol ships with two 8 round magazines that feature a load assist tab for quick, easy loading, as well as a picatinny-style equipment rail to accommodate accessories. The pistol also features an optimal M&P pistol 18-degree grip angle for a natural point of aim, HI-VIZ® Litewave H3™ sights, and a light, crisp trigger."
The MSRP that consumers are looking at for the Smith & Wesson Performance Center M&P9 Shield EZ pistols, regardless of finish or configuration, is benchmarked at $588.  That puts these newer, improved models roughly $100 higher than their standard predecessors. Tony Miele, Senior Director of New Products and Performance Center for Smith & Wesson, shared these words surrounding the new offerings:
"Performance Center has the ability to design and manufacture specialty upgrades normally found in aftermarket work, straight from the factory.  With the popularity of the M&P9 Shield EZ, we set out to develop Performance Center versions with porting, a tuned action, aftermarket sights, and more.  These new pistols deliver easy-to-use features with the custom upgrades that our customers expect the Performance Center to deliver."
Right now there are not many options out on the market for shooters that offer a lighter-racking slide for people who might have arthritic hands or other physical impairments. As a result, this pistol has found a strong niche market and is enjoying ample success in the few years it has been out thus far. What do you think of these "gucci" or upgraded versions though? Is it something you would carry? Let us know all of your thoughts in the Comments below! We always appreciate your feedback.