Proof Research Announces New Conviction Ti Precision Rifle
Eve Flanigan 08.12.20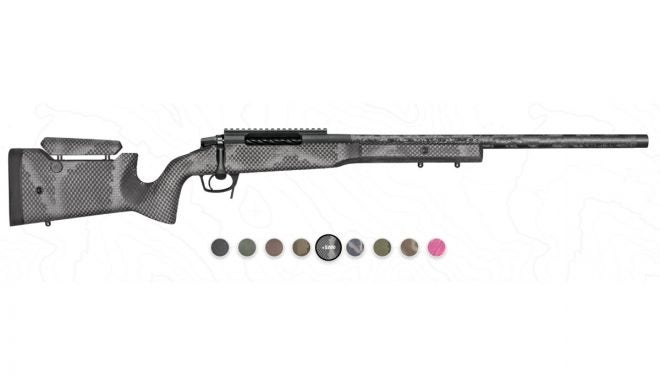 Renowned precision rifle barrel maker Proof Research of Montana, USA, recently unveiled a new complete rifle of their own. The new Conviction Ti Lightweight Precision Tactical rifle is an extension of Proof's existing Conviction series, and is sure to appeal to competitive, law enforcement, and hunting riflemen (and women) who want the very best.
The goal in producing the Conviction Ti was an extremely precise long-range rifle that weighs much less than others on the market. To achieve this, Proof used titanium for the lightweight receiver. Into it is placed their famous carbon fiber barrel. The stock is also carbon fiber. An adjustable cheek riser helps ergonomics. Other features include a, near-vertical grip, integral rail, low-profile flush cups, and a wider forearm to accommodate an EFR mount. All these combine to form a rifle that weighs a minimum of six pounds, six ounces. Some chamberings weigh more, up to eight pounds, two ounces.
This rifle is covered by the Proof Research sub-half-MOA guarantee. For those unfamiliar, that means it's capable of shooting groups of less than one-half inch at 100 yards. (Good precision is considered one inch or less at 100 yards.)

A diverse selection of chamberings is available. They include 6 Creedmoor, 6.5 Creedmoor, 6.5 Precision Rifle Cartridge, 7mm Remington, 28 Nosler, 308 Winchester, 308 Winchester Short Magnum, 300 Winchester Magnum, 300 Precision Rifle Cartridge, and 300 Remington Ultra Magnum.
Each Conviction Ti has a 24- to 28-inch barrel. Custom lengths are available. Twist rate depends on barrel. Each has a right-hand bolt action with a modified ball or tactical handle. Each is built on Proof's Sendero platform. Muzzles are finished and unthreaded, though threading and muzzle brakes are optional. Length of pull is 13-5/8 inches unless a custom length is ordered.
In addition to caliber, there are options galore where color/finish is concerned. Receivers can be Cerakoted in Flat Dark Earth, Olive Drab, Black, Tungsten, or Sniper Gray. There are 11 available finish choices, and these dictate price. Choices and prices are as follows:
• Black Granite $8,499
• Brown Granite $8,499
• Green Granite $8,499
• TFDE $8,699
• Black Jungle $8,699
• Blue Jungle $8,699
• Green Jungle $8,699
• Desert Warrior $8,699
• Grassland Green $8,699
• Grassland Tan $8,699
• Cotton Candy $8,699

Obviously, the Conviction Ti is not for everyone. But for the rifleman who has it all, or for the precision shooter who wants to make a once-in-a-lifetime investment in a fine rifle, this one should rank at or near the top of their shopping list.