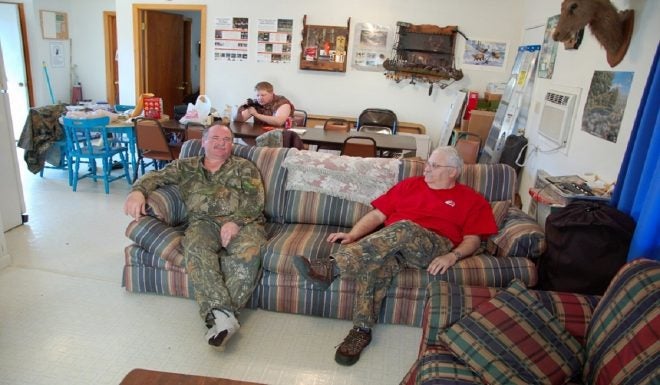 I can see the look on the faces of my deer camp buddies now when the subject of COVID-19 safety comes up. COVID in deer camp? Well sure why not? I mean it is everywhere else, so why not assume with 4-8 hunters driving in from all over the state and out of state that the virus could not be brought into a camp gathering of hunters? Certainly the potential is clearly there.
The whole concept behind deer camp besides the obvious hunting aspects is the social experience. Being with friends you have not seen and visited with since the last hunting season is a huge part of deer camp. Adhering to the constraints of social distancing will certainly diminish the social part of sharing a hunting camp. For sure it will be a strange year in camp.
Our own camp house is relatively small. At a minimum there will be three of us staying there in two bedrooms with common kitchen, dining, and living room areas along with one bathroom. We often have an extra guest and maybe a grandchild or two. There is not a lot of space for required social distancing. I guess we'll have to wear masks inside and be sure to disinfect everything on a regular basis.
Our outside common areas include a dual deer skinning rack, a shooting range with bench, and a gathering area under one of the cabins with a sign in and stand assignment box. These are areas where we sit to visit and swap lies as per usual in a hunting camp. Again, social distancing takes away from all this. We'll have to compromise to accommodate new rules.
Several fiberglass fully enclosed shooting houses are positioned across the property. Each house could hold two adults and a child, but with elbows rubbing sitting in office type swivel chairs. Several windows could be opened for air circulation. Now, all the surfaces inside these houses may have to be sprayed down after each use. That complicates everything. Could any type of disinfectant spray spook deer out of the area? Who knows?
Even the traditional evening campfire could cause issues as seating around the fire has never been six feet apart. See the issues and concerns? To say the least, this coming deer hunting season is going to be one for the books. Deer camps are challenging enough without the added pressures of a pandemic added to the mix. Now, the gear bag has to include plenty of hand sanitizer and disinfectant spray.