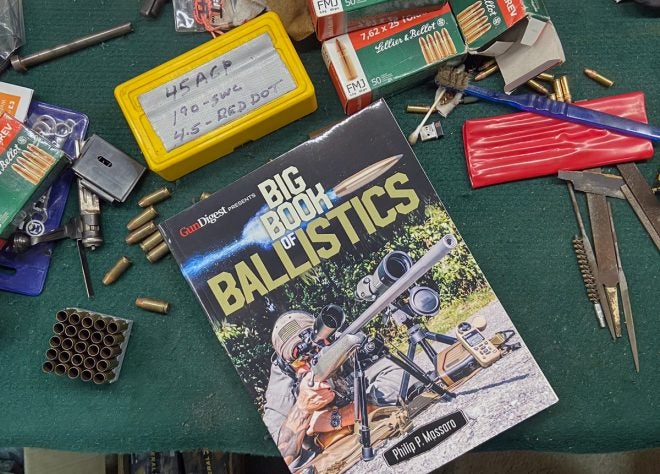 (Photo © Russ Chastain)
The Big Book of Ballistics by Philip P. Massaro is a useful and interesting book for anyone wishing to learn about ammunition, how it's made, differences in various types of metallic cartridges, and how bullets act under different circumstances.
It is not a book loaded with ballistic tables and raw data, but some are included, such as a burn rate chart for 142 different types of gunpowder.
© 2017
335 pages
Approximate size: 8″x11″
ISBN-10 1-4402-4711-0
ISBN-13 978-1-4402-4711-8
Cover price: $39.99 (available for less here)
Massaro uses everyday language to explain things, and this is not a dry manual loaded with charts and tables. Instead, it's an attempt by a knowledgeable gun guy to present a condensed version of his hard-learned knowledge for consumption by anyone who wishes to learn more about guns and ammo and how they work together.
In that, I feel it's a success.
Author Philip Massaro owns Massaro Ballistic Laboratories, a producer of custom hand-loaded ammunition, so he's no stranger to the subject.
Be aware this book is — for the most part — more for beginners and intermediates than for those who have considerable experience shooting, hunting, and/or reloading. But chapters like his exploration of "Kinetic Energy and Killing Power" (chapter 16) are well worth a read by anyone. Massaro explores the flaws in both the oft-preferred (dare I say overused) kinetic energy and the (better but not perfect) Taylor Knockout (TKO) methods of cartridge comparison. He then helps educate the reader on why those methods of comparison are useful, but limited. And how bullet construction can sometimes make all the difference.
Here's the publisher's blurb:
"The physics of firearms and ammunition can be difficult to understand, with numerous technical terms and definitions that warrant explanation. In Big Book of Ballistics, author and ballistics expert Philip Massaro lifts the veil. He explains interior, exterior and terminal ballistics in plain language.

"Massaro takes you on a journey that starts inside the cartridge case and terminates on the other side of a blasted-out target. Whether new or experienced, your knowledge of bullet performance and choice will be pushed to the absolute limit, as the world of factory and custom bullet and component choices is revealed.

"No dry technical manual, Big Book of Ballistics relies on Massaro's worldwide pursuit of small, medium and dangerous game adventure in heart-pounding true stories that make the science of ballistics as real as it gets."
Also from the publisher:
Inside the book:
The terminology of ballistics in plain language
How to choose the best ammunition
Successful long-range shooting principles
Terminal ballistics of hunting, target and self-defense bullets
Illustrative charts/graphs depict comparisons between bullet shapes, trajectories and wind drift
Modern developments in bullet technology can greatly enhance hunting and shooting performance.
If you like guns and ammo, or if you simply want to learn more about ammo and why it does what it does the way it does, chances are good you will benefit from reading The Big Book of Ballistics.