Capable to Defend – Springfield Armory Debuts XD-M Elite Compact 3.8″
Adam Scepaniak 09.08.20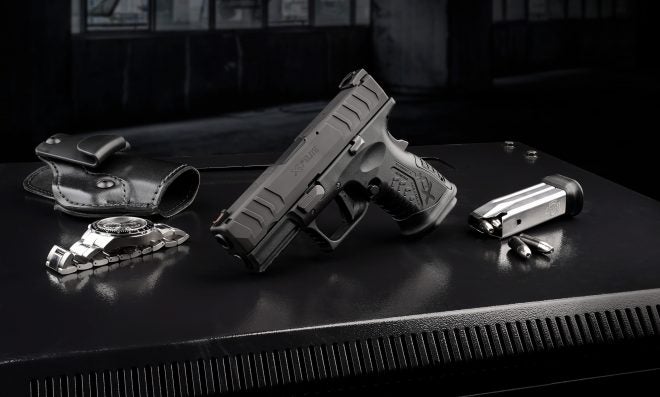 Springfield Armory already boasts 4 different offerings through their XD-M Elite series of handguns, and now that family is about to grow even larger. Springfield has debuted a New XD-M Elite Compact 3.8″ pistol with a shorter grip and slightly lower capacity magazines (14+1 capacity) for all of the concealed carry faithful out there. This is to compliment their existing XD-M Elite 3.8″ offering with a full-size grip and frame (20+1 capacity). All of the specifications for the New XD-M Elite Compact 3.8″ can be read below as presented by Springfield Armory:
CALIBER: 9mm
COLOR: Black
BARREL: 3.8″ Hammer Forged Steel, Melonite® Finish, 1:10
SLIDE: Forged Steel, Melonite® Finish
FRAME: Black Polymer w/ Removable Extended and Flared "Short" Magwell
SIGHTS: Fiber Optic Front, Tactical Rack U-Dot™ Rear
TRIGGER: Match Enhanced Trigger Assembly (META™) System
RECOIL SYSTEM: One Piece w/ Full Length Guide Rod
MAGAZINES: (2) 14-Round
If someone were to take a wager on this pistol the MSRP should be in a similar ballpark as its counterpart XD-M Elite 3.8″ with a full-size grip and frame which punches in at $559. Steve Kramer, Vice President of Marketing for Springfield Armory, had these words to share regarding the announcement of the NEW Springfield Armory XD-M Elite Compact 3.8″ offering:
"This newest addition to the XD-M® Elite line of pistols gives shooters and concealed carry users a great option for EDC. Features like the META™ trigger, fully ambidextrous controls and a funneled, removable magwell make the XD-M® Elite 3.8″ Compact a must-have for CCW."
While there are many desirable characteristics about this pistol that shooters should appreciate, the most surprising might be found in the META™ System Trigger. I personally have had the pleasure of being able to review some of the other XD-M Elite models and the trigger is startlingly good for an out-of-the-box polymer handgun. The biggest contributing factor to this particular model's success could be if Springfield can get them out into the public during this uncertainty of COVID. That alone could be quite the challenge to overcome, but what do you think? Is this something that trips your trigger and makes you want to buy it? Let us know all of your thoughts in the Comments below! We always appreciate your feedback.