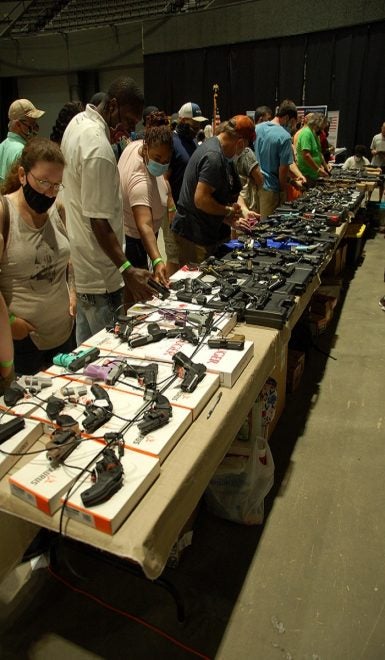 During COVID-19 days, more people have become worried about personal security especially amidst all the civil unrest. Major cities are still experiencing rioting and it is pushing into residential areas with home invasions and assaults on residents. Gun sales have skyrocketed as have federal background checks to purchase legal guns.
Perhaps more than any type of firearm in history, the 9mm handgun remains the most popular firearm for self-defense and home protection. The trouble is, how does a neophyte to the use of handguns go about selecting which "wonder nine" is right for them? It is a puzzle even for those familiar with guns. There are dozens of models on the market at wide-ranging price points. It really takes some serious homework to choose the right one.
At a recent gun show, I examined one dealer's tables with more than a hundred 9mm handguns for the buyers to pick from. Numerous brand names included Beretta, SIG, Colt, Smith and Wesson, CZ, Walther, Hi-Point, Browning, Bersa, Canik, Dan Wesson, FN, Glock, H&K, Kahr, Kimber, Remington, Ruger, Springfield Armory, Steyr, Taurus, and some others. How in the world does a new-to-guns buyer pick from all those choices?
Recommendations from users and dealers alike can steer one in the right direction. Shopping at a fully stocked gun shop with an in house shooting range can also be a big help. That way you can pick out several guns to live fire on the range for a hands on exposure to different models. Let an experienced shooting instructor guide you through the process of narrowing down some choices for you, and not someone else. Ladies especially need professional advice and not a gun their husband or boyfriend likes. A firearm is a very personal choice.
Picking the right gun for you begins with how it fits in your hand. Everybody's hands are different and what feels comfortable for one person may not fit at all for another. You need to be able to grasp a handgun grip firmly and completely. It should not be too small or too big in the palm. You want a secure fulfilling grip that feels good in the hand.
Grip the gun firmly and point it downrange in a safe direction. See how the sights line up. Does the pistol point naturally? Consider the weight of the gun taking into account the gun is likely unloaded. How many rounds do the magazines hold? Some models hold only 6-7, while others can carry up to 15-17. That is a big difference.
9mm handguns are excellent choices for self-defense and home protection. Owning a gun does require responsibility to learn to shoot it, handle it safely and to maintain it. Do your homework and buy the best pistol for your use.