Big Game Brew: The Coffee Brand for Hunters
Eve Flanigan 09.21.20

Big aims, big game. There's a brand new coffee label on the market, called Big Game Brew. The company was founded by a trio of outdoorsmen who share a love of hunting, the outdoors, and that muddy-water beverage that helps warm and fuel mornings in the wild.
Big Game Brew takes a different twist on the increasingly common concept of online coffee procurement. But first, let's examine the similarities. Like other brands, it's available as a single purchase or as a regular order with a 5% discount. And like others, a selection of roasts and ground or whole-bean choices exist. Each roast has a written description to tantalize the most dedicated coffee connoisseur. For example, here's the description of Dark Roast:
In this camp, we believe all dark roasts are not created equal. While our dark roast might be simple by name, it's complex and calculated. Much like the marksman getting ready for the season, our master roaster ensures this tried-and-true brew will always be a mainstay. Other flavors and options will come and go, but like that ever-present alpha buck, this dark roast's presence will always be known. A superior blend of beans from two continents means this coffee was made for those dedicated to outwaiting, outworking and outsmarting that traditional 8 no one else can seem to get in their sights. The color, flavor and aroma exude confidence and fuels the same. We didn't select this roast for a quick drive to the front gate but made sure it would hold up for a 14-hour hunt a few miles from anywhere.
Unlike other brands, Big Game Brew allows buyers to choose the bag art. Attractive pen-and-ink drawings of antlered species from across the United States, including Whitetail, Mule Deer, Elk, and Caribou are featured as labels which are customized to match the consumer's choice of coffee type. We're not sure why Bullwinkle didn't make the cut; maybe he'll show up later.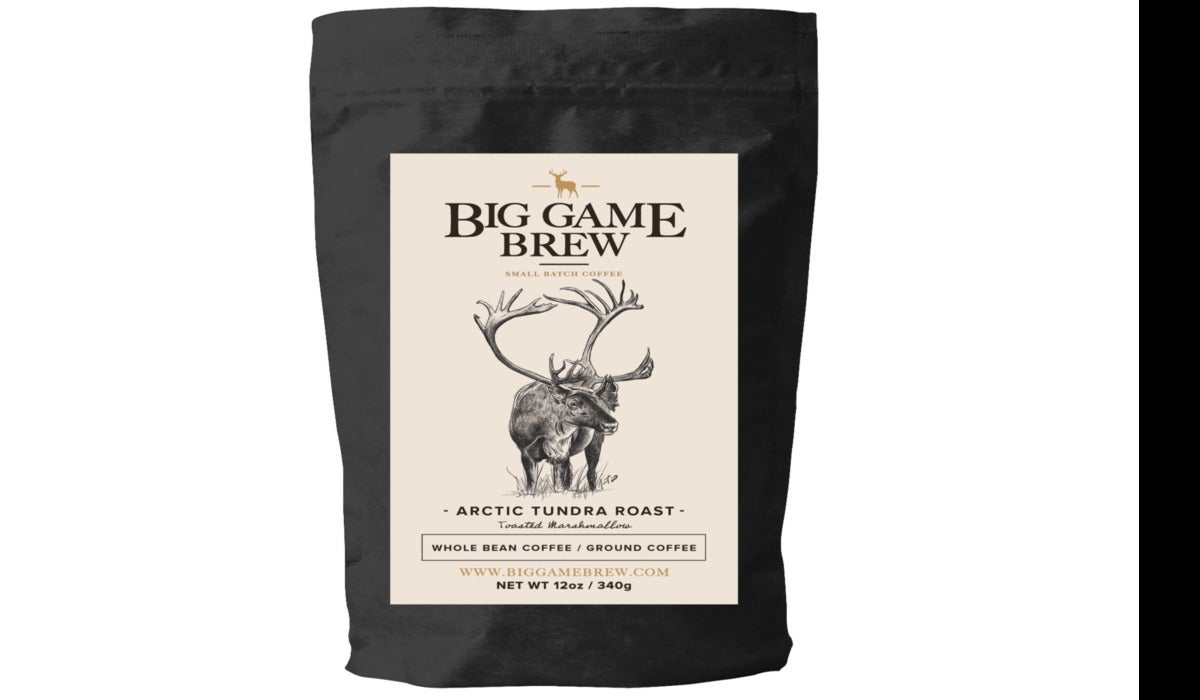 The six primary coffee choices are light roast, dark roast, Rocky Mountain Roast (toffee bar), Woodlands Roast (toasted pecan), Arctic Tundra Roast (toasted marshmallow), and Grasslands Roast (sugar cookie). These selections are all $14.99 per 12-ounce bag. There's also a Sampler Pack with one each of the roasts in a small package that makes a 12-cup pot. The Sampler features all the artwork as well.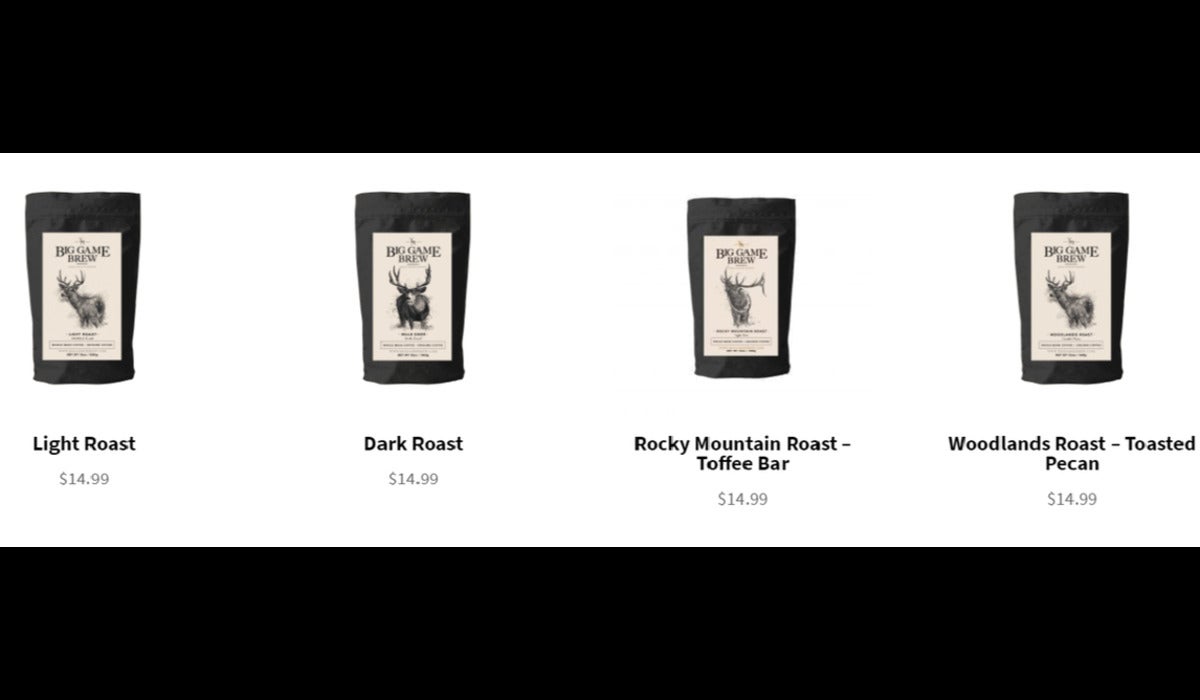 Fall hunting season will soon be upon us. Big Game Brew offers comforting ambiance to ease the transition from a cozy bed or sleeping bag into the chill of a morning hunt. But the company promises to do more than supply hunters with energy. A portion of proceeds will go to yet-unnamed organizations that work for habitat and conservation of America's big game animals.