Daiwa Unveils New and Improved Tatula CT Baitcaster
Terry Nelson 09.22.20

Reading about Daiwa's new bait casting reel — the Tatula CT — gets me fired up about bass fishing, having spent thousands of hours over the years fishing with my dad and then later fishing regional bass tournaments. Anything related to the fishing world, especially when it comes to largemouth and smallmouth bass, gets my adrenaline going.
Without a doubt, Daiwa reels have been center place in the fishing world for ages and now with a new compact reel that is affordable in the everyday realm of fishing, well it garners some attention. The Daiwa company has been around since 1955 and I have personally used their fishing rods and reels for years. In the following press release Daiwa outlines one of their newest offerings when it comes to quality baitcasting reels:
Daiwa has just launched another Tatula reel that promises anglers a wealth of performance and value. The reel was specifically designed and manufactured to bring anglers looking for an entry level baitcaster an entirely new standard of performance and aesthetics. Perfect for everything from plastics to cranks to Chatterbaits and more, the TATULA CT (Compact) brings versatility to anglers of all walks. Extremely palmable and a mere 7.2 ounces, the reel feels great in the hand and your choice of favorite rods.

Like the other higher priced reels in the Tatula family, what really makes The Daiwa TATULA CT so special is the inclusion of the T-Wing System level-wind. When you take the reel out of gear it allows for less resistance on the line, allowing the line to cast further. Daiwa's spool lets anglers finely tune the spool tension while the T-Wing System level-wind opens up line feed, working together to cast longer, more accurately, and provide stress-free control when chunking into the wind, skipping baits or casting light lures. The T-Wing System is also very efficient at reducing backlashes. It does this by reducing the angle of the line coming off the spool and spool speed, providing efficient operation unlike anything on the market in this reel class.

The new Tatula CT also features Daiwa's patented Magforce magnetic casting and braking system which is located on the exterior of the reel making adjustments easy to make depending on wind conditions, the rods you're fishing, and overall aerodynamics of the baits you're throwing. The dial extends from 0 to 20 (less resistance to greater resistance) so there's lots of range for tweaking the best setting to match the particular fishing condition. Not only does the feature help maximize the length of casts, it helps reduce backlashes. With the dial on the side plate of the reel, external adjustments are easy to make in a split second.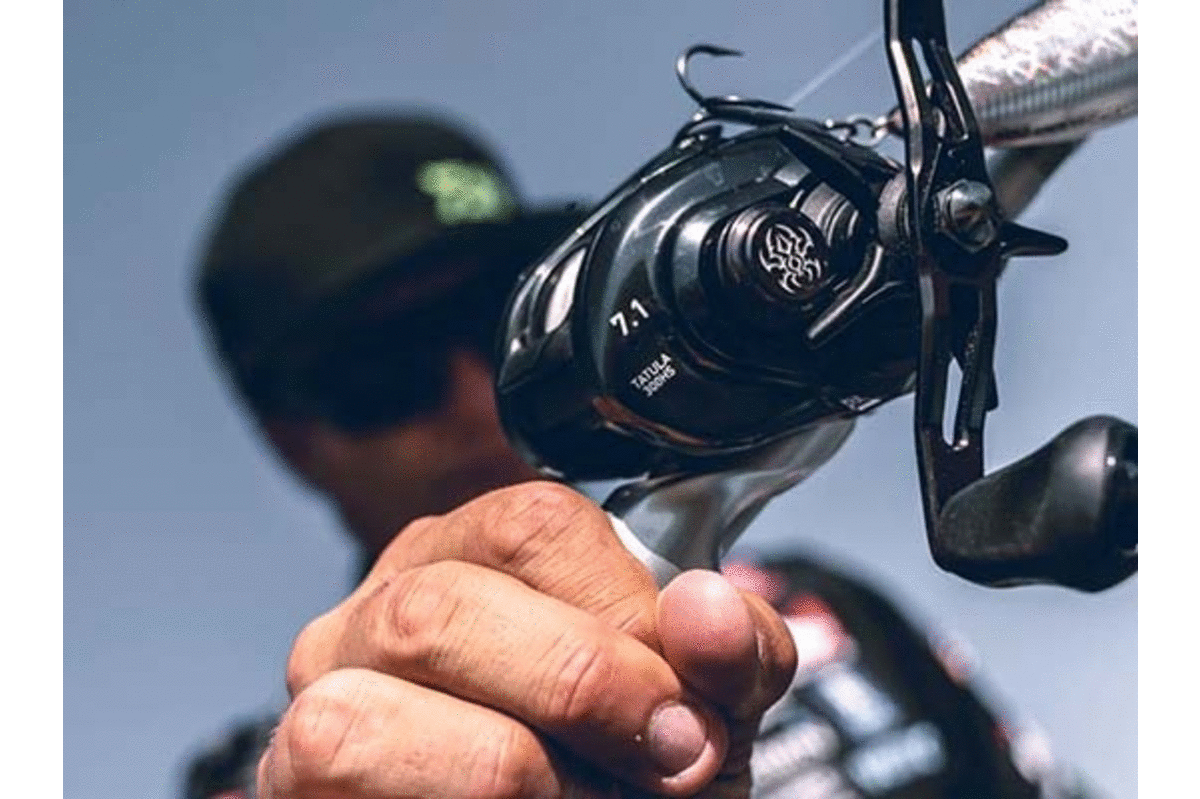 The key features and offerings of the Tatula CT are described below:

Featuring an aluminum frame, the look of the reel is stunning. Comprised of a dark gray with anodized dark navy blue with metal accents, the reel features both the Daiwa logo and is tattooed on the Magforce side plate with the Tatula spider logo as a badge of pride.

On the drag side of things, anglers will be impressed with the Ultimate Tournament Drag (UTD™), which offers a maximum drag of 13.2 lbs at full spool line capacity.

Comfort and control is enhanced with Soft Touch handle rubber knobs and a large 90mm swept handle which provides a steady grip for all fishing scenarios.

Anglers will also notice how smooth the reel operates, thanks to seven regular shielded ball bearings and one anti-reverse bearing.

The Tatula CT is available in Standard (6.3:1), High Speed (7.1:1) and Hyper Speed (8.1:1). And all gear ratios come in both left- and right-hand models.

When you're considering an entry level baitcaster, look no further than Daiwa's new TATULA CT…a reel that is set to bring a whole new level of performance, value, and stunning good looks to anglers.

MSRP $129.99

Learn more at about the Daiwa Corporation and other offerings at daiwa.com/us