AllOutdoor Review: XS Sights Big Dot Tritium Orange for a Mossberg 500
Adam Scepaniak 09.27.20

When it comes to home defense shotguns like a bread 'n butter Mossberg 500 or similar pump shotgun they are adored for their simplicity. In the horrific event something goes bump in the night and you need to defend yourself and/or your family a simple shotgun is intuitive, easy to run, and reliable. The one major failing in pretty much all pump shotguns, not just the good ol' Mossberg 500, is that their sights have a lot to be desired. Either they are a simple brass bead, or worse yet, they are a matte finished piece of raw metal – extremely hard, if not impossible, to aim in the dark. That is why an intelligent upgrade to night sights from a tenured, reputable company like XS Sights can be an invaluable improvement to your home defense shotgun. So, in this AllOutdoor Review we take a look at some XS Sights Big Dot Tritium Orange Sights for a Mossberg 500 home defense shotgun. Let's dive in!
Specifications: XS Sights Big Dot Tritium Orange
The beauty of the Big Dot Tritium Orange upgrade from XS Sights is that it does not take the kitchen sink and then some to install. If you have a few simple tools at your disposal and some elbow grease (actually JB Weld or epoxy) you are good to go. All of the short yet concise specifications for the Big Dot Tritium Orange front sight bead for a Mossberg 500 can be read below as presented by XS Sights:
Easy Installation

Epoxies over the existing Front Bead Sight

Tritium Front Sight

Ember Glow Dot, Orange Dot

Item Number: SG-2005-3N
The current MSRP for a set of XS Sights Big Dot Tritium Orange for a Mossberg 500 punch in at $88. This sight set also carries the XS Sights 30-Day Satisfaction Guarantee as well as their "10 Year Warranty – No Questions Asked Night Sight Warranty." An even more thorough explanation of the specifications can be received through the Press Release published by XS Sights below:
"XS Tritium Night Sights offer the best front sight visibility in all lighting conditions, combining tritium with XS' patent pending glow dot. Upgrade a home-defense shotgun to a high-contrast front sight that absorbs light and glows in less than ideal conditions. Optic Orange is designed to offer a high-contrast sight picture when shooting in bright light conditions and maintain its visibility in decreasing light levels. To ensure visibility in low light when uncharged, optic orange is primarily based on yellow with a hint of red. The increased surface area of the convex dot increases light absorption, intensifying the charge of the glow properties of the dot.

These sights require a .125 – .140″ diameter bead. Kit comes with replacement bead for Mossberg shotguns. If current shotgun bead is not in that diameter range and is not a Mossberg, Brownells #6 or #26 front bead will need to be purchased and installed before XS Big Dot. Installs with any two-part epoxy, like JB Weld."
Installation: XS Sights Big Dot Tritium Orange
When it comes to the installation of a front sight bead for a shotgun the first thought that crossed my mind is, "How hard can it be?" The answer to that question might surprise you since it is not difficult at all. There are certain steps though you will want to ensure you do not gloss over in the process to ensure a long-lasting and durable front sight install.
The Big Dot Tritium Orange sight is designed to fit beads that are 0.120″ – 0.140″ in diameter. If, for whatever reason, your front sight bead does not fall within that range XS Sights recommends that you replace it with a Brownells #6 for 3-56 threads or #26 for 6-48 threads. If you have a Mossberg 500 shotgun, like the one we are highlighting today, simply remove the factory bead and replace it with the brass bead provided by XS Sights.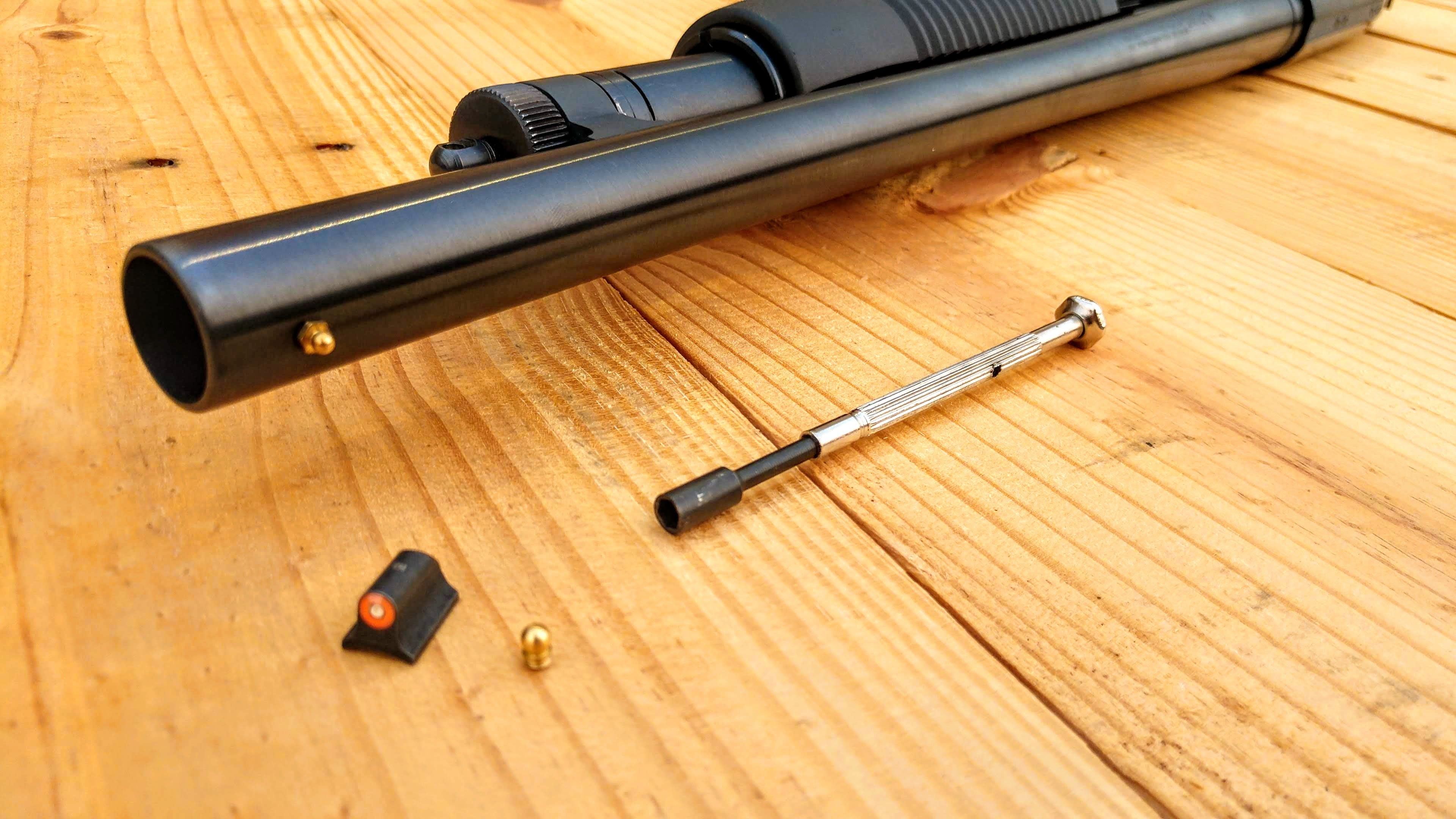 To remove the front sight bead off of a factory Mossberg 500 you will need a 2mm Hex Nut Driver like the one I employed above or something very similar. Since the front sight bead and its hex configuration is so small you will want to be careful turning the front sight off the barrel not that you slip and strip the hex shape. If this occurs your task will become significantly more daunting.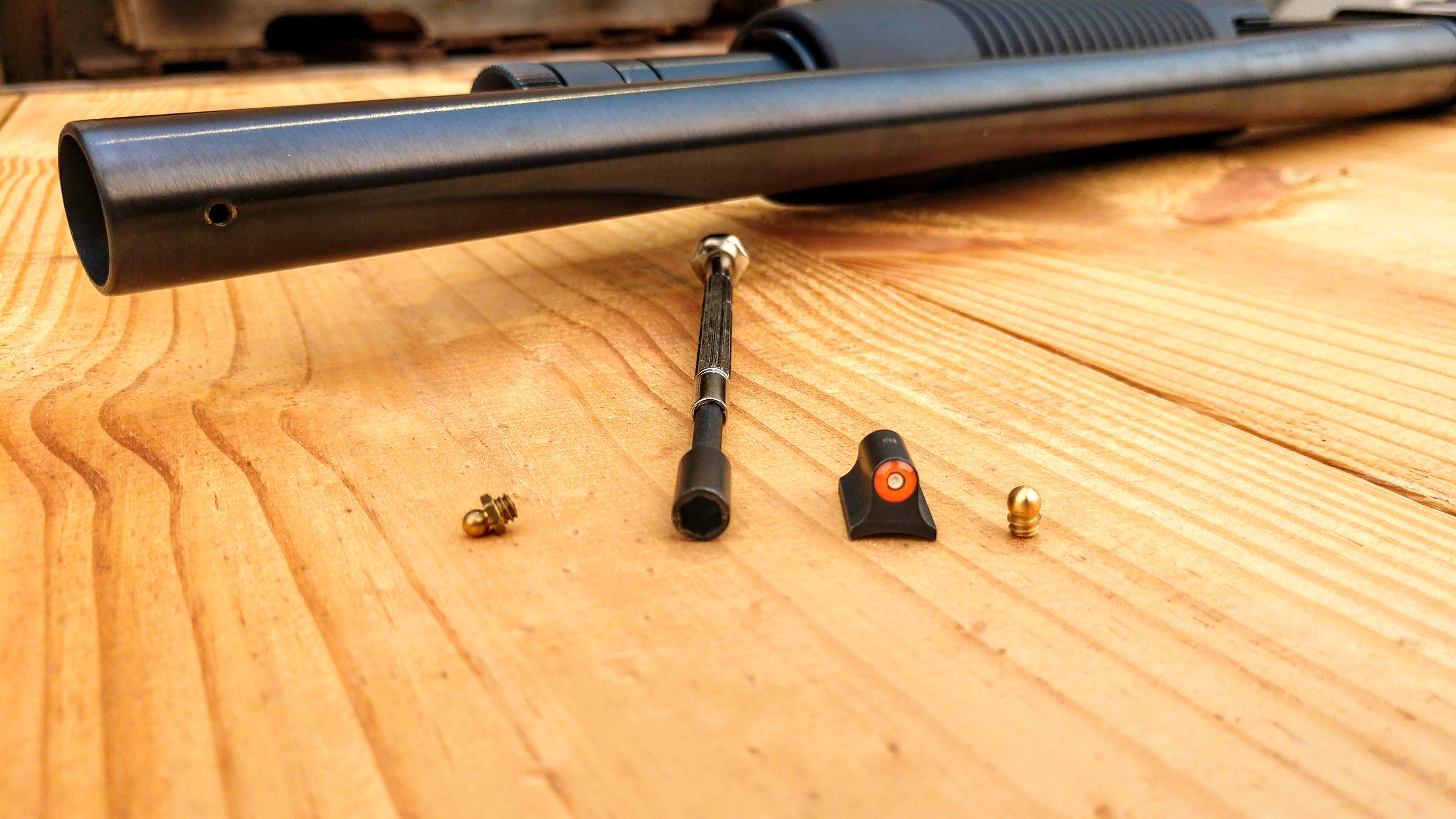 Once you have removed your factory front sight, you will want to prep for your new replacement front sight bead and the eventual Big Dot Tritium Orange sight by cleaning the barrel and de-greasing that area. I applied a faint, trace amount of Loc-Tite to the threads on the replacement XS Sights front sight bead for the Mossberg 500. It may not be absolutely necessary, but it is a simple step to err on the side of precaution. I allowed that to set for about 5 minutes and wiped clean any potential excess before moving into our next step.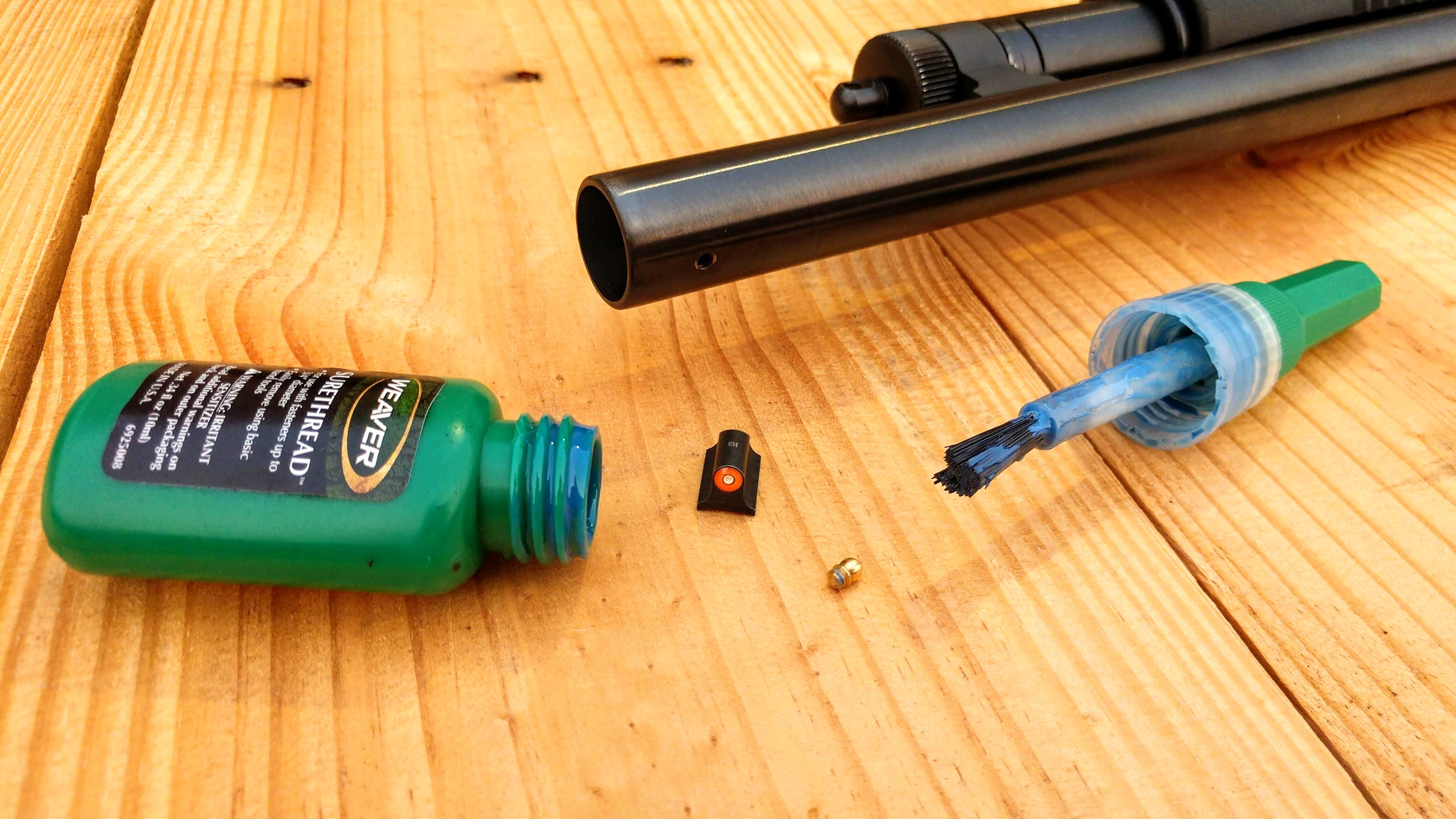 Once I was completely sure there was no residue anywhere near the front sight bead or on the barrel I pulled out my 1-Minute Epoxy which happened to be a JB Weld brand. I prepped a couple tablespoons worth in a small dish with a popsicle stick making sure the 2 semi-liquid ingredients from the 1-Minute Epoxy were evenly mixed. Then, I used a toothpick to ensure I could be more precise in my distribution of the Epoxy on the gun.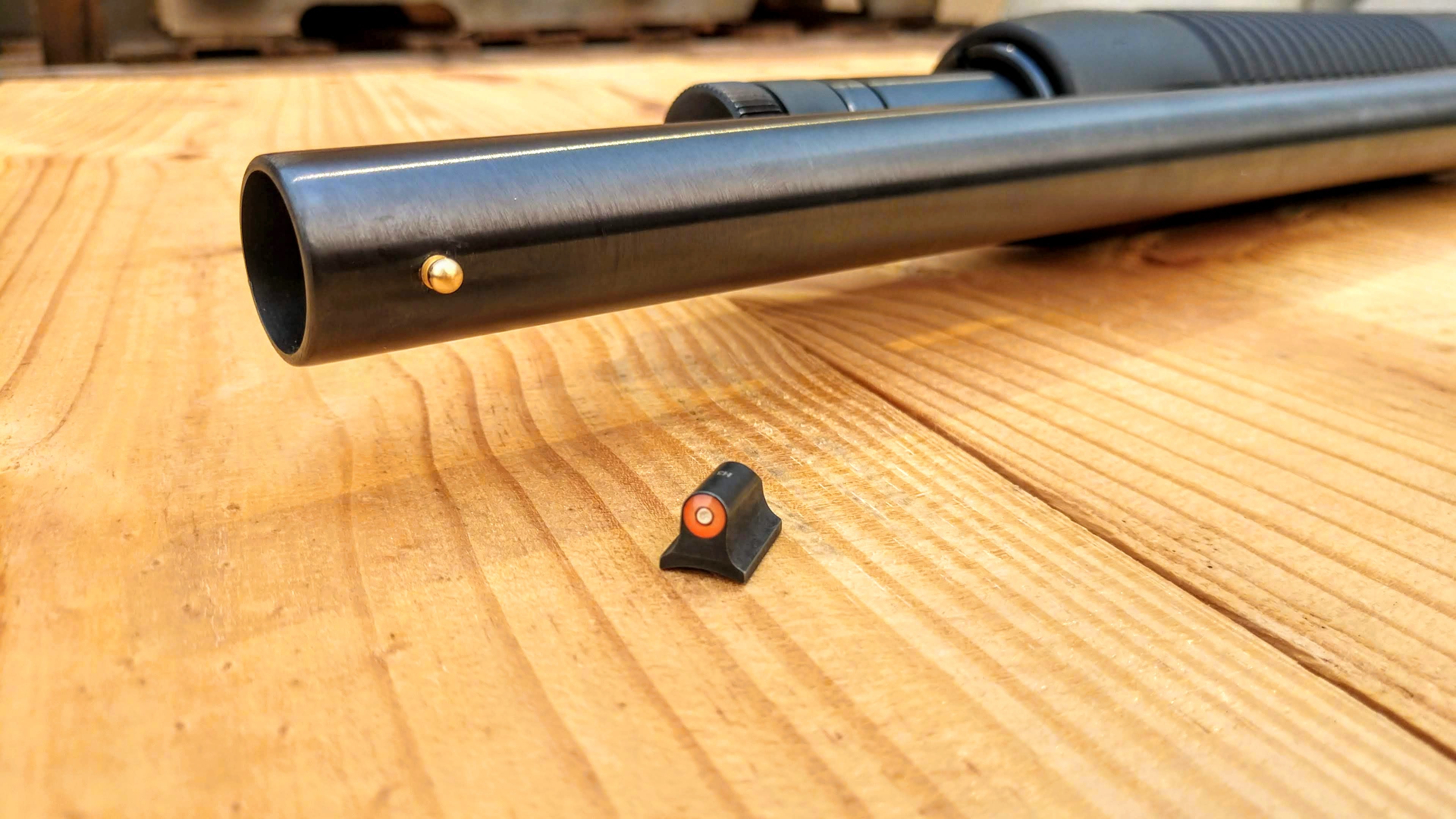 I filled the cavity on the underside of the sight with some Epoxy, and firmly pressed the sight over the bead. Before allowing it to then sit and harden I made sure it was straight as possible on the barrel. Again, I also looked to remove any excess Epoxy with a Q-Tip. According to the manufacturer's specifications on the Epoxy, it should have 'set' within 1-Minute, but to err on the safe side again I allowed it to dry and firm up for almost a full day overnight before heading to the range.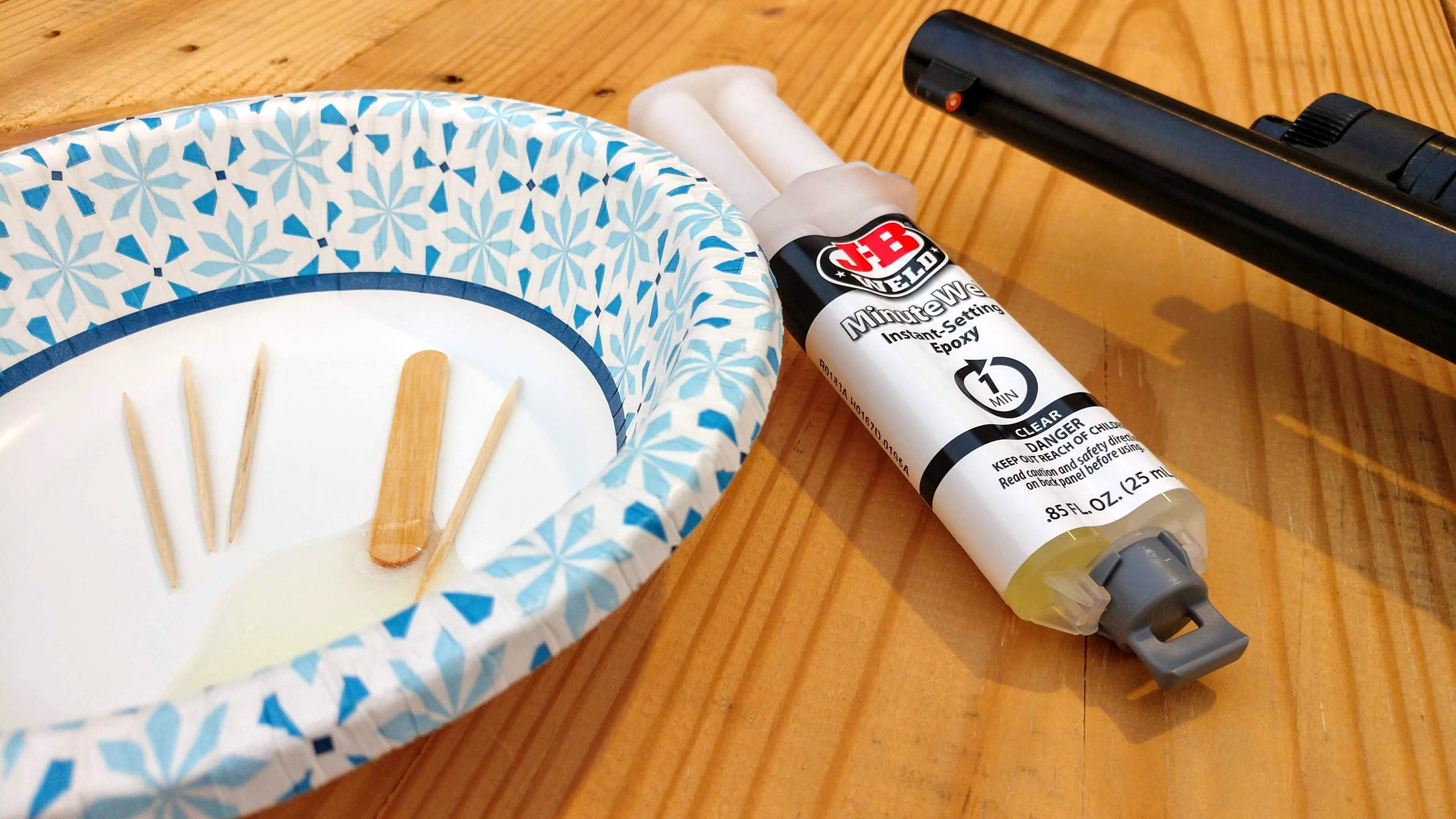 Performance: XS Sights Big Dot Tritium Orange
The next day I ventured out to the range around dusk to test the Big Dot Tritium sight's ability to be seen in low light and near darkness. I ran an assortment of shells through the Mossberg 500 with the mentality to crescendo the recoil to see if the sight were to shift in place or come off the shotgun entirely. This exercise started with some light trap loads of #7 1/2 and #8 Shot. Not surprisingly, the sight held in place and was easy to see.
Next, I moved into some pheasant loads (#4 Steel Shot) and goose loads (BBB Steel Shot) which did not phase the accuracy or the sight's ability to glow through the oncoming dark of the sun falling over the horizon. Then, came some home defense loads (#000 Buck Shot) promptly followed by some hunting slugs (2 3/4″ 1 1/4 Oz. Rifled Slugs). If the sight was going to ever fall off in my short test of recoil, it was going to be now. To my delight, the sight held its position. So, while the sight remained un-phased my shoulder definitely was not. By this time it was fairly dark outside, I could see the Big Dot Tritium sight just fine, and I was out of ammunition. It was a good time to call it a day.
Final Thoughts: XS Sights Big Dot Tritium Orange
All in all, for the modest MSRP price of $88, I believe the Big Dot Tritium sights for any home defense shotgun are well worth it. We spent a lot of time explaining in detail how to install these relatively simple sights, but we wanted to ensure any interested shooters would know how to correctly do it themselves. While installing Glock sights, for example, might have been done a million times and ways in the past it is not everyday people remove the front sight bead off of their shotgun. The XS Sights Big Dot Tritium is truly big and very easy to see which is key in shooting fast – whether it is for home defense or you are employing it in something like a 3-Gun league. It also was able to handle the entire rainbow of shells you could potentially shoot. Everything from light trap loads to a heavy-hitting rifled slug cycled fine with the sight holding steadfast in its position. For anyone looking for a replacement front sight bead that is easy to see and durable, I have no reservations recommending the XS Sights Big Dot Tritium Orange.
In closing, I want to say thank you to XS Sights for allowing AllOutdoor and myself the opportunity to try out their XS Sights Big Dot Tritium Sights for a Mossberg 500. That is greatly appreciated. Also, we would like to know what all of you guys and gals think? Do you believe that the XS Sights Big Dot Tritium Sights are something worth spending your money on? Would you carry these sights on a shotgun out camping or hiking? Shoot a 3-Gun league with them? Go hunting? Let us know all of your thoughts in the Comments below! We always appreciate your feedback.