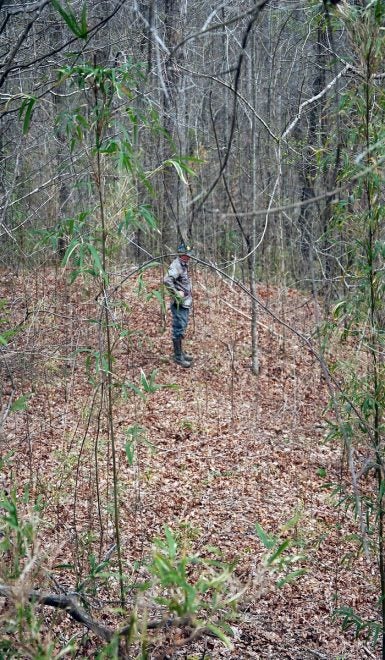 Wherever you deer hunt, I am willing to bet there are places on that property you have never set foot. Every hunter using the same place to hunt season after season tends to hunt their most favorite spots or stands. That's certainly okay unless your constant use of an area or particular stand runs the risk if deer patterning you. Then success can certainly diminish.
Start to think about all the other corners of your hunting areas that have become exo-facto sanctuaries, seldom hunted or explored. As it turns out, you may actually be driving deer into those areas in an effort to escape the spots you over hunt. You may be missing out on some great hunting opportunities. You certainly are missing out on some big bucks.
So, how do you explore all those hidden and unused areas that have just been ignored by you and other hunters? First, get a good overview map or better yet aerial photos of where you hunt. Usually you can find those as easy as zeroing in with Google Maps a computer web site that points you to the exact place you hunt. These maps and photos show you the exact features, habitats, and land characteristics precisely where you hunt. Study those in earnest.
You're looking for hotspots where you hunt that you never knew about or just failed to seek out. Look for diverse habitat edges, water routes and sources, mixed timber, open fields, or grassy knolls, ponds, water holes, fencing, old roads or trails or other access features. Note how far or close some of these areas are from the spots you normally hunt every year.
Next, get out the Muck boots or a good pair of snake boots and hit the ground. This time of year you can even press into these areas on an ATV without fear of spooking the deer out of area. During spring and summer the deer may move out but will return quickly. Even so, try to be as unobtrusive as you can. An exception might be if you want to open up a new trail access for fall hunting use.
Study everything as you go. Look for last year's left behind deer signs and sheds. Note old rubs, rub lines, washed out scrapes, and other evidence of deer use. Look for food sources in terms of browse, trail use, funnels, creek or other water crossings, well used deer runs and other habitat signs. Use boundary tape to mark potential tree stand sites or hidden ambush locations. Don't hesitate to follow out a trail to see where it leads. Take notes or photos as you go. Think trail cameras.
This is the time of year to work on hunting strategies for the fall. This expanded roaming should yield valuable information for the coming hunting season.