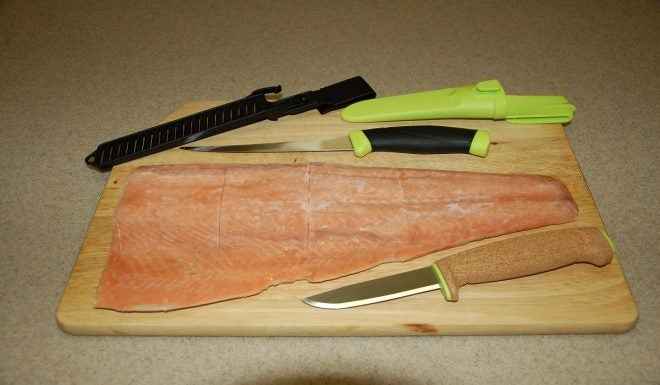 While there is nothing better than a great knife, there is nothing worse than a lousy one. I know, because I have drawers, tackle boxes, and gear bags full of the crappy ones. So, it is a wonderful moment in life when you finally run into a really good knife. In this case they are fishing knives, but blades that can handle more tasks besides fileting a good flounder, bass, or catfish.
Morakniv knives are made in Mora, Sweden. The company's history is a very long story beginning in 1891. Krang Johan Eriksson quit his job at a sledge-making factory to partner with Lok-AndersMattsson to form Morakniv. In 1988 K.J. Eriksson began to consolidate knife production, which in 2005 became Mora of Sweden. The knives are now trademarked as Morakniv in the production of some of the finest blades produced in the world.
Two Morakniv models were sent for testing, fishing use, and kitchen tasking. What I really can appreciate up front is a packaging label warning the user as to the sharpness of these knives. Both knives are shown with an illustration of a cut finger bleeding. What other warning do you need to know? Traditionally, Swedish knives have a reputation for edge sharpness so be forewarned in their use.
The Morakniv Floating Knife model is lightweight. Its handle is fashioned from cork which allows the knife to float. The blade is stainless intended for use in marine environments. The end of the handle as well as the hilt are capped with a high visibility lime green color so it can be easily spotted in the water if dropped. The plastic sheath is also molded in lime green.
The blade is 3 ¾ inch in length. The knife is nearly 9 inches in total length. The cork handle then is roughly five inches long, plenty of handle to grip well. The sheath is a belt clip design with a button release. It also incorporates a button connecting system to lock the knife securely in the sheath. The "Scandi" grind profile makes the blade easy to keep razor sharp.
The Morakniv Fishing Comfort Fillet #155 knife is a high quality utility fishing skinning blade. The entire knife is 10.5 inches long with a tapered 6-inch blade of stainless steel. The easy grab grip handle is shaped and textured for a secure grip while cleaning fish. The blade is thin enough to flex with ease for precise fish cleaning tasks.
The plastic sheath is an easy drain design and easy to rinse and clean. There are two interchangeable belt attachments, clip and loop. The Fishing Comfort skinning knife is just the right length for easy manipulation to finely skin and process fish in the field, on the boat, or at a processing shed. For more information on these knives check out www.morakniv.se.