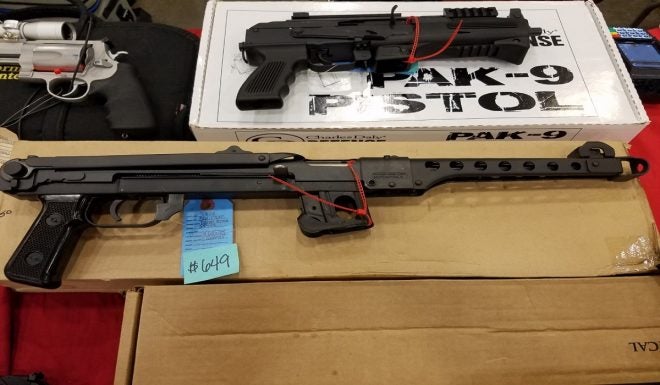 A recent article discussing WWII arms named the Soviet Sudaeva PPS 43 as one of the best-designed submachine guns of the war. Developed by Soviet arms designer Alexey Sudayev, the PPS 43 was created for ease and speed of manufacture to supplement the arms needed for the war effort. The PPS turned out to be a great asset to the Russian military during the war.
The PPS 43 has never been available in the United States in any form, much less as a submachine gun. However, Pioneer Arms Corporation in South Daytona, Florida is now importing a semi-auto version for the US market from the Radom arms plant in Poland where the original PPS was licensed after WWII since 1946. I was able to lay my hands on one at a recent gun show and was quite impressed with the quality, fit, and finish.
And use it for what? The PPS gives preppers, survivalists, and individuals wanting a short firearm for personal defense another choice option for these tasks. Chambered in the original 7.62×25 Tokarev and now the 9×19 (9mm), the PPS becomes a compact carbine type firearm or more of a pistol. In fact the Pioneer Arms PPS 43 is legally classified by BATF as a pistol. The folding stock is fixed in place and is non-functional. Otherwise it would be considered an SBR.
The 7.62×25 Russian Tokarev as the original chambering is an 87 grain load that was also used in the famed Tokarev pistol. This round generates a muzzle velocity of around 1390 feet per second with a terminal energy rating of 365 foot pounds. Though also chambered in the Russian military sidearm, as a submachine gun in the PPS it was quite formidable in the field. Now, though, the new PPS 43 is also chambered for the 9mm which may be more preferable by some.
The Pioneer Arms PPS 43 weighs 8 pounds loaded with a 35 round magazine. The arms overall length is 24 inches. The barrel is 9.8 inches. Sights include a hooded fixed blade front sight with a flip up rear sight. Operation is from a closed bolt in the semi-auto function. The barrel is shrouded by a holed shield for air cooling.
The PPS 43 would make a handy firearm for vehicle carry, ATV/UTV use in the field, and an option for a corner gun by the door at home. In 9mm, ammo would be readily available and shooting easy for small framed shooters including women and trained youth.