Big Ideas Create Big Guns at Big Horn Armory of Wyoming
Eve Flanigan 10.14.20

Writers (and gun nuts, one and all) from across the nation had the opportunity to try first-hand the wares of numerous industry innovators at the recent Blue August Gun and Outdoor Writers' Conference in Texas. Among the companies showing off products was Cody, Wyoming-based Big Horn Armory. The owner, according to representative Matt Foster, has an obsession with big-bore rifles and pistols. This was abundantly evident, and fun, when we got to see three very different Big Horn Armory guns that have one thing in common—they're all .50 caliber. Big guns!
The half-inch diameter bullet is nothing new to the single action world. The 50 Action Express has been around a while for handguns. But 500 Auto Max is a rimless version of the 500 Smith &Wesson Magnum cartridge, purpose-made to cycle in gas guns. Big Horn has designed two semis that run 500 Auto Max; one is a built on an AR10 platform and the other is an AR-style pistol.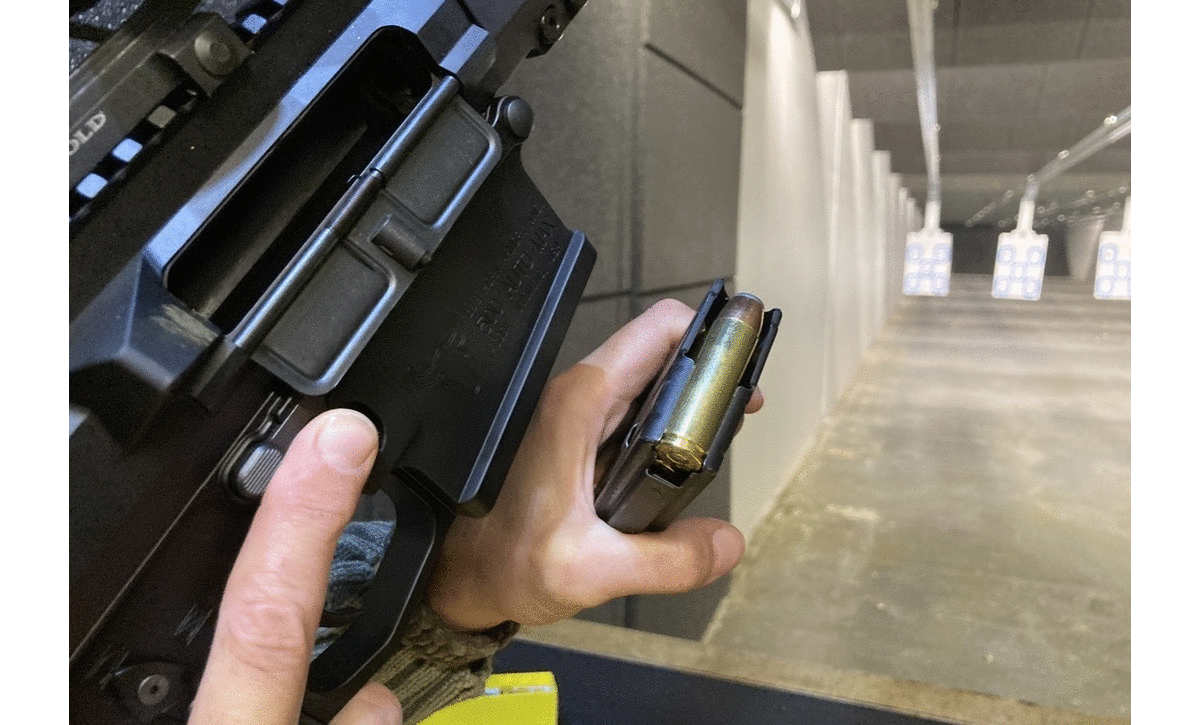 Flexibility in bullet choice is remarkable with these rifles. They'll reliably cycle grain weights from 200 to 700. Talk about going loaded for bear!
On the more traditional side, the company makes a classic lever action rifle chambered in the Auto Max's parent cartridge. It's called the Model 89.
Here are some details about each:
AR500
Not to be confused with the steel of the same name, the AR500 is the AR10-based rifle by Big Horn, with 500 Auto Max chambering. The lower is a modified DPMS pattern AR10; the upper is proprietary. The 18-inch, stainless steel barrel is nitride-treated for toughness. It has a full Picatinny rail top end, M-LOK forend with a bit of rail on the sides and bottom. It sports a cushioned, A2-angle AR grip and a telescoping stock. Big Horn Armory provides a five- or nine-round magazine with purchase.
Its adjustable gas block allows it to cycle when fitted with a suppressor. A ¾"x 28 TPI muzzle allows the user to attach the .50 cal. muzzle device of their choice.
Because the receiver is aluminum, this big gun weighs in at a surprisingly light 9.55 pounds. This writer got to run a magazine through it at the conference. Its recoil felt not a lot different from an AR10, and its frontal heft made it easy to stay on target and stay accurate. MSRP on the AR500 is $1,999.00.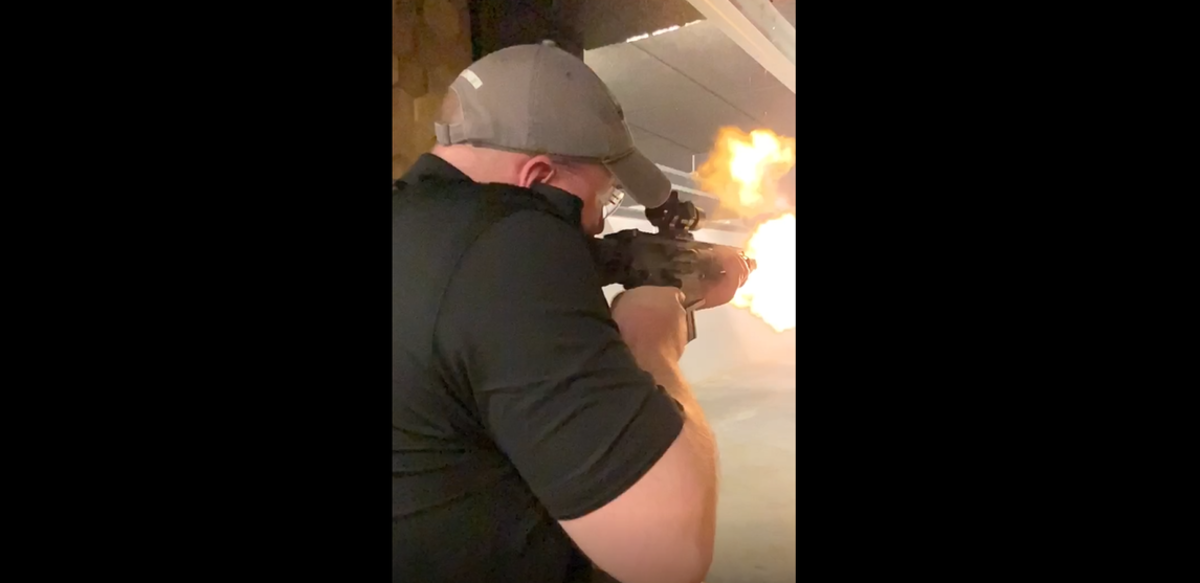 AR500 Pistol 
The AR500 rifle design was shortened at both ends to create the AR500 Pistol. It has a 10-inch barrel, and a forearm brace rather than a stock. Its overall weight is 8.0 pounds. It ships with a standard muzzle brake.
I passed on the chance to shoot this boomer, not wanting to aggravate old shoulder injuries. With the right muzzle brake recoil could be tamed significantly. Those who are ready to take on  the AR500 Pistol are looking at an MSRP of $2.199.00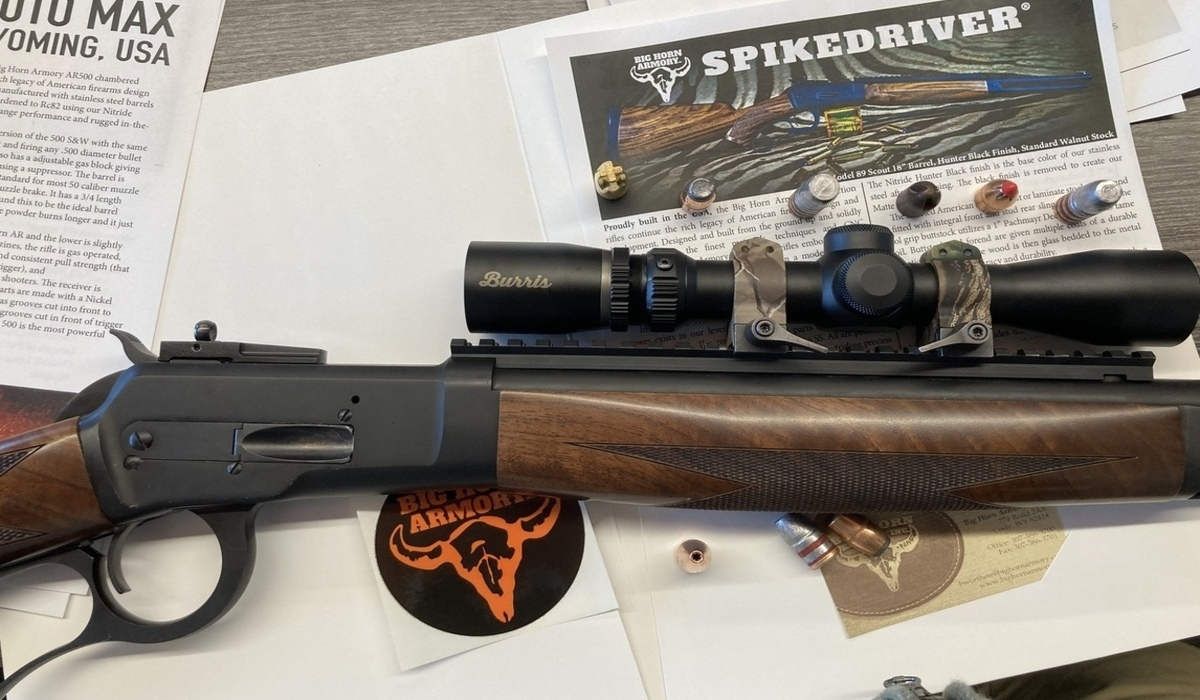 Model 89 Spike Driver
This is a big but traditional lever action rifle with an American walnut or laminate stock. Receivers and barrels are black nitride; with a matte stainless barrel option also offered. The Model 89 is so named because it's riff off what Big Horn Armory felt were the best features of the Winchester Models 1886 and 1892.
In the 500 S&W Model 89 at the show, the side-loading magazine accommodated seven rounds to accompany the 18-inch barrel. 16- and 22-inch barrels are also offered, which do affect capacity by one round more or less. The rifle weighs 7 pounds, 10 ounces, but other barrel weights and chamberings naturally change overall weight
This rifle is finely detailed with richly grained stocks, integral sling swivel mounts fore and aft, a Skinner ghost ring rear sight, and a marble bead front sight. Wood stocks receive multiple coats of synthetic stain finish, and are glass bedded to the metal parts to ensure accuracy and durability. An inch-thick Pachmayr Decelerator pad on the butt may not be traditional, but it makes shooting this lever gun a real pleasure. It ran smoothly and the Skinner/marble sight combo made sighting efficient and fun.
The Model 89 has many chamberings available. These include 500 Linebaugh, 475 Linebaugh/450 Ruger, 460 S&W 454 Casull, and 45 Colt. Prices range from $2,499.00 to $3,699.00 base, with special features like color case hardening, octagon barrel, and threaded muzzle adding to the price.
For anyone likes BIG guns, there should be something in the Big Horn Armory lineup to please them.