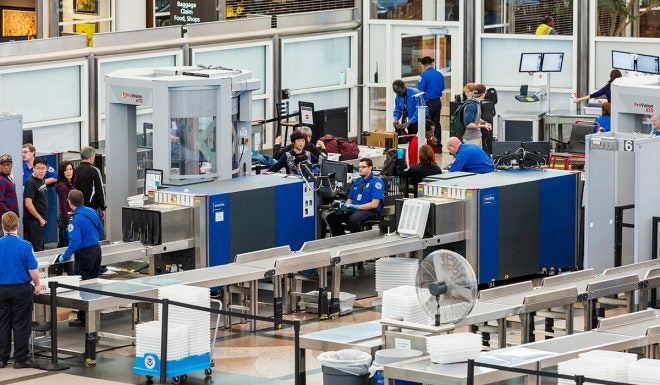 Regardless of how we all feel about it, if you're planning to take a trip to go hunting this fall, COVID-19 is going to impact you. Whether you're driving yourself, or hopping on a plane, the world just isn't the same as it was a year ago. Are things really any different for traveling to go hunting? Yes and no. Let's look at a few things to keep in mind if you're traveling to hunt right now.
Flying with guns
Right now, flying is a bit tricky. The airlines aren't operating at full capacity, and planes aren't nearly as full as they were before COVID. Recent numbers say air traffic is down 75%, but it varies. Don't expect a full plane, but we'll get to more on that soon. The big question people always ask is, what are the rules to flying with a firearm? Those have not changed.
Keep in mind, too. You can not carry a firearm or ammo onto the plane as carry-on luggage. Period.
Per the TSA website, you may transport unloaded firearms in a locked, hard-sided case as part of your checked baggage only. You must declare the firearm and/or ammunition to the airline when checking your bag at the ticket counter. This doesn't include any regulations the airline may impose. Most are cool about it, although we have heard stories of extra fees, etc.
Cases
The case needs to be airline approved and it must completely secure the firearm from being accessed. Be aware that you're going to need to spend a little on a good case. For one, once it goes to baggage, you might be better off letting a gorilla use your case to smash open a coconut. I'll admit, I'm not sure why gorillas need coconuts, but you get the idea. It's going to take a beating. You want the case to protect the gun, as well as ensure it doesn't come out. There are a bunch of great cases out there, so spend a little to save yourself some hassle and stress.
TSA Padlocks
Pro tip: Spend extra on padlocks. You always hear the TSA agent ask if you've locked your suitcase. They don't like that. However, you must have TSA-approved locks on your gun case. And not just one, either. You must have a minimum of two, one at each end. I started running three – one on each end and one in the middle. And I don't use the combination ones anymore. There are some great keyed locks out there. A while back, I was headed south for a duck hunt and got called in the airport at one of my connections because my lock on one end broke while being handled. I had to replace it in the airport and go through a major hassle. Now that I run three, if one is damaged, TSA can move the middle lock to an end and call it good.
Get the Best Deals on TSA Locks
Ammo Regulations
Ammunition is another matter, but easy to take care of. According to TSA, you need to declare the ammo to the airline and it must go in either a checked bag, or inside the locked firearm case. Here's the important stuff to know from TSA. The ammo must be in a box, whether it is the original, or an aftermarket box. This was always a confusing point, but it's right in the rules. "Ammunition must be packaged in a fiber (such as cardboard), wood, plastic, or metal box specifically designed to carry ammunition and declared to your airline." The airlines can set limits, and most say two boxes only. Don't go crazy trying to bring two boxes with a hundred rounds in each. Always check with the airline. Also – Loaded magazines do NOT count as a container, because the ammo isn't fully enclosed.
Getting on the plane and stuff
I have yet to hear of any airline airport or anywhere else that doesn't require a facemask. I know, I know… I'm not a fan of them either. But if it means I'd have to cancel a hunting trip, especially one I've been saving for, I'll wear one. Hand washing is a good idea, even outside of the time of COVID. Airports are gross.
One thing to keep in mind, too. The airlines are hurting, so there may just be some sweet deals on flights available. And I keep seeing posts on social media, or in my email inbox, about cancellation hunts. A buddy of mine scored a sweet deal on a self-guided elk hunt, and he got airfare for less than half.
Coming soon, you'll need a Real I.D. to fly. The original deadline was October 1, 2020, but that was moved back a year due to, you guessed it, COVID. If you have a passport, you're covered, but if you don't, there's a new step you need to take care of before your flight. Check here for Real I.D. requirements and information.
If you choose to drive, and this is the option I do when I can, be sure you know the rules of the states or provinces you travel through. At the time of this writing, the U.S./Canadian border is currently closed to non-essential travel. That would include going hunting or fishing north of the border. You need to be aware of the regulations wherever you travel. The last thing you want is to have a hunting trip ruined because of a simple mistake.
Cover Image: Shutterstock/Habich
That said, where's everybody hunting this year? If you've been out and had some success, let us know!