Armaspec is the Go-To Shop for Upgrades/Builds of ARs and More
Eve Flanigan 10.26.20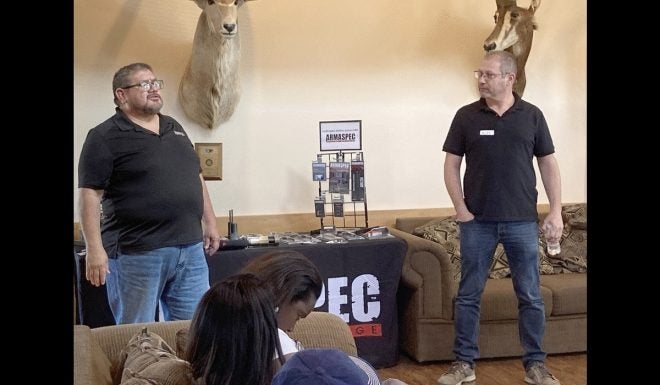 Armaspec. The name is borrowed from the Armalite platform and the term mil-spec, "but we're a lot better than mil-spec!" proclaims company president Alex Iosilvesky, who started Armaspec in 2013. The company makes firearms parts and accessories mostly for the AR platform, but is always expanding their product reach and selection. At a recent gun writers' conference hosted by Lucid Optics, Armaspec's Iosilvesky (the inventive brain of the company) and Mike Gurule, VP of Sales, were in attendance. They presented products and information, and allowed writers to test out some of the gear on the range. I was pleasantly surprised.
The Armaspec display table was full and colorful. They strive to make each part available in 7 colors. Handling the many wares on display, the quality and consistency of machining is obvious. Also notable is their short order-to-delivery times in what has become a strained market. Armaspec is growing in a big way. First based in California, a second factory in New Mexico opened in the last couple years. As of this writing, a massive expansion of the New Mexico plant is underway.
It is challenging to describe Armaspec's offerings outside of being "gun parts and accessories" because their product line is diverse and ever-growing. Gurule said, "we aim to release a new product every 90 days." Iosilvesky smiled and nodded at the remark. At this moment, the company is seeing record sales yet remains committed to rolling out new products. This high-energy duo convinced me that Armaspec is on its way to becoming a household name. Currently, the shop offers a replete selection of high-quality but affordable AR15 parts, a few for AR10 platforms, and other gun components. They're getting ready to unveil a complete line of Glock upgrade/replacement parts with other brands to follow. A look at 3 of their most popular products appears below.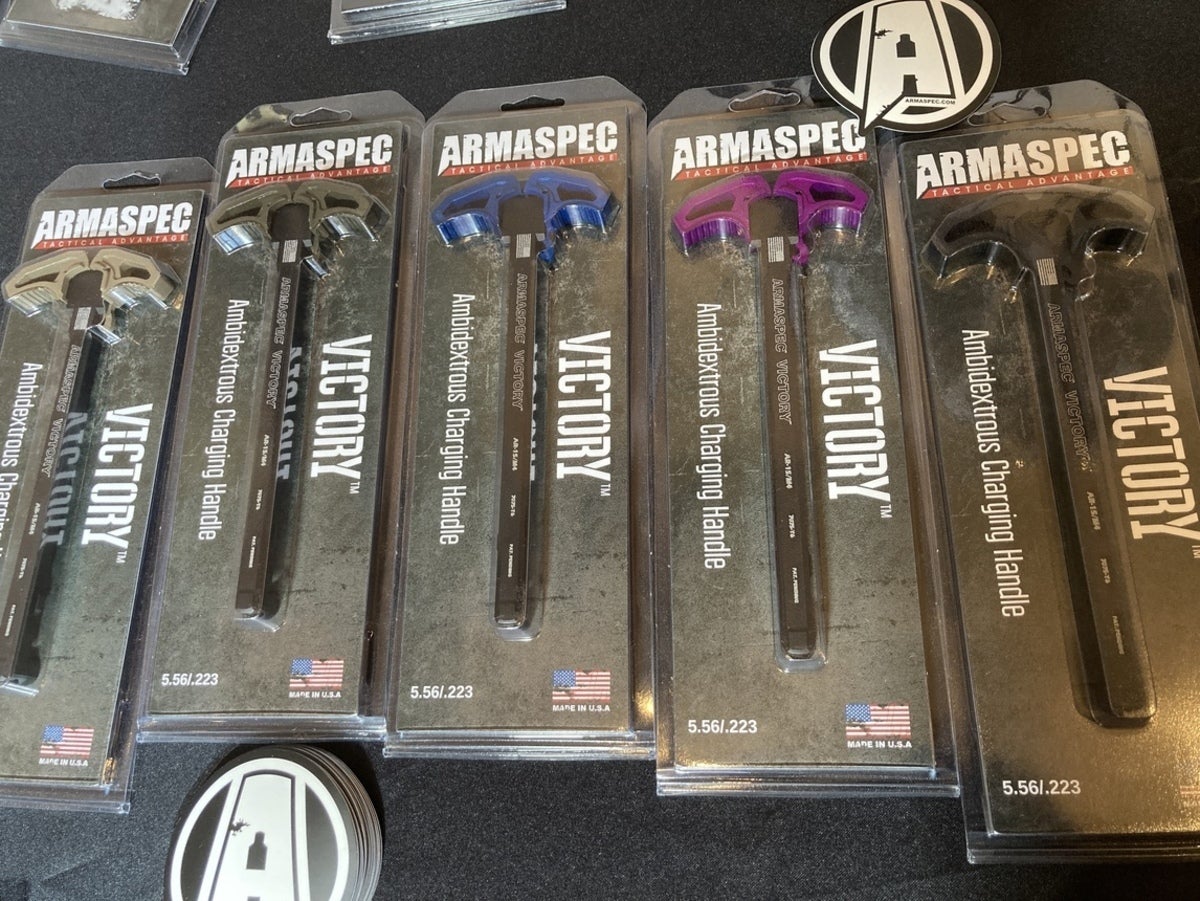 Victory Charging Handle
This AR15 charging handle features extended handles, ambidextrous operation, and ports that route captured gas downward to prevent twisting of the shaft. There is a patent pending on this one, which caught my eye initially because it looks and functions very much like the big-name ambi charging handle I bought for my own AR several years ago – but I paid about $30 more! The price on the Victory Charging Handle is just $65.99.
Rifter Linear Muzzle Brake
Again, for the 223 Remington/5.56 NATO rifle, this muzzle brake is innovative and does two jobs: taming recoil and reducing flash signature. It's the closest device I've seen to being a suppressor while not requiring suppressor paperwork. Using instructions on the Armaspec website, even the least mechanically inclined among us can install it, assuming the barrel will match its ½" x 28 TPI thread pitch. The Rifter is made of stainless steel and is black nitride coated with an MSRP of $159.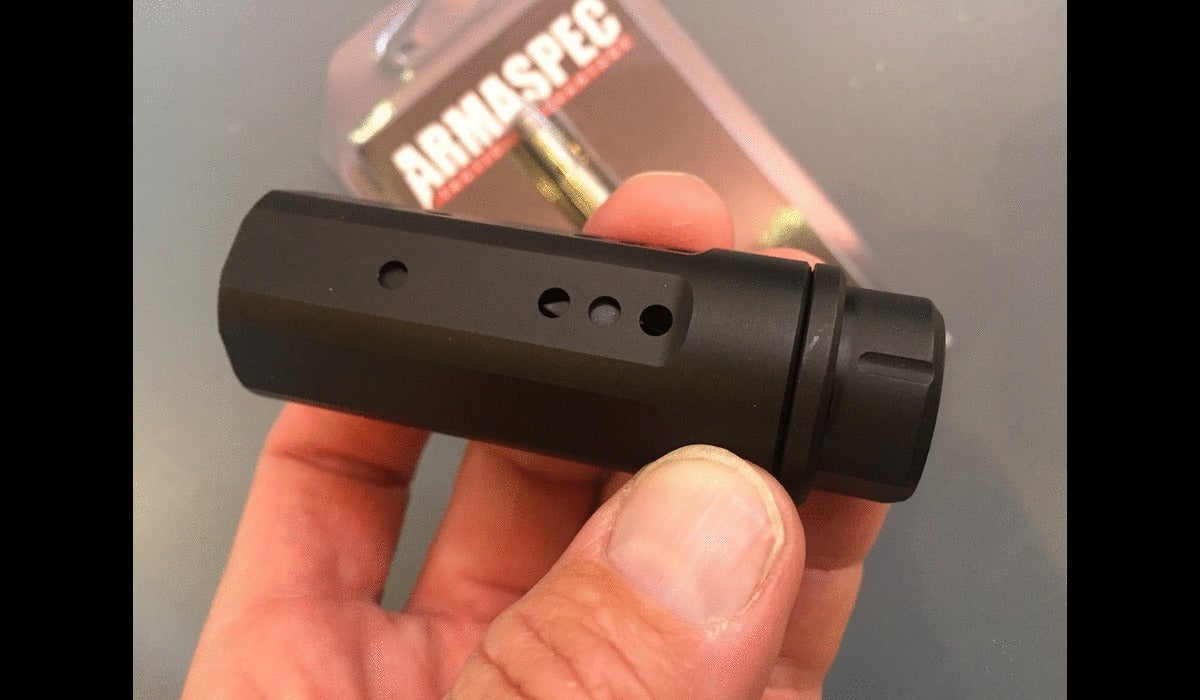 Superlight Gun Builder's Kit for 223/5.56
This kit contains all the springs and detents for an AR15 lower, not including the trigger guard. All parts are stainless steel. Armaspec's usual 7 color choices (Black, Flat Dark Earth (FDE), Purple, Red, Olive Drab, Blue, and Silver) are available. Like all Armaspec goods, the kit comes in a house-produced clamshell pack that keeps unused or spare parts organized and protected. At $69.99, they make it easy to enter the 80% lower building arena, or just have replacement parts on hand.
"We sell these products too cheap, way too cheap," said Gurule. He explained that it's possible to do so thanks to the brilliant and inventive Iosilvesky, who's figured out ways to minimize waste yet preserve integrity in the CNC machining process. This efficiency has carried over into production routines, making Armaspec one of the few companies that consistently has parts in stock today. And besides, admitted Mike, his boss is just a nice guy who wants to keep his goods accessible to the everyday gun guy or gal. Anyone can order direct from Armaspec, and enjoy their lifetime warranty and free shipping with minimum order. They also welcome dealer inquiries.