Home on the Range #008: Seeding a Barren Hillside to Prevent Erosion
RusDs 10.30.20

Welcome to our recurring series of "Home on the Range." Here, we would like to share all of our experiences for those who may be homesteading, living off the land, hunting, farming, ranching, and truly investing in nature and the great outdoors. The ability to provide for yourself and your family can be tremendously rewarding and simultaneously difficult at times. So, in "Home on the Range" we want to share our different exploits so you can learn and hopefully we can receive your feedback along the way as well.
Dirt in the right place is valuable, don't lose it!
One of my main projects this year on the ranch was the construction of an equipment barn.  In doing so, I did some re-grading of the land for a truck turnaround around the perimeter of the barn, resulting in a roughly 2.5 acre slope off the side of the turnaround down to the pasture.  This new slope was barren, and required some seeding in order to prevent erosion from snowmelt in the spring.  There are a few ways to accomplish this, the easiest being hydroseeding.  I had a bunch of leftover seed from my previous wildlife habitat rehab work, however, so I decided to save a significant amount of money by making do with what I had on hand.  I was able to accomplish erosion mitigation in the space of a few days work, and for very little money, and would like to share that process with you, the reader.
Basic Supplies Needed: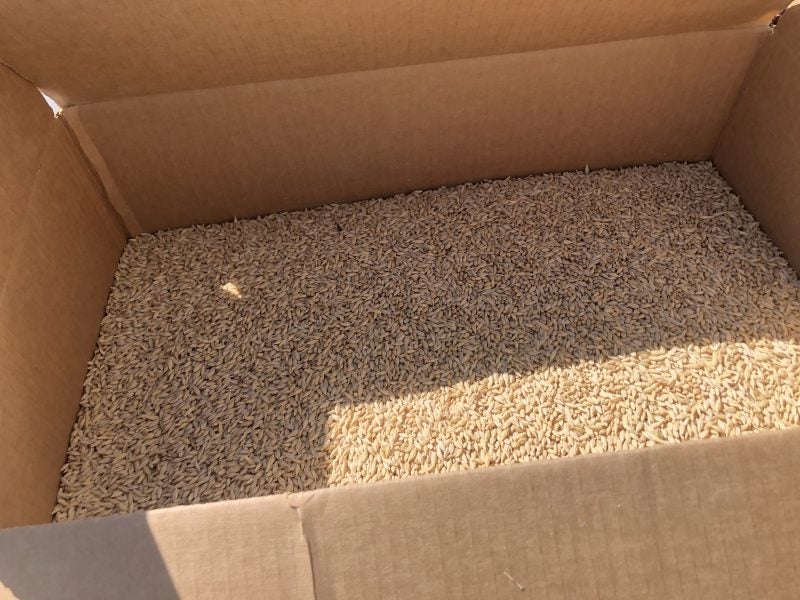 You will need:
perennial grass seed (exact type depending on your environment)
A bow rake if the slope angle is too steep for motorized equipment
A water source
Straw (optional)
Fertilizer (optional)
My process:
First, I prepared the dirt for seeding by raking the entirety of it first up and down and then side to side.  This provides for a more uniform planting surface and tills the soil to prepare it better for seeding.  Raking also has the benefit of eliminating any gullys or rivulets that might be forming in a barren area, helping prevent further erosion.  Of course, this can be accomplished by any number of tractor implements if your slope angle is not too extreme.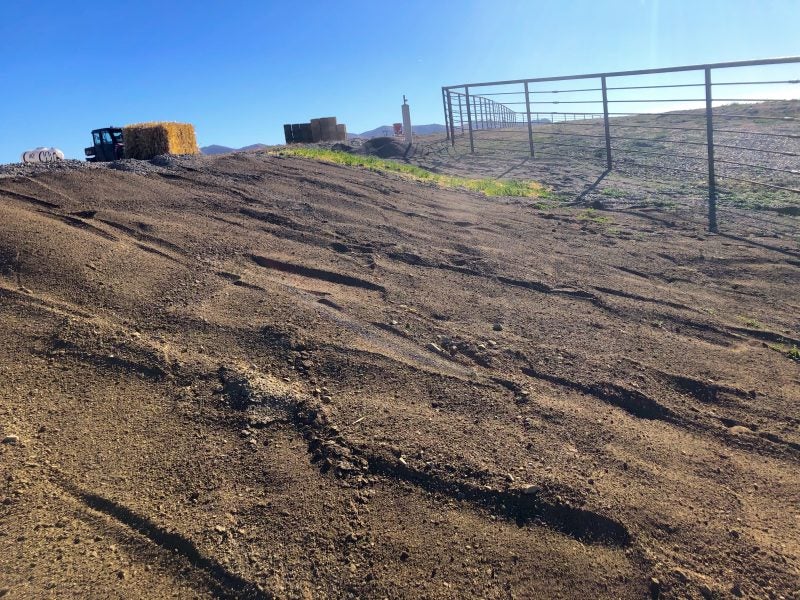 Following the raking of the dirt, I cast seed as evenly as I could over the entire hillside by hand.  However, if your conditions allow it, a broadcast spreader is a far easier and more consistent method to seed an area.  Unfortunately the angle of the slope precluded me from using tow-behind implements.  My primary seed mix is a wild game perennial grass forage mix.  This mix does rather well in high altitude semi-arid environments.  I also overseeded with an intermountain west honey bee blend.  This blend has some good color to it, which will help the hillside look nice as well as be a good home base for my bee boxes in the spring.  After completion of the seeding, I cast fish emulsion based fertilizer over the seed.  Then, I lightly covered the seed and fertilizer with soil by using the backside of the bow rake in a gentle spreading motion.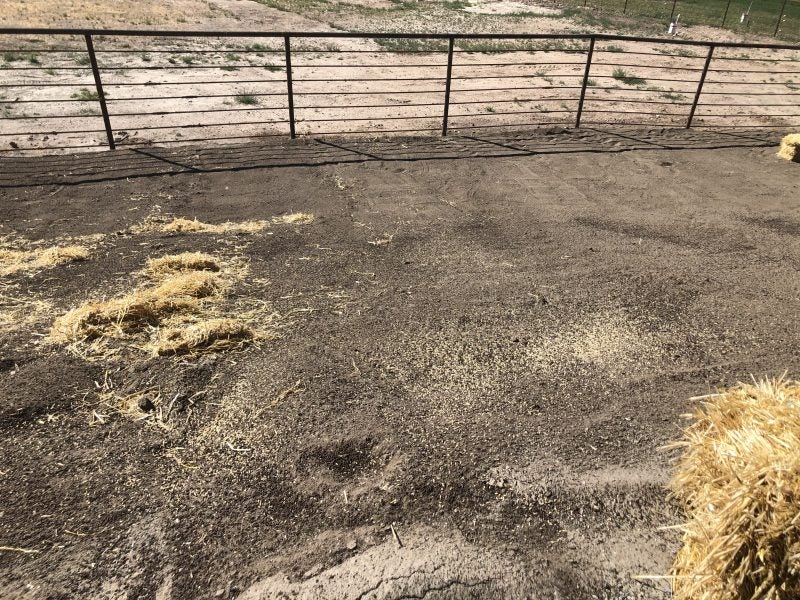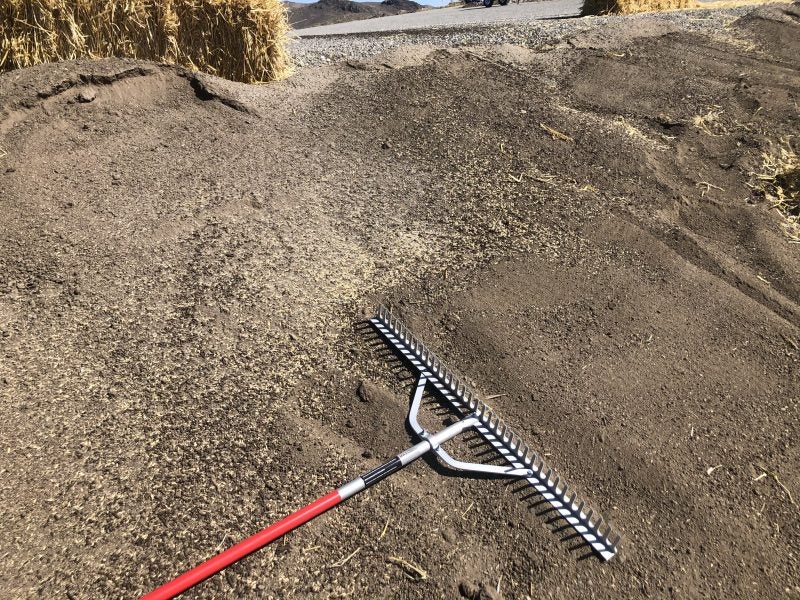 The next step I took was spreading straw over the seeded area.  Straw helps retain moisture, keep soil temperature more consistent via insulation, keeps the seeds out of sight of birds, shelters the seeds from the wind, and helps ratio moisture at the soil surface level.  All of these benefits will aid in germination of the seed, so while the use of hay is optional, I highly recommend it.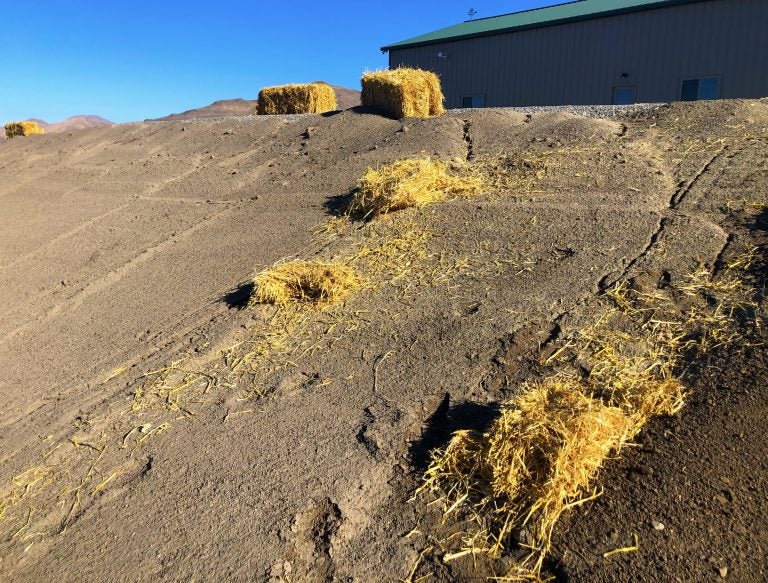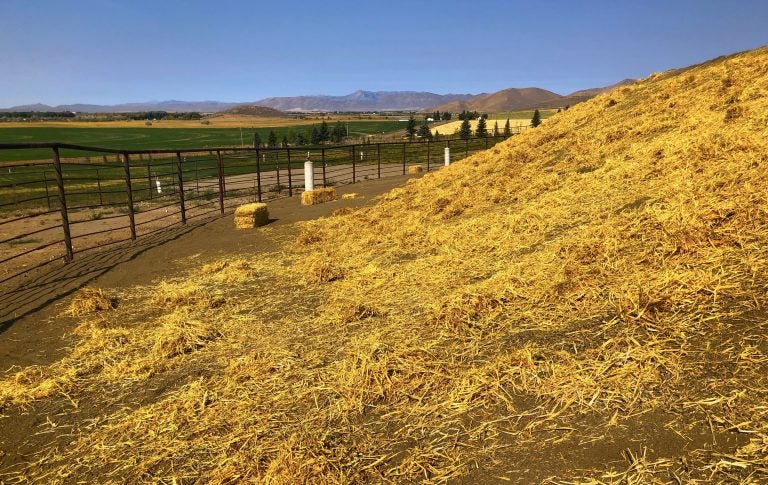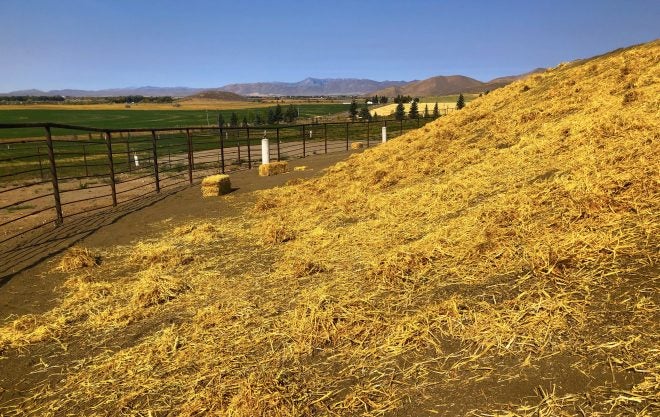 Watering in the Seeding:
While I do have some very good Big Gun irrigation systems that cover the hillside, I did not want to use these for initial seeding of barren dirt.  The pressure from the Big Guns would erode and cut into the hillside instead of gently soaking the seeds.  Therefore, I used a woodland fire hose with an adjustable stream and fog-capable nozzle.  I made sure to water each area gradually until runoff was observed, being gentle so as not to greatly disturb the soil or wash off the straw.  I repeated this process three times in each area, and achieved a moisture depth of 3 inches down into the dirt.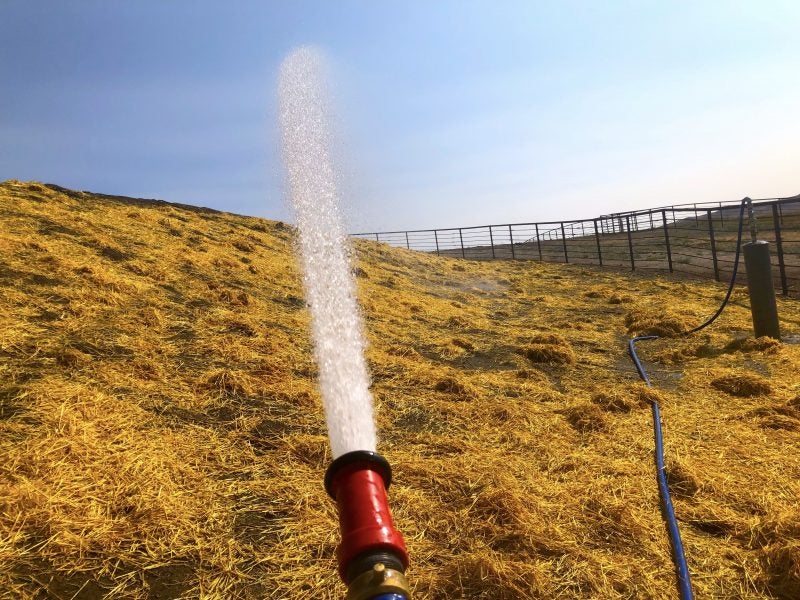 Due to the straw being spread over the seed, I did not have any issues with wildlife consuming the seed that we had sown. Once completed, It took roughly 3 weeks to see results.  I was very pleased with the overall success of using my surplus perennial grass seed to beautify and erosion-proof my hillside.  I hope this brief guide helps those of you who need to seed a large dirt area for dust or erosion control.  Thanks for reading Home On The Range and AllOutdoor!