Tips for Sneaking into the Woods: Low Impact Deer Woods Entry
Dr. John Woods 11.04.20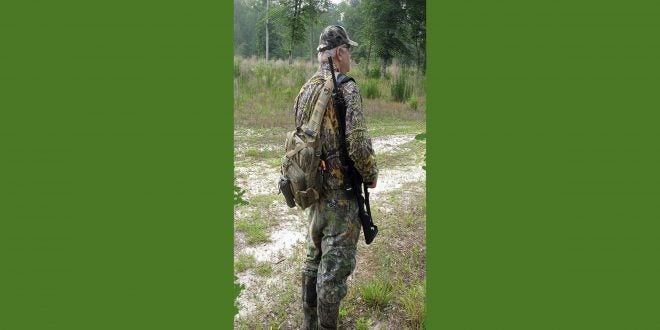 Sneaking up on a white-tailed deer is nearly impossible. Oh, you can try it, and sometimes you might manage to creep close enough for a harvest shot, but more often than not you are likely to spook them. What are some tricks to help you fool a deer's nose and ears in order to move by to a hunting stand or to get into a safe position to take the deer down? Being as low impact as possible can be the key.
We have one food plot on our hunting land that is known as the Duck Pond. This is because there is a small pond of water that sits right next to the food plot that often attracts a variety of waterfowl. On the north end is my favorite ladder stand overlooking the entire plot and the duck pond. Does love to congregate on this plot and that attracts the bucks. I cannot count the times I have walked from our camp cabin about 200 yards away to be confronted with deer standing in the plot munching away. Now, I have learned to creep along the left side of the trail leading to this plot trying not to spook the deer. If you go slow and hug the woods on that side you can often glimpse deer feeding without scaring them away. I have harvested several does this way within minutes of leaving our camp.
However, there are other times and other plots where this is nearly impossible. I've learned a few tricks and sometimes they actually work. First and absolutely foremost, you have to assess the wind before you approach a plot or stand. If the wind is wrong, go somewhere else. Then you have to eliminate all your foreign scent. This is not just your human scent, but anything else you contacted before going hunting. That includes breakfast sausage, gasoline from the ATV, tobacco, or anything else deer don't like.
Wear knee high rubber or neoprene boots. You cannot completely eliminate human scent even wearing clothing that is supposed to do that. Don't count on it. Comprehensive spraying down with scent killer does help immensely, so do it, head to toe. All your gear, too. If a deer catches a whiff of you, the game is over. They will split like a banana dessert.
As you slip along, go slow, go deliberately. Avoid making obvious noises. The only thing better than a deer's nose is their ears. Plod along in water, snap a twig, cough, rattle a rifle sling, and likely a deer will hear it. If you're close enough, look for the white tail flag of exit. Work on approaching the deer woods with a low impact if at all possible.