Springfield Armory Hellcat Dubbed GUNS & AMMO "Handgun of the Year"
Adam Scepaniak 11.04.20

The Springfield Armory Hellcat has been dubbed the "Handgun of the Year" by Guns & Ammo for yet another accolade for the world's highest capacity micro-compact pistol. In a year that has caught us all by surprise, the Springfield Armory Hellcat receiving this award should be the one thing that does not catch anyone by surprise. It has been a dominating seller for the past year, boasts a long list of great features, and has passed multiple endurance tests from varying media outlets to cement its longevity and durability. The full Press Release for the nod of "Handgun of the Year" from Guns & Ammo can be read below as presented by Springfield Armory:
"GENESEO, ILL. (11/4/20) – Springfield Armory® is proud to announce that its popular Hellcat® 9mm pistol has won the esteemed Guns & Ammo 2020 Handgun of the Year Award.

The micro compact +P-rated Hellcat features a class-leading capacity of 11+1 with its patented magazine — 13+1 with the included extended magazine — and has proven to be an extremely popular EDC choice for self-defense firearms purchasers. A 3″ hammer-forged barrel and a lowest weight of just 17.9 oz. empty ensure that the pistol is as easy to pack as it is to shoot well.

In addition to its minute dimensions and impressive power and capacity, the Hellcat OSP™ (optical sight pistol) variant allows for direct-mounting of compact red dot optics. An included removable seamless cover plate makes installation easy, and the optic can co-witness with the pistol's excellent U-Dot™ sights — made up of a high visibility tritium and luminescent front sight paired with a tactical rack U-notch rear.

Offered in standard and OSP versions as well as in black or FDE, the Hellcat has created a new standard for cutting-edge EDC. And, it gives CCW users a terrific option for their own self-defense needs."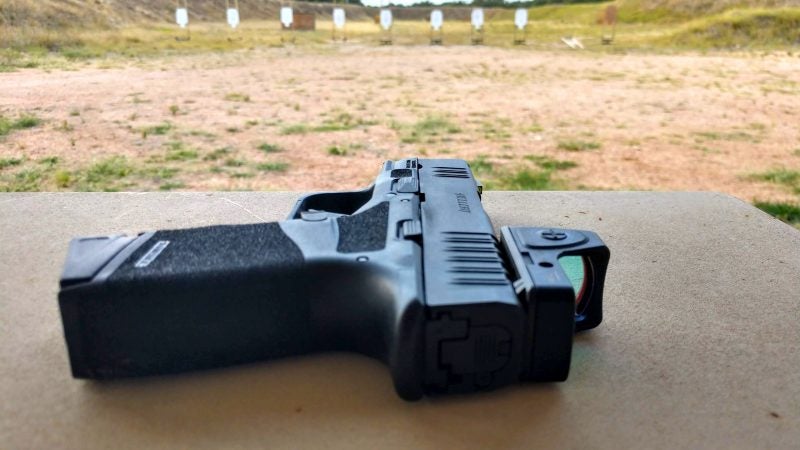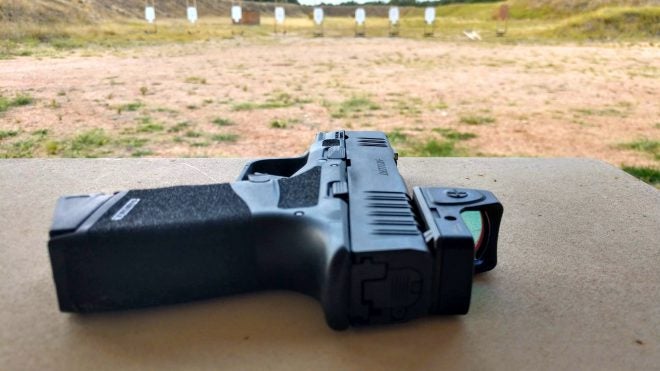 For anyone who has not dove in on the Springfield Armory Hellcat bandwagon, there are 5 different options you have to pick from if you want to join in (better late than never, right). Regardless of what one might pique your interest, you undoubtedly cannot go wrong. Eric Poole, Editor of Guns & Ammo, goes on to explain what all went into their selecting the Springfield Armory Hellcat for this award:
"During our year-long evaluation of the Hellcat, we have put several of the pistols through extensive testing. We've shot thousands of rounds through them, and we were able to shoot less than 2″ groups at 25 yards from a fixed rest. It's clear that the Springfield Armory Hellcat and Hellcat OSP deserve this year's Handgun of the Year honors."
The Springfield Armory Hellcat was announced back on September 25th, 2019 so it has been out on the market for a little over a year now making quite the splash. Guns & Ammo is no small-time outfit either. They are one of the more respected media outlets surrounding the firearms industry. Steve Kramer, Springfield Armory's Vice President of Marketing, shared his thoughts about receiving this award from Guns & Ammo:
"We've been extremely proud of the Hellcat since its launch. So, receiving the recognition of the 2020 Handgun of the Year Award from such a respected name in the firearms media community means a great deal to us."
I have owned a Springfield Armory Hellcat myself for a little over a year now and have thoroughly enjoyed it. I have used it as an EDC pistol, taken some classes with it, and generally had a lot of range fun. It blends the common ground of a recreational and defense handgun better than anything I have previously tested. Do you already own a Springfield Armory Hellcat? Let us know all of your thoughts in the Comments below! We always appreciate your feedback.