American Tactical, Rukx Gear, and the Pack That Floats
Eve Flanigan 11.06.20

American Tactical (AT) was formerly American Tactical Imports, but they make a lot of their wares in South Carolina now, so a name change was in order. As the company grows, so has its product line. They have house-brand shotgun ammo now, and are the American distributor for Rukx Gear bags and packs.
At the Blue August Gun & Outdoor Writers' Conference last month, I had the chance to see AT's newest products. There were plenty to get excited about, but the thing that really captured my interest wasn't a gun. It was the Rukx Gear Survivor Pack. This three-day size backpack has a lot in common with other brands. It looks cool, has some modular components, and is gun-friendly in a couple ways, but what really sets it apart is – it floats. Being a fan of great bags and emergency gear, I had to try one out.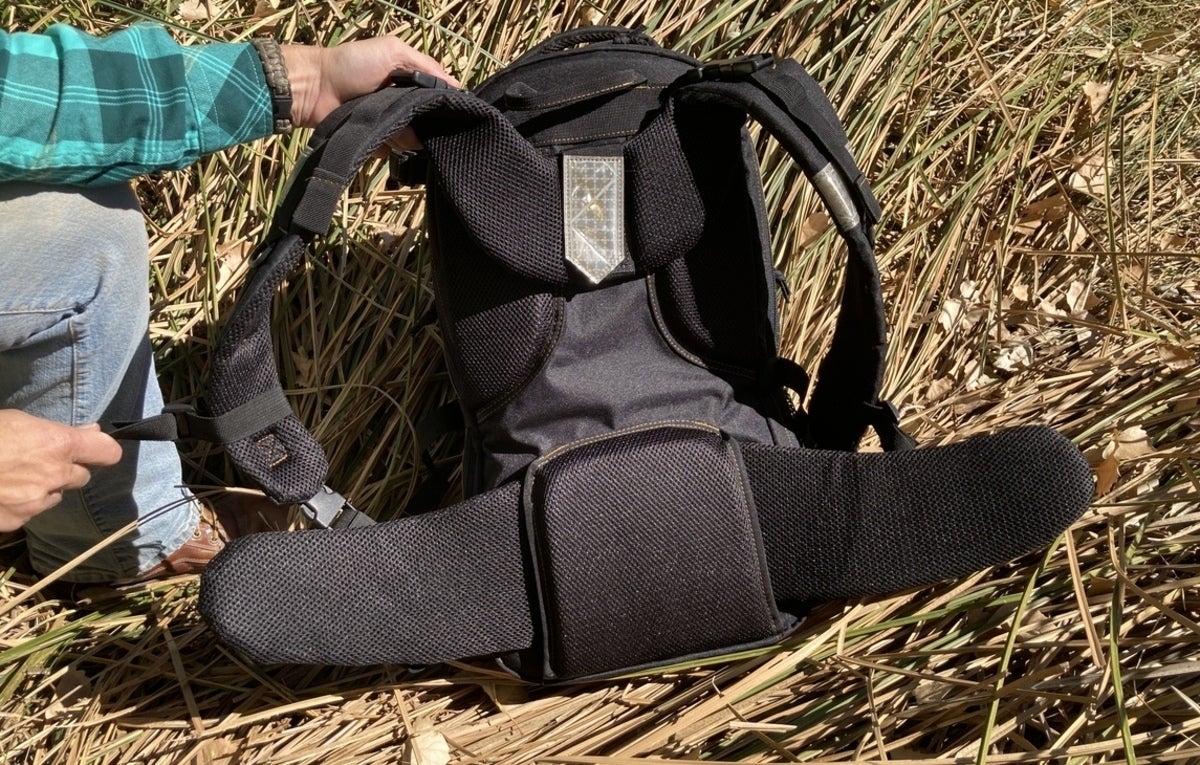 Examining the Survivor from back to front, on the back are easily detachable, generously padded, shoulder and waist straps. The straps and the surfaces of the pack are mesh-covered for circulation. Lightweight, but substantial kidney and shoulder pads hold the bulk of the pack off the center of the wearer's back. A reflective strip on top stays exposed whether the pack is shoulder-borne or carried like a satchel (there's a handle for that on top). That padding on the back isn't just for comfort. It's also for floatation. The Survivor is aptly named!
Just in front of the pads is the rearmost compartment. It opens flat and has Velcro straps to hold a long gun in place. Carbines or take-down shotguns or rifles can fit and ride without being scratched in this compartment, so long as the longest piece is under 21 inches.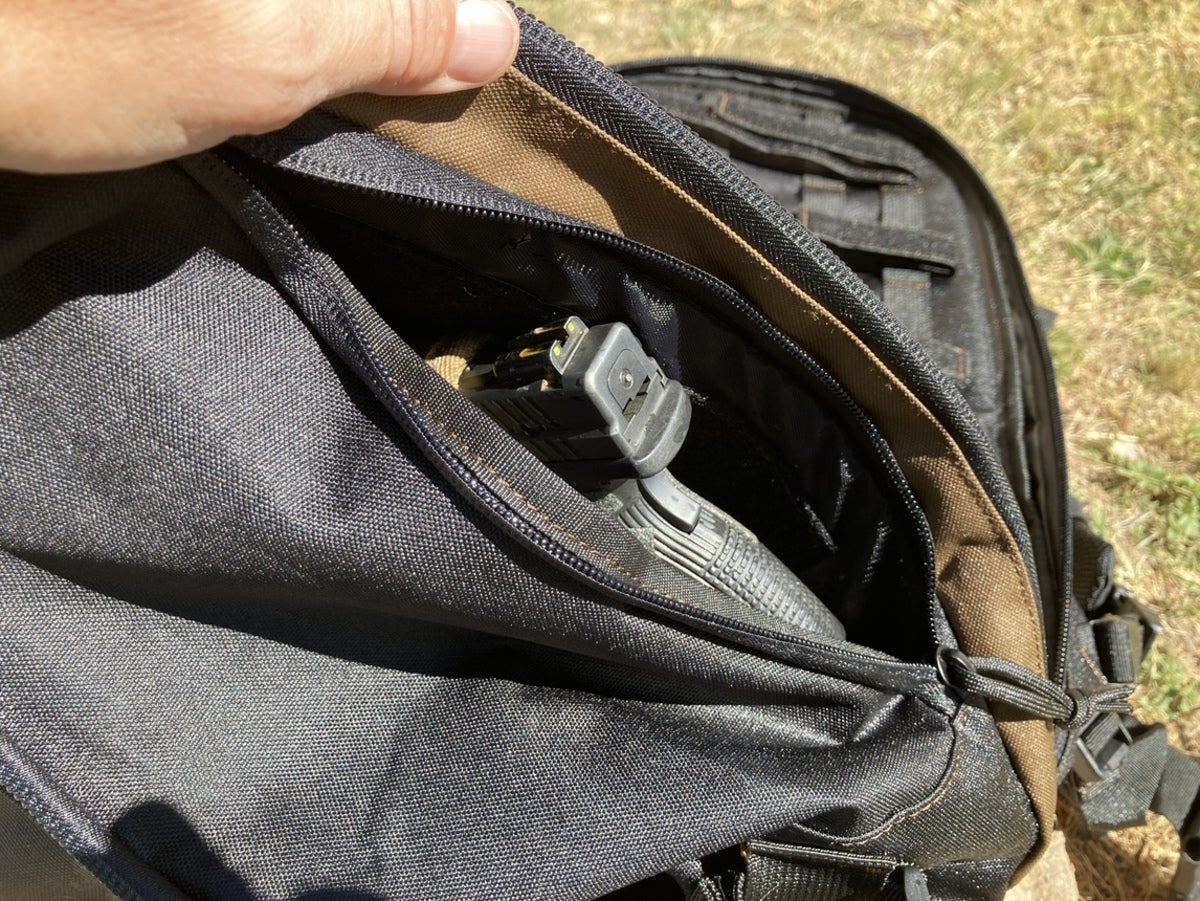 Hidden with side-zip access just in front of that compartment is the handgun compartment. It's lined with loop material. No gun sleeve is included, but I borrowed a simple, hook material-covered sheath from another bag to stage my old XD in there for my trial hike. This compartment isn't set up to draw from while wearing the pack, but it conceals the gun well. The instructor in me must add that it's best to do the same with a hook material-covered sheath or holster that prevents the gun from changing directions and the muzzle being who knows where when the user reaches into this compartment.
The main compartment is cavernous. There's easily room for most sleeping bags and some provisions in it. At the top is a novel design for a drinking tube to poke out. An X-shaped, silicone-texture patch opens up when pushed on from inside. Its contrasting color adds style. The flap of the main compartment has two internal zippered pouches that are see-through but not the cheap plastic kind of transparent material. It's mesh, but doesn't invite stuff to snag like some mesh. Both these compartments have a 180-degree zippered opening so you can stuff as much as you like in there, as well as easily see what's in the pack. No more digging into the abyss, even with this massive middle compartment.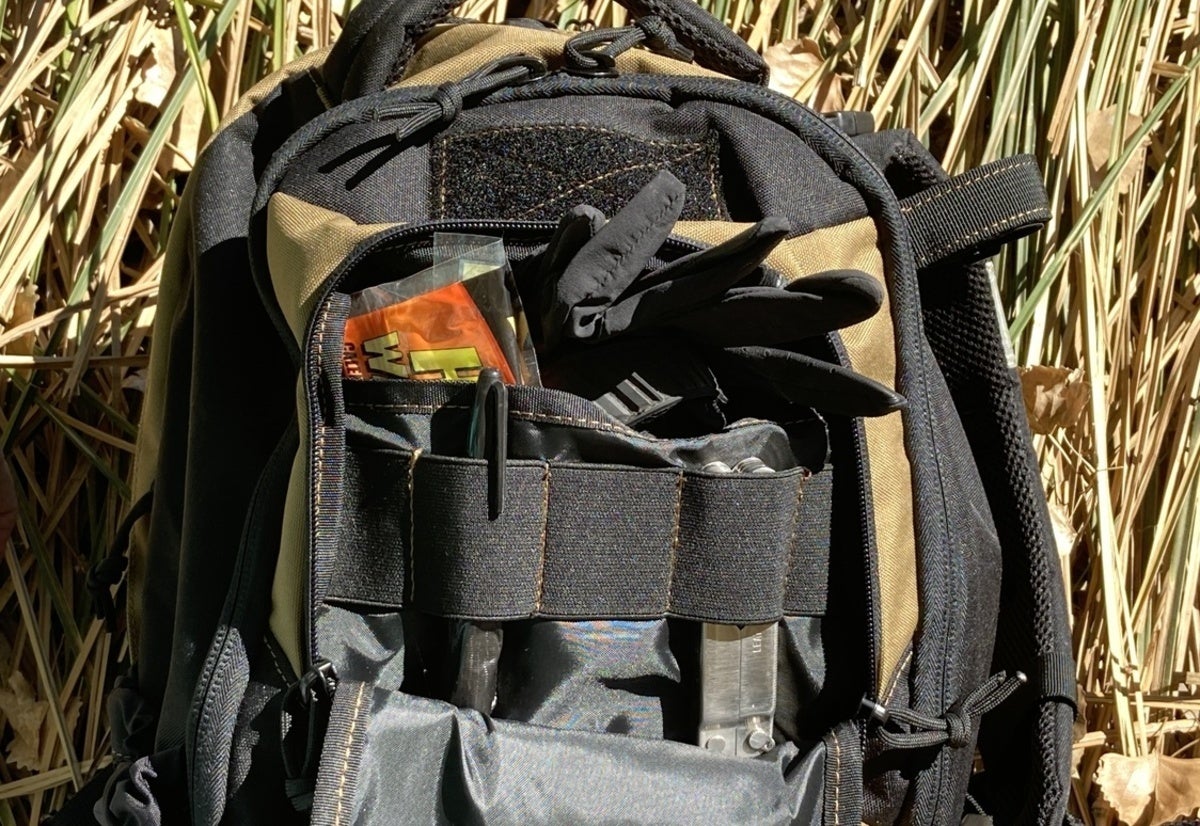 On the front are two more zippered pouches, both of which have subdividers for pens and other small items. Some of the sub-pouches are also zippered. All zipper tabs sport paracord, which aids in easy opening and can be a real asset when cold or adrenaline interfere with fine motor function.
The outside of this bag is glorious for the adventurer. The contrasting stitching and fabric are attractive and tough, but not tactical in appearance. There are two carry handles, one very well padded, the other made for hanging the bag. One side has a drawstring mesh bag large enough for a 32-ounce bottle or more. On the other side are two Velcro loops, ideal for carrying rigid gear that won't fit inside. Side adjustment straps allow the bag to be compressed to whatever thickness the contents will allow. A rectangle of loop material provides space for your favorite morale or ID patch. Both the top and bottom outer compartments have a strip of reflective material. That's not enough to be obnoxious-appearing.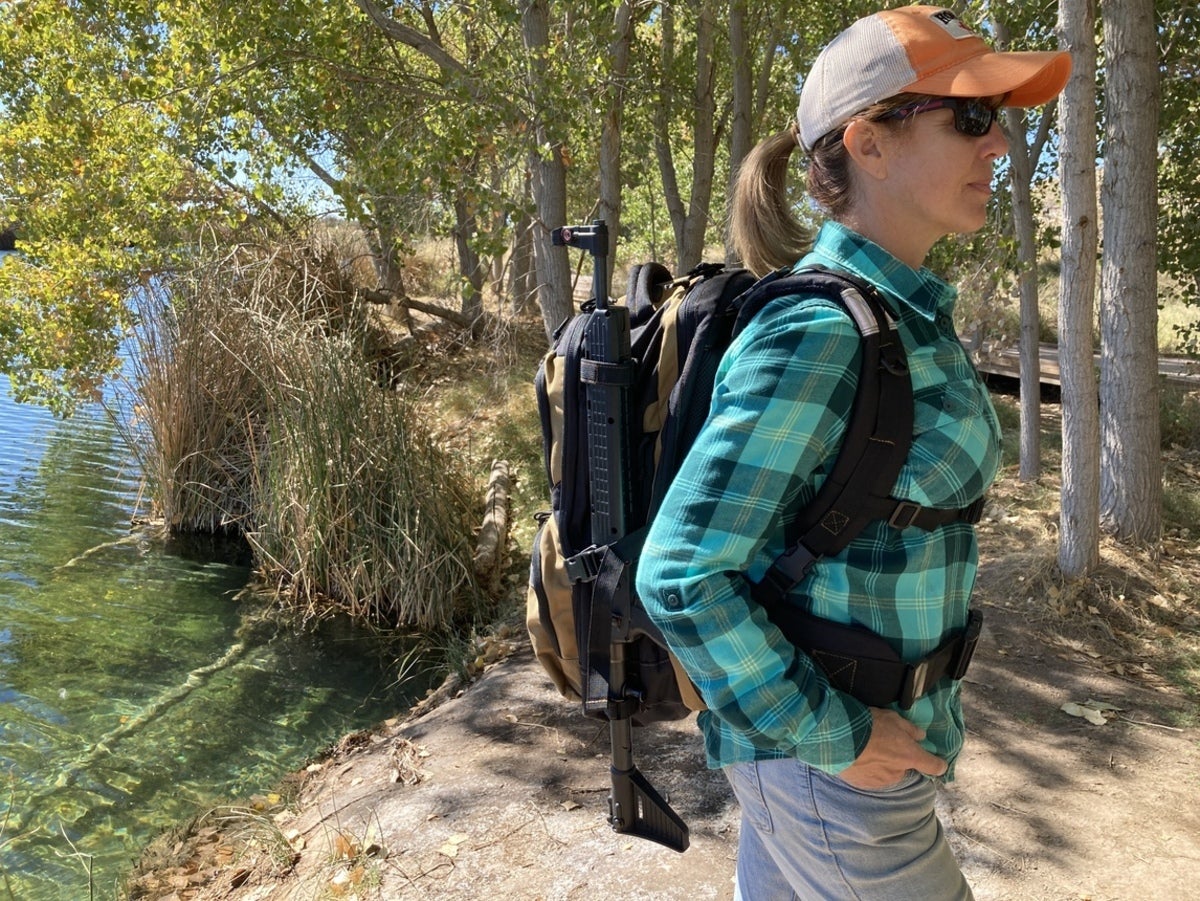 American Tactical has apparently taken the initiative to embroider, in white, the pack model name in all caps on the black field of the bottom pouch. In what is otherwise a subtly-colored pack (my sample is tan and black, but there are bright ones), it has a bit of overkill feel, but it's also pretty minor.
For the hike associated with this test, I loaded this bag up with a pistol caliber carbine, a full-size Springfield XD, about a hundred rounds for each, plus the gear I use for security work except body armor, though that would've fit inside. That loadout felt like a bit less than 40 pounds, though I didn't weigh it.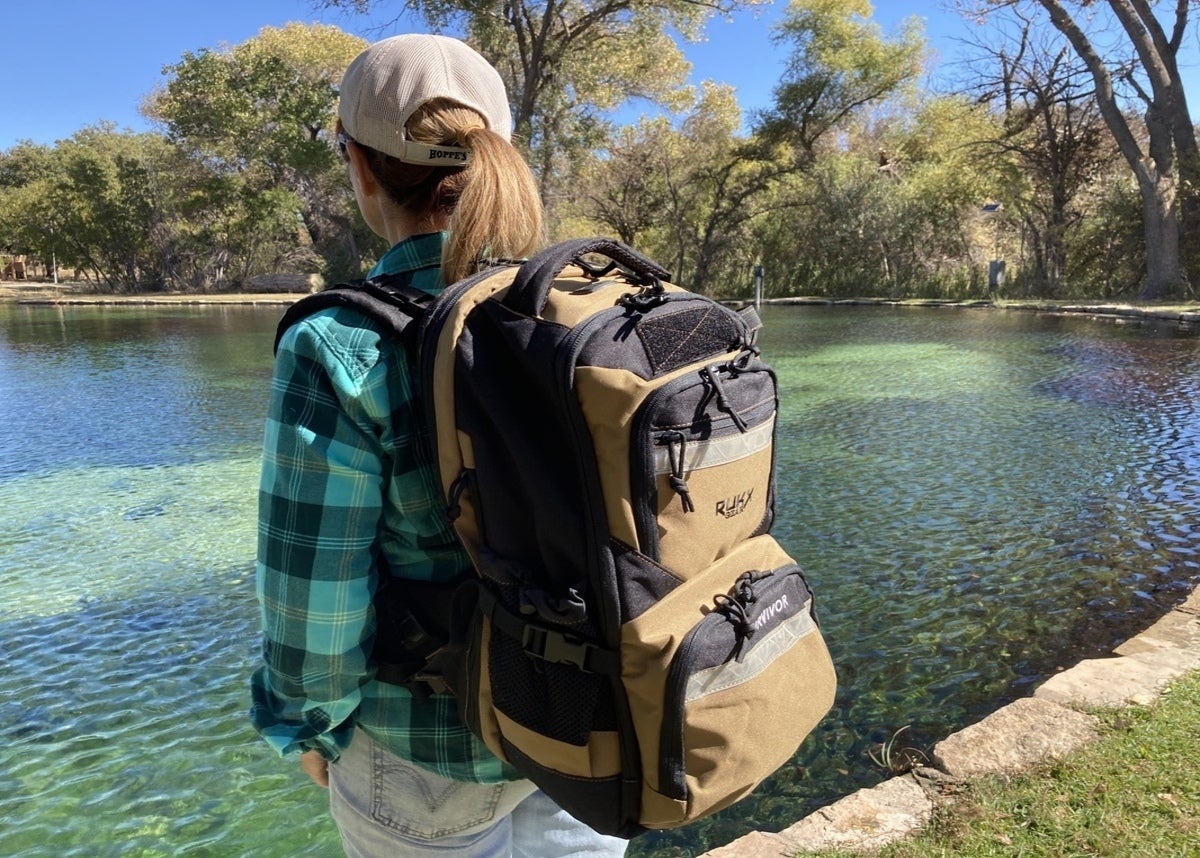 The webbing on the Survivor is lapped and stitched everywhere it needs to be for good strength and to prevent fraying. Elastic keepers abound and make it easy to maintain a neat presentation, without strap ends flapping amok. I still taped them down in a couple places to be sure – more reflective of my preference than anything to do with the bag. Even though I'm relatively small for the size of the Survivor, the great adjustability of the shoulder and hip straps allows me to carry it right where it needs to be, keeping pressure off the mid-back even when loaded down.
The Survivor isn't waterproof, it's water-resistant, and I found out the difference when I sent it, with the XD and three full magazines inside as well as a bunch of other gear, off for a little swim. Considering the season and freezing nighttime temps, I decided not to join the bag in the water.
For about a minute, the Survivor floated in the pond. The hip and shoulder straps took on water rapidly, soon dangling from the pack below the surface, but the pack itself floated.  I could see water begin to soak the material and pull it just about an inch lower into the water as the compartments began to take on water, but most of it stayed clear.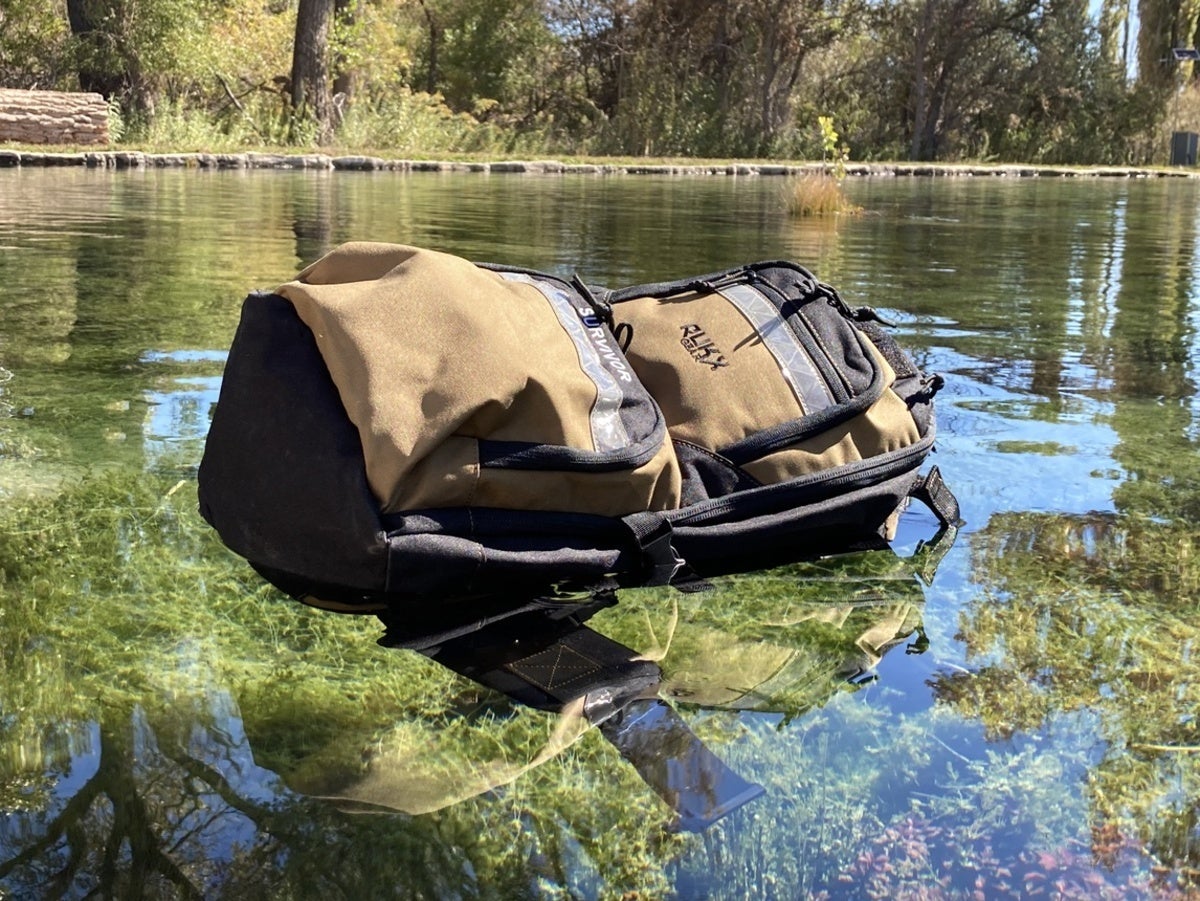 When I removed the pack from the drink there was plenty of water in the large compartments, but it hadn't sunk, and my pistol stayed relatively dry being in the handgun compartment. Along with reflective and gun-specific qualities, this is one very unique pack that's worthy of consideration for outdoor adventures. If I were to make any changes to the Survivor, it would be to add a more ground-friendly material to the bottom of the main compartment. The thick denier brushes clean easily enough—but moisture resistance, durability, and cleanliness would be enhanced by a base that was made to wipe clean rather than brush off.
While I wouldn't recommend the Survivor as a primary choice for a life-saving floatation device, it would surely offer a bit of support in a bad situation. What's remarkable is how it facilitates its own location and recovery if it were to fall overboard or downhill, even at night. Yes, this is one of American Tactical's products that's an import. This company has shown eagerness to make things their own. It's my hope that this bag might be available as an American Tactical-manufactured one someday. Ain't gonna lie, I have many gun bags and several packs. It takes a lot to get me fired up about a new one. The Survivor does that, because it does more than just storage. It stores in a way that makes life outdoors easier while lending peace of mind.