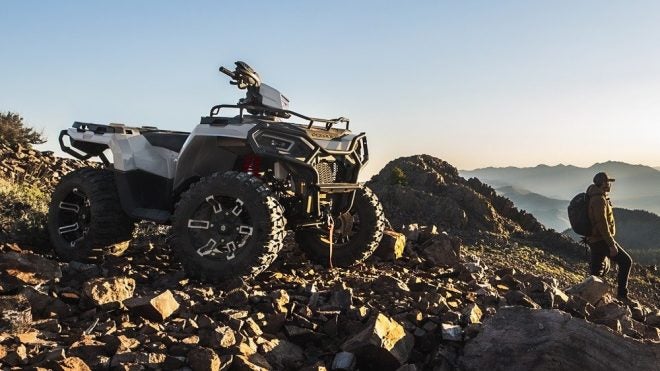 Since the first Honda ATC 90 rolled off the factory floor in the 1970s, ATVs have steadily grown in popularity and usefulness. Hunters have especially been drawn to these fun and versatile workhorses. Chances are good that most of you have an ATV of some sort, and while not every machine is the same, there are select accessories that can make your time spent in the great outdoors more enjoyable, especially during the hunting season. Here are a few of the best ATV accessories for hunting that you can grab, mount up and put to good use as you chase the big one this fall.
Kolpin Stronghold Gun Boot
The Stronghold is the best gun boot system I've ever used. Too many are clunky and take up too much space, but the Stronghold has a simple click-in latch that can be mounted wherever it suits you best. When the boot is off, there is just a small latch that doesn't take up space or get in your way. The Stronghold boot itself is an excellent gun case, too. Kolpin actually makes some of the best gun cases on the market, so they know what they're doing. And if you haven't checked out Kolpin's stuff, you should. The Stronghold boot is make from tough, molded ABS plastic and the inner soft boot makes sure your rifle is protected.
Check out Kolpin Stronghold Gun Boots
Cabela's Deluxe UTV Cover
I used to think that covers were really only useful for keeping your machine outside at your home. Then I came out of the woods after a snowy hunt, and had to sit on a cold, snowy seat. I ended up with a wet butt and a bad mood. The next day, I brought along an ATV cover and things went much better. Cabela's has some sweet deals in their bargain cave on a heavy-duty, PU-coated, UV-treated, 600-denier nylon cover that comes in two color options. Another thing, a cover will help hide your machine in the woods.
Warn VRX-35-S Winch with Synthetic Rope
If you don't have a winch on your machine, get a winch! Think of it as an extra set of hands that can pull 3,500 pounds. A winch can get you out of trouble, should you get stuck, and I've gotten stuck before. You will too. A winch can help clear the trail, too. If a tree blows down, you can pull it out of the way. And if you want to pull it back across the trail to keep the competition out, well, who's to judge? There are two styles of winch -those with steel cables, and those that now come with synthetic rope, which is far superior. Rope doesn't fray like cable, and it doesn't rust. It does, however get wet and can freeze, making it hard to deal with. Still, I'd rather use rope. And as for Warn, well, they make the absolute best winches available. There are cheaper ways to go, but I'm a fan of buying something once.
Check out Warn Winch Deals Here!
Trac Grabber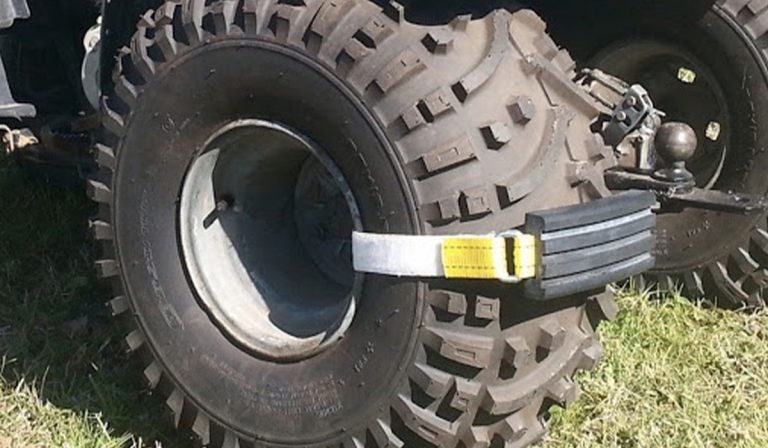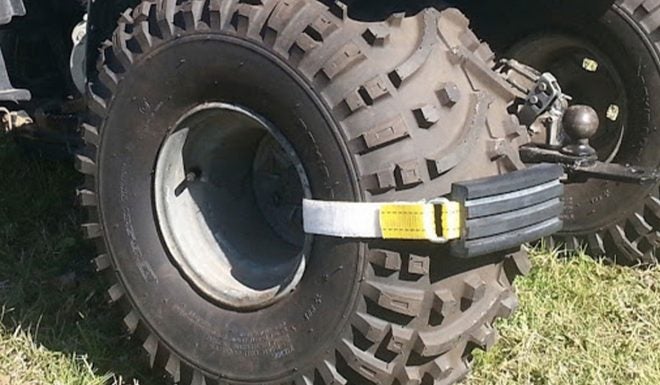 So… No winch and you got stuck in some mud. What ya gonna do? One cool thing you can have on hand is a set of Trac Grabbers. These strap onto your tire and wheel and basically give you a big treaded paddle to help dig for traction. These things are tough and cheap insurance against walking home.
Check out Trac Grabbers at Sportsman's Guide
Sedona Rip-Saw RT Tires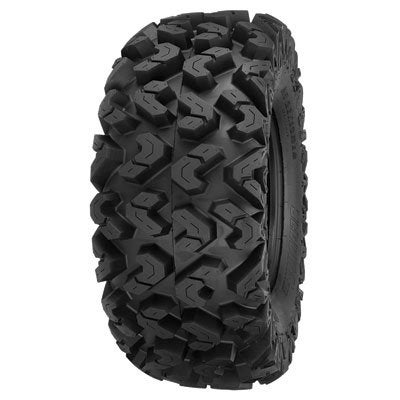 There are a lot of tires on the market, and I've tested a bunch of them. They're all good, but I've been heavily impressed with the Sedona Rip-Saw RT. These are aggressive tires that do well in mud, snow, hard pack and rocks. They are one of the better all-around tires, making them a great choice for hunting. You never know what you'll run into when you're exploring and you want every advantage you can get. These tires are radial, too. This helps make them track smoothly and quietly, on harder packed terrain. They're tough too, with 6-ply construction. These are one of the best ATV accessories you can get.
Check out Deals on Sedona Rip-Saw Tires