Leupold Optics Introduces the SX-2 Alpine HD Spotting Scope
Adam Scepaniak 11.11.20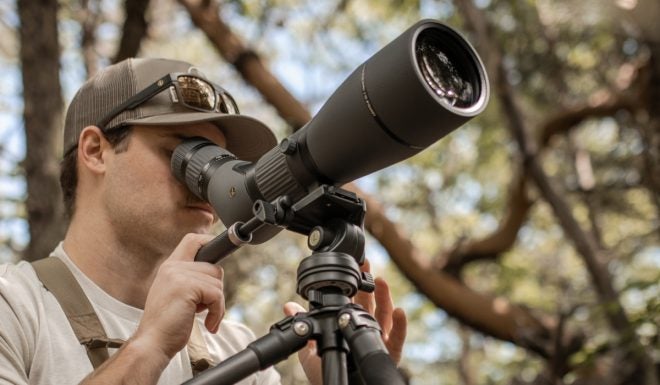 For those who are still on the hunt for big-game across North America in pursuit of filling freezers and filling tags,  Leupold Optics has introduced a NEW set of spotting scopes with their SX-2 Alpine HD to hopefully make your job of glassing and finding game much easier. All of specifications for the SX-2 Alpine HD Spotting Scopes can be read below as presented by Leupold Optics:
Guard-Ion Lens Coating – Sheds dirt and water for clear, crisp images with the Guard-ion lens coating
Protective Soft-Side Case – Includes a protective, soft-side case that remains on the spotting scope during viewing for maximum utility
Smooth Focusing – Features an extremely smooth focusing system for fine adjustments
Twilight Max Light Management System – See more in less light with Twilight Max Light
Management System: 1) Adds up to 20 extra minutes of shooting light 2) Eliminates 85% more glare-producing stray light than competitors 3) Premium edge-to-edge lens clarity
Twist Up Eyecups – Features twist-up eyecups and generous eye relief for comfortable extended viewing
Waterproof & Fogproof – Absolute waterproof and fogproof integrity means it's ready to perform in the field, in all conditions.
At the moment there are two different, but similar models being offered by Leupold Optics with an SX-2 Alpine HD 20-60×80 Angled for an MSRP of $649.99, and an SX-2 Alpine HD 20-60×60 Angled for an MSRP $519.99. Both of these carry Leupold's legendary warranty in the rare event that you should ever need warranty work or service done for your glass. A Press Release for the NEW SX-2 Alpine HD Spotting Scopes can be read below:
"Built for the harshest conditions, the new SX-2 Alpine HD delivers the performance that dedicated hunters and shooters need with unparalleled optical quality for its price class. The SX-2 Alpine HD has an angled eyepiece and comes in two sizes; 20-60x60mm and 20-60x80mm.

Packed with features, the SX-2 Alpine HD delivers where it counts. Its generous eyebox helps eliminate eye-strain and fatigue while proprietary Diamondcoat and Guard-ion lens coatings prevent scratches and shed dirt and water in extreme conditions.

You'll also see more in less light thanks to our Twilight Max Light Management System, which helps provide a clear image in extreme low-light environments and provides excellent glare management to drastically reduce color wash-out.

It's tough, too, providing superior ruggedness that has been tested for extreme climates. Like all Leupold spotting scopes, the SX-2 Alpine HD is waterproof, fogproof, and guaranteed for life."
If you are still out romping around in the woods chasing down whitetails, elk, or other game you already know that a good spotting scope can be invaluable in your endeavors. So, what do you think of the NEW SX-2 Alpine HD Spotting Scopes unveiled by Leupold Optics? Is this something you would be willing to invest your money in? Let us know all of your thoughts in the Comments below! We always appreciate your feedback.