NEW Gerber Terracraft Fixed Blade Knife for Bushcraft Work
Adam Scepaniak 11.13.20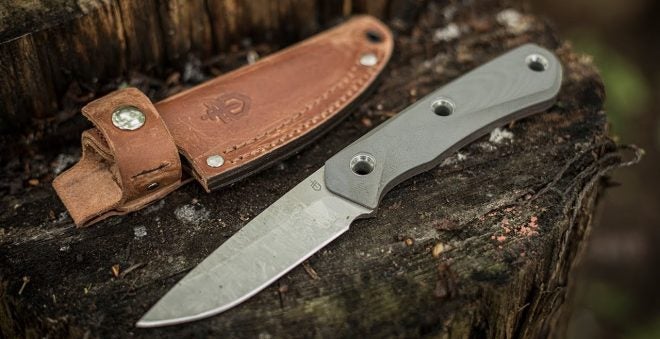 Gerber Gear has introduced a NEW knife specifically made for the demands of bushcraft work and pioneering adventures in the outdoors with their Terracraft Fixed Blade Knife. It is a full tang knife meant to be hardy enough to chop sticks, filet kindling for a fire, or precise enough to make delicate cuts for cooking. To get a better idea what the Gerber Terracraft is all about you can check out all of the specifications listed below:
Extra thick S30V blade
Extremely ergonomic layered G10 scales
Full tang construction
Through holes for lashing
90 degree spine for fire striking
Hammer-ready pommel
American leather sheath
Limited lifetime warranty
Length: 9.1 in
Weight: 6.4 oz
The NEW Terracraft from Gerber Gear is available in a Flat Sage or Grey color scheme for an MSRP of $150. They each come with their own premium American-made leather sheath to protect it through transport and extend the overall cutting edge of this working knife. Gerber goes on to explain the knife a little further in their Press Release statement given below:
"It was built to withstand the wilderness, yet the Terracraft is just as helpful back in civilization. Reach for this sturdy fixed blade for chores around the ranch, on the jobsite, or out in the field.

Bushcraft demands more out of a knife than any other activity. Whether it's starting a fire or building a shelter, the Terracraft is up for the task.  Wherever your pioneering spirit might take you, this American-made fixed blade delivers confidence in any situation and will stand the test of time."
If you are an avid outdoors person like myself, then you understand how invaluable a good fixed blade knife can be in so many different aspects of your day. If this knife can keep an edge it has all the makings of truly being a great bushcraft knife as it is described. The only thing that remains is what do you think? Is this something you would be willing to invest your money in and put in your pack? As always, let us know all of your thoughts in the Comments below! We always appreciate your feedback.