Product Test: Which Chainsaw Chain is the Best on the Market?
Russ Chastain 11.25.20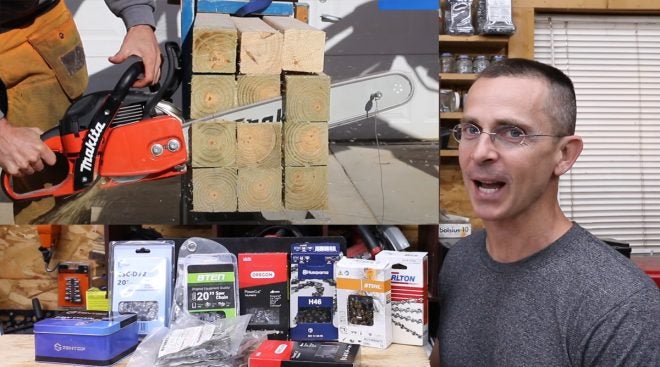 (Image: Screenshot from video)
Working and playing in the great outdoors often requires a pretty stout dose of the former, and chainsaws are often a tool of choice. Chainsaw chains do the cutting, and they can take a beating. And I have learned from experience that not all brands are made equal – or anywhere close to equal. So here's a test of 10 different brands of chainsaw chains to answer questions such as:
Are full-chisel chainsaw chains faster?
Do full chisel chainsaw chains dull quicker?
Are carbide chainsaw chains better?
Brands tested:
Upstart ($12.99)
Sungator ($12.99)
Zentop ($13.50)
8TEN ($14.98)
Oregon ($15.49)
Forester ($15.69)
Husqvarna ($17.15)
Carlton ($29.95)
Stihl ($31.80)
Forester Carbide ($49.99)
He adds this:
Most of the chains tested are full-chisel but two are semi-chisel chains. Chains tested for cutting speed, sharpness after using for a full tank of fuel, resistance to dulling after cutting through wood with sand on it.
All the chains he uses in the test are 3/8″ pitch, 0.050″ gauge, with 72 drive links.
The biggest surprise of the first phase of testing may be that the most-expensive chain was the slowest one (Stihl was the fastest).
In the second phase he cuts logs for a full tank of fuel, then re-tests each chain on the stack of 4x4s to see how much slower it cuts afterward.
The winner of this test was also the Stihl, which made the fastest cut before and after being used through an entire tank of fuel. The Forester carbide blade remained the slowest, but will it perhaps beat the steel chains when it comes to the sand test?
Turns out, it takes less damage but is still mighty slow.
After the damage, he tests each chain to see how long it takes to cut through one 4×4. This time, the carbide chain wins by a large margin, so it's clear that the carbide chain is much more tolerant of contact with the ground than are steel chains.
Check it out to see his conclusions and the overall winner.