Perfect Outdoorsman Christmas Gift: Meltdown Ice Ball Press for Drinks
Adam Scepaniak 11.27.20

Today is Black Friday so while all of us here at AllOutdoor hope you had a wonderful Thanksgiving with friends, family, and too much delicious food it is now the official start of the holiday shopping season. When it comes to buying a gift for that special sportsman or sportswoman in your life it can be tough. Do you buy them hunting clothes?… You could get their size wrong and it might not match all of their other camouflage. How about some ammunition?… They could be picky about what their firearm shoots best and ammunition is typically not a returnable item. So, instead of thinking of things you can buy them when they are out in the field hunting, why not think of gifts you could give them once they have returned and kicked their feet up for the day? That is where the Meltdown Ice Ball Press comes in.
After I am done hunting for the day and firearms are safely stored away, I genuinely love a cocktail while talking to my hunting buddies by a campfire, while watching a sporting event with them, or regaling my father over the phone of my day's exploits. Having a drink in celebration or because of a comical misadventure is simply a relaxing way to cap a hearty day of hunting. Something that I might never splurge on for myself, but would be elated if someone gave to me is the Meltdown Ice Ball Press.
We have all seen it before. Maybe it was at a friend's house (who maybe has a Meltdown Ice Ball Press) or at a fancy restaurant. You order some whiskey, bourbon, or your cocktail of choice on the rocks and you are given your favorite drink with the most perfectly, spherical ice chunk you have ever seen. Who polished that miniature glacier piece so phenomenally well, you wonder? Well, it is not a bartending trick that is akin to slight-of-hand or magic. What you need to have your ice last longer and impress all your friends is the Meltdown Ice Ball Press.
100% All-Aluminum HoverCover & Base
Pinless HoverCover Design for Smooth Operation
TrickleDown Grooves Visibly Guide Meltwater
Molded Non-Slip Rubber Feet
Weight: 11.6 Lbs
3 Silicone Cups (Included)
So, if you happen to be at deer camp and are already short on freezer space the Meltdown Ice Ball Press could keep your drinks chilled longer and require less ice for you and everyone else in your hunting party. The way that you use it is fairly simple. You receive 3 premium silicone cups that you can fill with water and freeze. Then, you simply let gravity and the weight of the HoverCover do all of the work for you. In essentially 30 seconds or less it will melt a perfect ice ball for you that will last close to 3 hours, keep your drink colder, and require less ice in the process.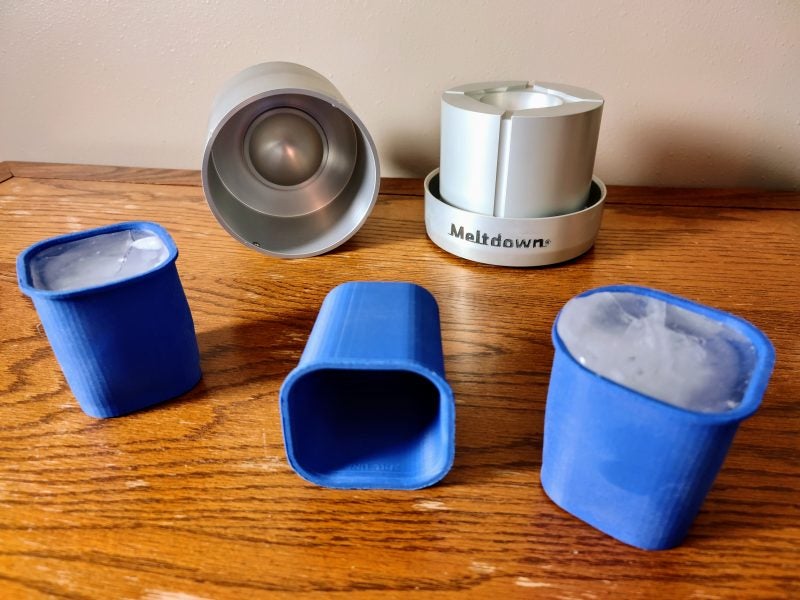 Meltdown works best when it is at room temperature or warmer. If making multiple ice balls, either let Meltdown warm-up between each pressing or run it under warm water until it is no longer cold.
Meltdown comes with three premium silicone cups. Wash these cups with soap and water before initial use and then fill with water (to fill line) and place in your freezer to fully freeze prior to using Meltdown. Note: for clearer ice, try using distilled and/or boiled water to make ice. Additional cups are available here.
Grasp round handle on top of Meltdown and lift the cover off of base. Be careful as Meltdown is heavy.
Remove cylinder of ice from silicone cup and, using tongs, place ice into Meltdown base.
Replace cover, making sure the grooves line up. Then, simply let go and watch as Meltdown melts and shapes the ice into an ice ball, with no effort by you.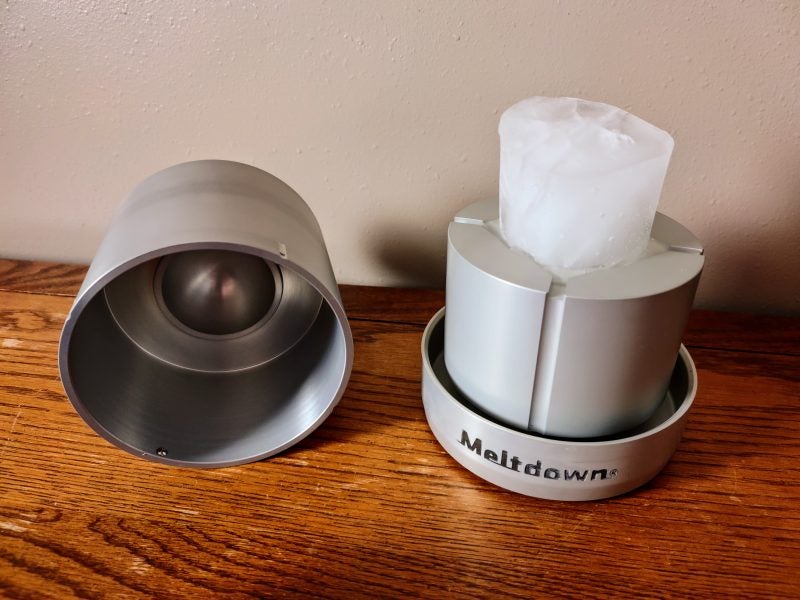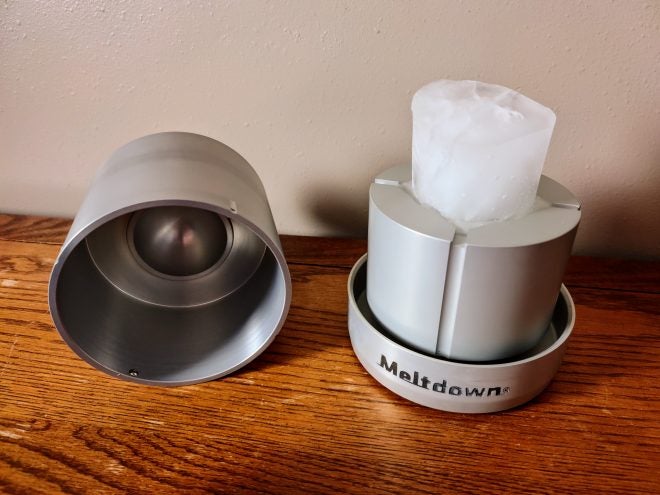 In my experience of using the aluminum Meltdown Ice Ball Press it worked completely as advertised. Simply freeze some chunks of ice with the premium silicone cups and let the Meltdown do all the work. The best tip Meltdown gives on their own product is to rinse the cover with hot water if you are pressing multiple ice balls. The magic in the Meltdown Ice Ball Press is that it rapidly conducts the cold out of the ice to melt a perfect ice ball. As a result, the Meltdown itself gets really cold really fast. So, by simply rinsing the cover in hot water between ice ball presses can keep it working smoothly all night long.
The MSRP for the all-aluminum Meltdown Ice Ball Press is benchmarked at $695. If you want to add a personal monogram on the side for Christmas that is a service that Meltdown offers for not only the aluminum Meltdown, but all of their Ice Ball Presses at an additional fee. If you are honestly stumped on what to get someone this Christmas or even as a birthday gift, I am confident they will be astonished and impressed by the Meltdown Ice Ball Press. It will be your next talking piece at deer camp or at home for future memories to be cherished. As always, let us know all of your thoughts in the Comments below! We always appreciate your feedback.