Springfield Armory's Ronin 1911 gets PUMPED UP to 10mm Auto
Adam Scepaniak 12.04.20

For everyone who loves 1911s but is not in love with the often $1,000+ price tag, there is a pretty short list of "quality-yet-affordable" 1911 models on the market. It is a difficult line to walk if you are a manufacturer, but some companies do it really well and this includes Springfield Armory and their newer offering of the Ronin 1911. In fact, Springfield Armory has taken their Ronin 1911 and chambered it in the high-velocity, strong-punch 10mm Auto for shooters and sportsmen alike. That new offering and all of its specifications can be read below as presented by Springfield Armory in a press release:
CALIBER: 10mm
COLOR: Stainless/Black
BARREL: 5″ Forged Stainless Steel, Match Grade, 1:16
SLIDE: Forged Carbon Steel, Blued
FRAME: Forged Stainless Steel
SIGHTS: Fiber Optic Front, Tactical Rack White Dot Rear
RECOIL SYSTEM: GI Style
GRIPS: Crossed Cannons Checkered
MAGAZINES: (1) 8-Round
WEIGHT: 40 oz
LENGTH: 8.6″
HEIGHT: 5.5″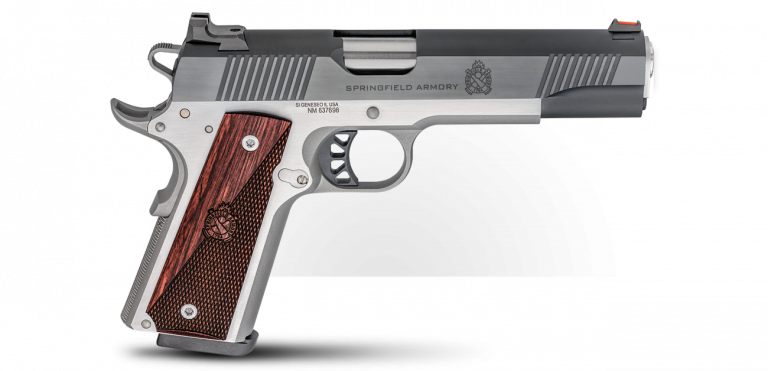 Some of the high points of the Ronin 1911 now chambered in 10mm Auto from Springfield Armory are that it boasts a forged slide and frame for unparalleled strength, and features a beautiful hot salt bluing treatment for a near mirror finish. All at an MSRP of $849. Springfield Armory further brags about this new chambering in the Ronin through their Press Release statement below:
"The Ronin 1911 provides shooters with a pistol that combines classic styling with modern features, the result of thoroughly modern precision manufacturing mixed with a traditional approach to quality and performance. Configured as a full-size 5″ gun, the 8+1 Ronin in 10mm features a forged steel slide and frame as well as a hammer-forged barrel for unparalleled durability and strength — ideal for a pistol harnessing the impressive power of the ever-popular 10mm cartridge."
So, with Christmas coming up is the Springfield Armory Ronin 1911 10mm something you would be willing to splurge on for yourself? Or are you optimistic enough that someone close to you could fulfill that Christmas wish? As always, let us know all of your thoughts in the Comments below and any other 1911s from Springfield that are on your radar. We appreciate your feedback.