Smith & Wesson Introduces New and Improved M&P15-22 Pistol
Sam.S 12.14.20

Awesome news everyone! Smith & Wesson is introducing a new and improved M&P15-22 Pistol. Any admirers out there like me will know that at one point Smith & Wesson did offer an M&P15-22 variant, but it was discontinued a few years ago. This one breathes all sorts of new life into the design by incorporating what the other one was missing: an arm brace! Let's jump in, shall we?
This new member of Smith & Wesson's M&P15-22 series has the usual and obvious AR15 style features. What sets this new one apart from both the old discontinued one and all the rifle versions is this one has a nice compact barrel and an adjustable arm brace. I think this newest offering was a fantastic choice considering the world's affection for AR pistols. The specifications are found below:
CALIBER: 22 LR
ACTION: Semi-Auto Blow Back
CAPACITY: 25+ 1 Rounds
BARREL LENGTH: 8˝ (20.32 cm)
RIFLING: 1:15˝ Twist
FRONT SIGHT: N/A
REAR SIGHT: N/A
WIDTH: 2.0˝ (5.08 cm)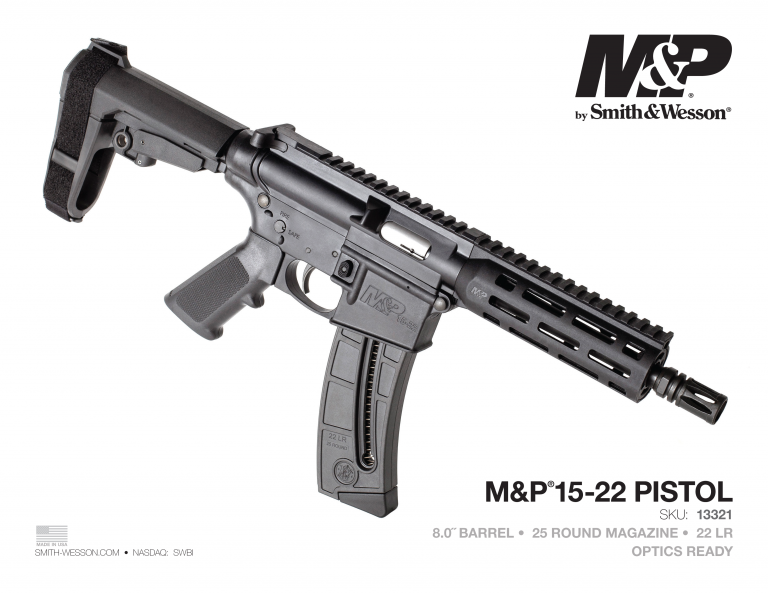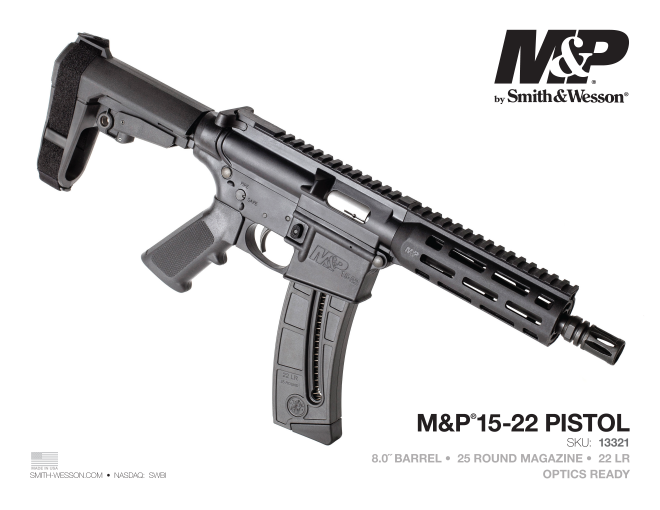 OVERALL HEIGHT: 7.0˝ (17.78 cm)
OVERALL LENGTH 22.8˝ (57.9 cm) Collapsed 25.4˝ (64.5 cm) Extended
ARM BRACE: SB Tactical SBA3 Adjustable
WEIGHT: 53.6 oz. (1519.6 g)
BARREL MATERIAL: Carbon Steel
BARREL FINISH: Black
RECEIVER MATERIAL: Polymer
RECEIVER FINISH: Black
The MSRP of the new Smith & Wesson M&P15-22 Pistol sits nicely at $504 which is a tiny bit more than its older rifle brother. For a semi-auto 22LR in a tactical configuration, I find that price to be very fair. I think for people out there looking for a more compact, fun gun or even a practice version of their big boy AR pistol would find this to be a great offering.
So, here it is guys! Smith & Wesson did it…they brought it back! I am very excited about this cause I love the compact feel of an AR pistol and even more so I chomp at the chance to play with an American-made .22 Long Rifle. All that aside what do you guys and gals think? Would you be interested in going to the range with a 22LR AR pistol? As always, let us know all of your thoughts in the Comments below! We always appreciate your feedback.