AllOutdoor Review: Stealth Project Recon .308 Aluminum Suppressor
Adam Scepaniak 12.21.20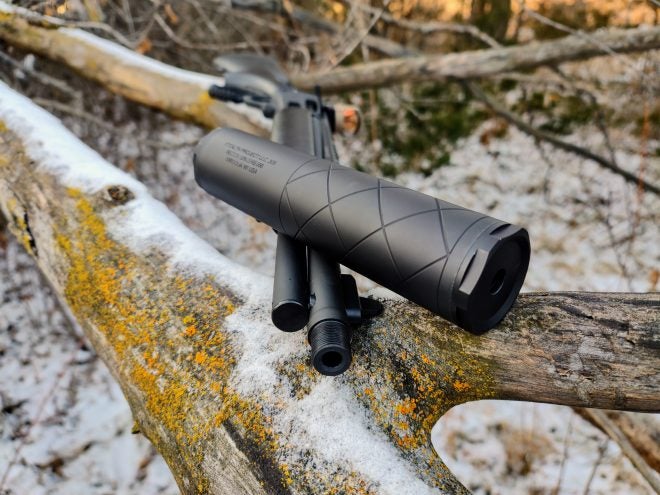 Silencers used to be thought of as mysterious, unobtainable items that no one actually owned, but that mindset has been shifting dramatically in the last 10 – 20 years. With the advent of the American Suppressor Association (ASA) being a voice for hunters, shooters, and sportsmen/sportswomen they are legal in more states than ever before (42 currently). Add into the equation that dealers are having kiosks to expedite the paperwork process or forward-thinking websites like SilencerShop guide you along your journey, and what was once thought impossible is becoming more common place. For those reasons, I take every opportunity presented to me to review silencers – for my pure enjoyment of shooting them – and to educate others about them. In this AllOutdoor Review, we will take a look at the Stealth Project Recon .308 Aluminum Suppressor. Let's dive right in!
Specifications: Stealth Project Recon .308 Aluminum Suppressor
Throughout this review we will use the terms "suppressor" and "silencer" interchangeably because we mean the same thing. In the eyes of your gun-loving friends, silencers and suppressors are one in the same. If we need to be nit-picky about one versus the other the ATF (Bureau of Alcohol, Tobacco, Firearms, and Explosives) explicitly deems them silencers. In any event, let's take a look at the specifications for the Stealth Project Recon .308 Aluminum Suppressor we are reviewing here today:
Manufactured: USA
Caliber: 7.62MM/.308 cal
Weight: 12 oz
Overall Length: 7.5"
Diameter: 1.75"
Sound dB: 133-136 dB
Mount: Direct Thread 5/8-24
Outer Tube: 6061 Aluminum
Core: 7075 Aluminum
Finish: Black Hardcoat Anodize
Min. Barrel Length: 16″ Std./22″ Magnum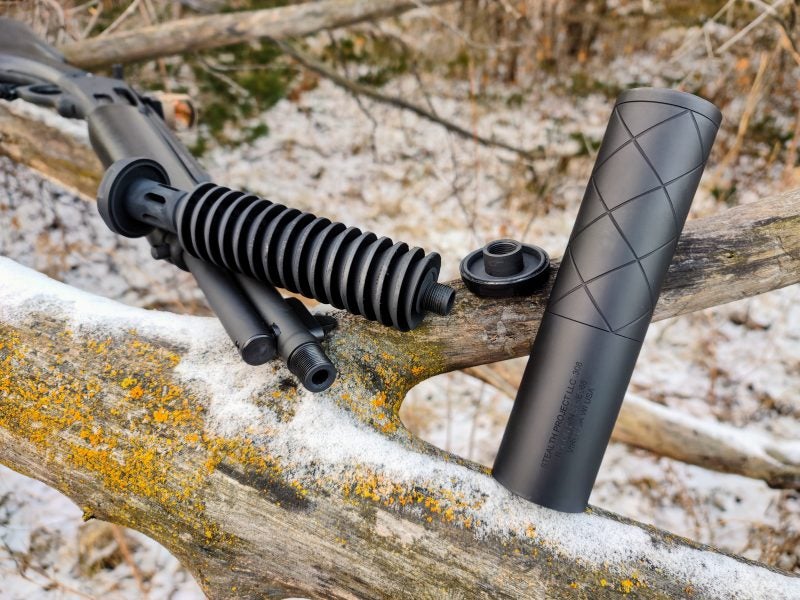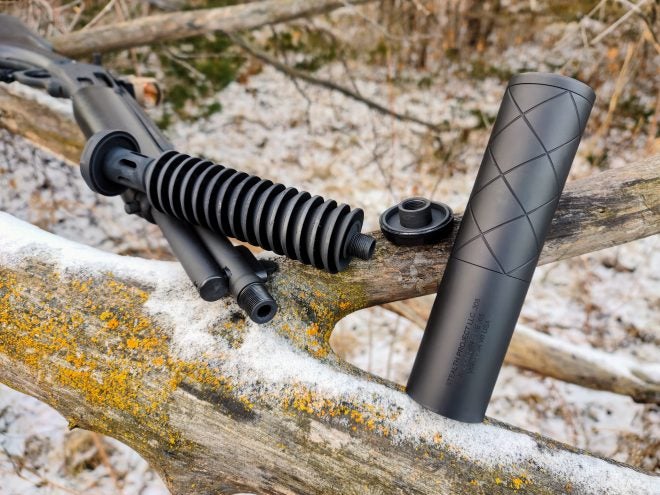 For those who have played with a few traditional silencers before, you know that most have stacked, removable baffles or ones that are neatly welded in place. One of the hallmark characteristics of the Stealth Project Recon is that it features a helical, one-piece baffle design. It is not only impressive looking, but it affords the user a better shooting experience according to Stealth Project. They go on to explain this further in their statement of the Stealth Project Recon below:
"The RECON contains a patented canted helical design which eliminates many of the problems with traditional suppressor design, this is a completely new system of suppression. They utilize a single continuous attenuation chamber. The Recon utilizes Accelerated Gas Technology™ to keep your suppressor cleaner and quieter and also caliber inserts for .22 caliber to .308 caliber to maximize your sound reduction and reduce wear. The Recon is designed primarily for hunting and precision shooting applications. It is ultra lightweight, Shorter in length with larger volume, and maximized recoil reduction. Point of impact shift is minimized from unsuppressed to suppressed shooting."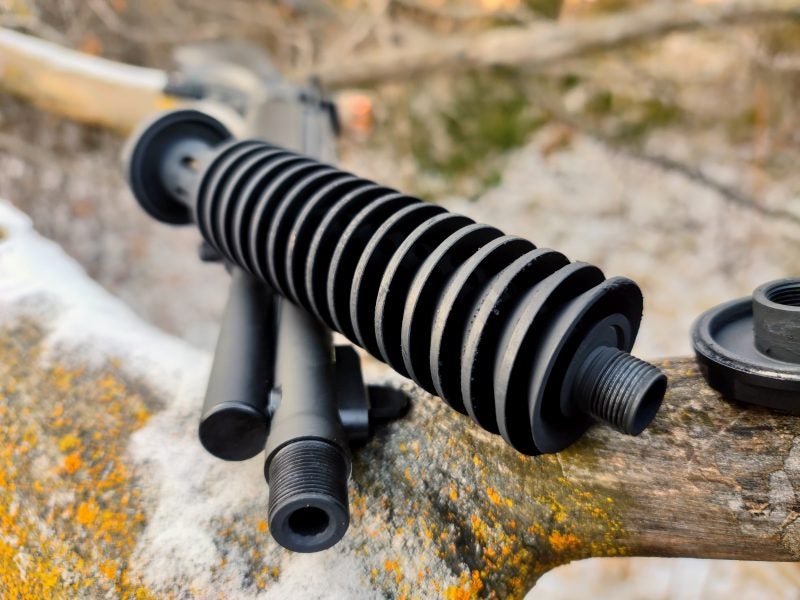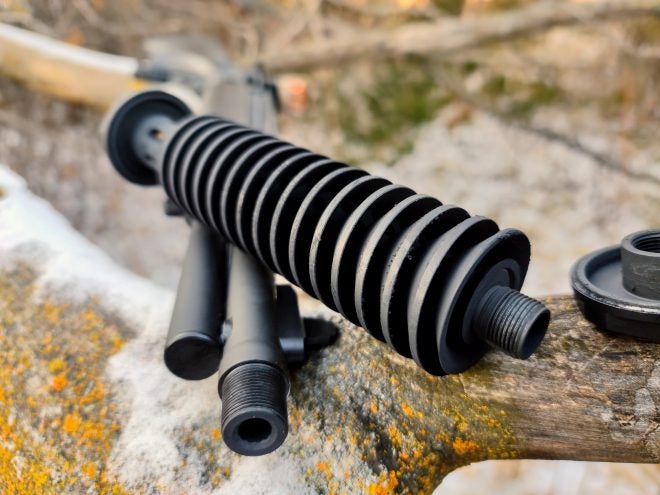 With an MSRP of $629, it puts the Stealth Project Recon in very affordable territory for 1st-time silencer buyers or even veterans to the suppressor game who want to round out their collection. Once you factor in the Limited Lifetime Warranty on materials and craftsmanship, where they will repair or replace any sound suppressor manufactured by Stealth Project free of charge, it sounds even more appealing. A final list of features for the Stealth Project Recon can be read below:
Patented Helical Technology
Zero Muzzle Flash
Serviceable
Multi-caliber
40-55% recoil reduction
No Baffle Strikes
Unboxing/First Impressions: Stealth Project Recon .308 Aluminum Suppressor
When I handled the Stealth Project Recon for the 1st time there were several things that crossed my mind right away. First off, for the size of this silencer it is incredibly light. When the silencer was in the box (and I had not opened it yet) I genuinely thought the box was going to be empty; that Stealth Project forgot to ship me the silencer. To my surprise and delight, there was obviously a silencer inside, but for a stout 7.5″ can with a 1.75″ diameter it only weighs in at a mere 12 ounces.
My next thought was that this is a very straight-forward product. There were no "proprietary exterior caps" or silliness that forces you into needing specific tools to use this silencer. Being a .30 caliber silencer, it predictably was threaded 5/8″ x 24 TPI (Thread per Inch) to accommodate nearly any .30 caliber cartridge or smaller. Also, getting back to the exterior cap, it simply and ingeniously had flats on the outside so you could use a common Crescent wrench (or pliers if you are feeling real squirrelly) to remove the end and clean your Stealth Project Recon, if so desired.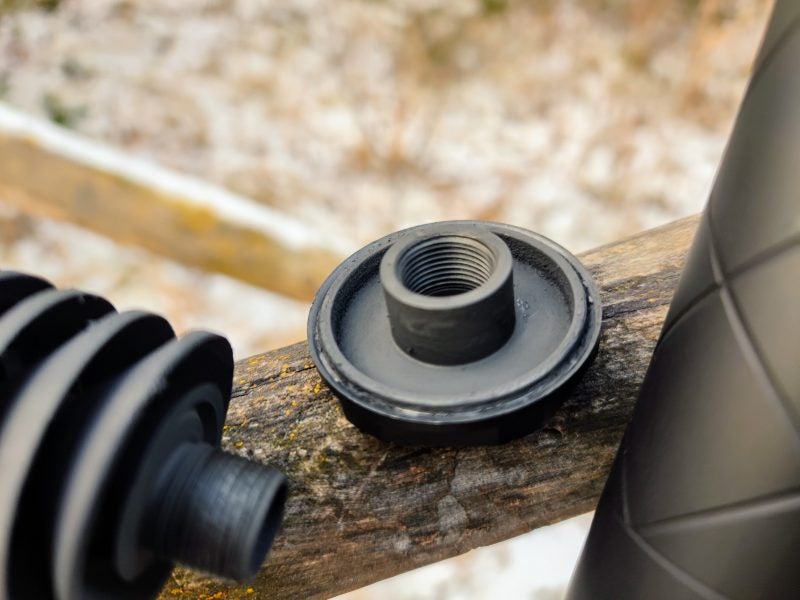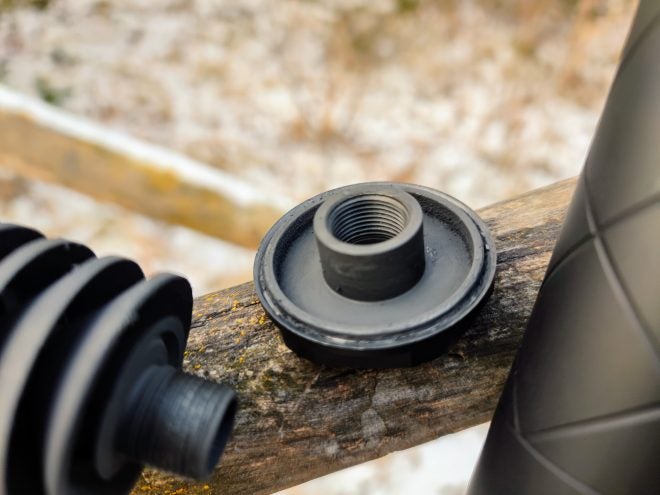 Range Time: Stealth Project Recon .308 Aluminum Suppressor
Once I finally got the Stealth Project Recon out to the range for some aroma therapy I ended up using my Marlin 336 Dark .30-30 Win as the host firearm. As previously mentioned, the Stealth Project Recon being factory threaded for 5/8″ x 24 TPI mated up perfectly with my Marlin Dark (which had the same factory thread pitch). I used an assortment of old ammunition I had laying around for my .30-30 Win that I had accumulated over the years. The unknown and suspect nature of the bucket o' ammo I brought to the range I believed would be a good gauntlet for this silencer review.
One metric I always mentally document when testing silencers is the "first shot pop." For those who are unfamiliar, the first time you shoot a silencer on any given range or hunting trip you are filling the silencer and all of its baffles with gas, carbon, and other debris for the first time (this is obvious, but worth stating). That first shot is normally louder than all the successive shots to follow. Once the tube is filled with gases the silencer truly begins to do its thing and suppress sound. With the Stealth Project Recon, it was the most quiet silencer I have ever tested when it came to the 1st shot pop!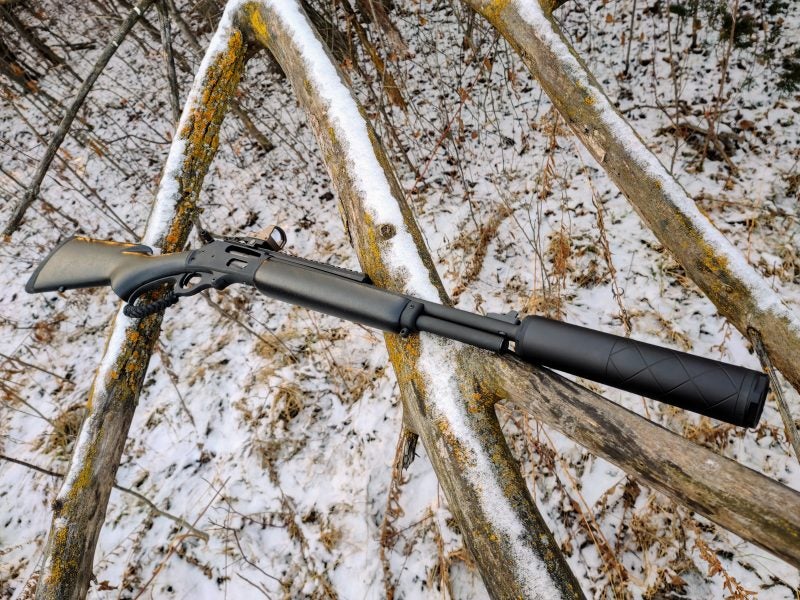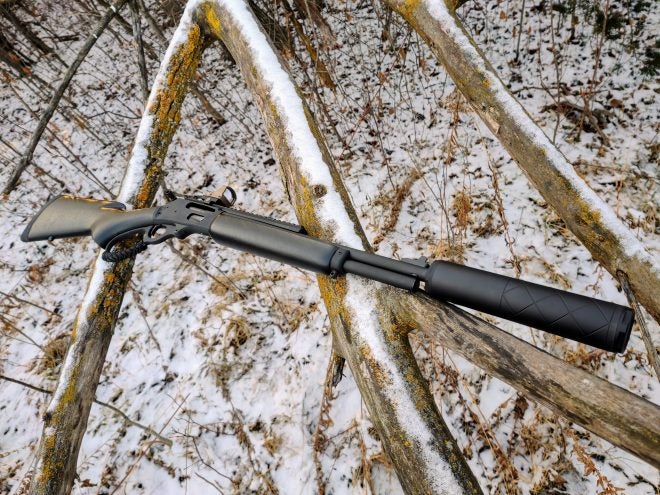 I believe the trade-off to this impressive 1st shot pop suppression is that all the successive shots in a given magazine were only a bit more quiet. From the first shot fired to the last, all rounds down range were absolutely hearing safe, but the most impressive noise reduction was in the first shot fired. Most traditional suppressors have very poor 1st shot pop sound suppression, but once filled with gas, they see a substantial reduction in noise. In all honesty, for the purpose of hunting I would rather take the Stealth Project Recon out in the field compared to its competitors in hopes of getting better follow-up shots on game knowing that first round will be as quiet as one could ever hope. It would make the task of whitetail hunting and filling multiple tags, or coyote hunting and removing more predators from the local population, a more manageable task.
My range day concluded with me giddy (as I always am after shooting a silencer) having enjoyed the freedom of shooting a suppressor in my home state of Minnesota. In all, I fired 80 rounds on this trip to the range and the helical baffle design kept the silencer very clean. This was nice to see considering most of the ammo I fired was poorer quality and smokier than I would ever attempt to hunt with in the first place.

Final Thoughts: Stealth Project Recon .308 Aluminum Suppressor
So, what are some of my final thoughts on the Stealth Project Recon .308 Aluminum Suppressor? Well, for one thing with this silencer being the quietest I have ever tested in regards to 1st shot pop, this makes the Stealth Project Recon a prime candidate for hunting as to not entirely disclose your location and hopefully allow for a follow-up shot (if need be). I understand there are all kinds of full-auto rated, high-end silencers on the market, but for many of us hunters we simply need a good silencer that will not require us to sell a kidney or our soul. Between the feathery weight, cleanliness after volume shooting, and easy-to-disassemble front cap, the Stealth Project Recon .308 Aluminum Suppressor is absolutely worth its full retail of $629 if you are in the market for a silencer.
In closing, I want to say thank you to Stealth Project for allowing AllOutdoor and myself the opportunity to try out their Stealth Project Recon .308 Aluminum Suppressor. That is greatly appreciated. Also, we would like to know what all of you guys and gals think? Do you believe that the Stealth Project Recon .308 Aluminum Suppressor is something worth spending your money on? Would you use it on your next big-game hunt? As always, let us know all of your thoughts in the Comments below! We always appreciate your feedback.