AllOutdoor Review: F.A.I.R. ISIDE EM Double Barrel 20 Gauge
Sam.S 12.22.20

One thing I have always appreciated while hunting grouse was having a light and maneuverable shotgun to make trudging through the Minnesota woods just a little bit easier. All my life I have had the same 20 gauge youth pump-action shotgun and I specifically use this shotgun over the other full-sized ones because of what I just mentioned.
Lately, I have been looking into some nicer double barrel shotguns to give me an idea if that is the right fit or not. F.A.I.R. and IFG have given me a chance to go for that test run with their ISIDE EM double barrel 20 gauge. I will let you know now, I was not disappointed.
Specifications: F.A.I.R. ISIDE EM 
This F.A.I.R. ISIDE shotgun is the EM model and it is only one in a wider family of ISIDE shotguns. This specific one that I had the chance to review was a 20 gauge, had a 28-inch barrel, and had automatic ejectors. Aside from a great many ISIDE shotguns, each has a myriad of options as far as chamberings go. Check them out in the specifications below:
GAUGE – 12ga, 20ga, 16ga, 28ga, and 410 bore (Only 12ga and 20ga Proofed for Steel Shot)
WEIGHT –  Roughly 5lbs 14oz (This 20ga)
BARREL LENGTH– 26.75 Inches, 28 Inches, 30 Inches
STOCK CAST – Right Hand Cast (This 20ga)
STOCK LENGTH– 14.5 Inches
DROP AT COMB – 1.5 inches
DROP AT HEEL – 2.25 inches
OVERALL LENGTH – 45.5 Inches (This 20ga)
CHOKES – 2 Modified, 1 Improved Modified, 1 Full, and 1 Cylinder(This 20ga)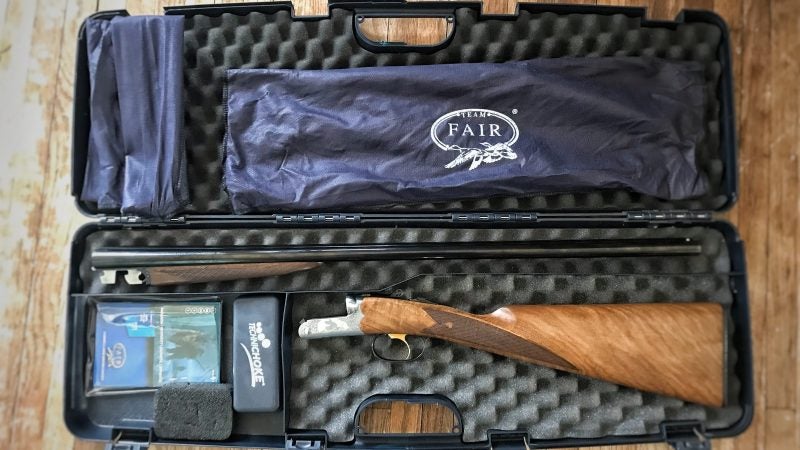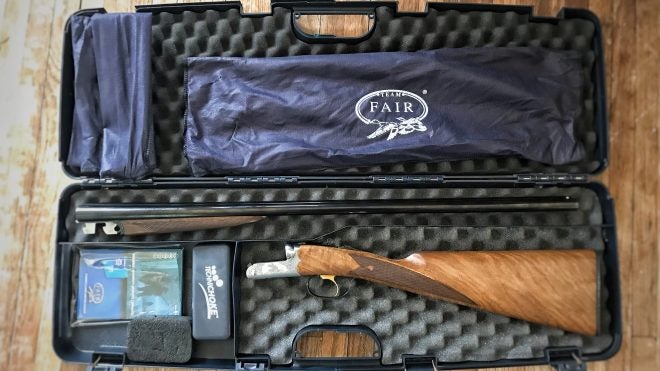 CHOKE SYSTEM –Interchangeable TECHNICHOKE – TC XP50 5
CHAMBER – 3 Inch (12ga, 20ga, and 410 bore), 2 3/4 Inch (16ga and 28ga)
ACTION – Break Action with Ejectors
ACTION FINISH –  "Triple Depth" Laser Engraved Action
BARREL FINISH – Gloss Blued
RIB– Sunken Rib
SAFETY– Manual Push/Pull with Barrel Selector
SIGHTS– Front Silver Bead
MSRP – $2730
The F.A.I.R. ISIDE EM comes in a nice blue and compact hard case that is suited for travel. The stock/receiver and barrel/forend are enclosed in dark blue sleeves and cushioned with foam underneath. The case includes a manual, a set of sling swivels with screws should you ever want to attach a sling, and a wrench and set of chokes (the two modified chokes came in the barrels) that I had mentioned above. The overall presentation of the case and its contents is very nice and I appreciated how convenient it was to lug around on two separate hunting trips up in northern Minnesota.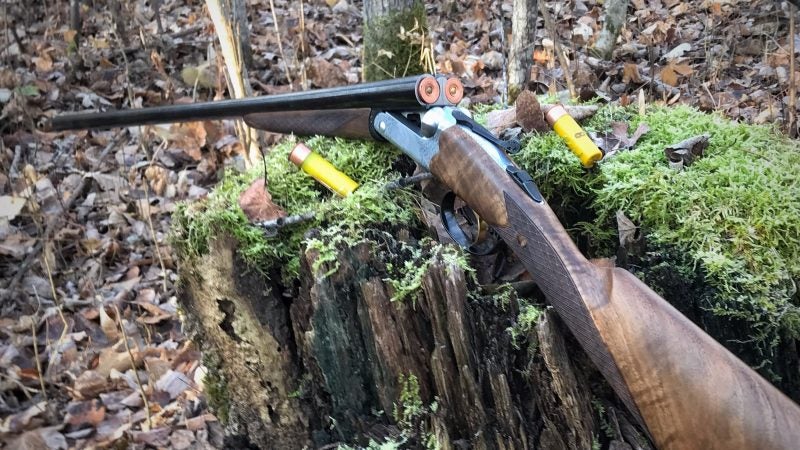 The MSRP of the F.A.I.R. ISIDE EM sits loudly at $2730 and for me, without shaming F.A.I.R. or the fantastic products that they make, it is a little much for me. I say that because it is unlike anything I have ever thought of spending my money on. Do I think this gun deserves that MSRP? Yes, I do.
The quality of manufacturing is absolutely astounding. The wood is fantastic in how the grain screams and twists its way through the finish. The bluing that was done to the barrels is some of the most beautiful I have seen. This gun was built with the utmost quality in mind and I think it shows. F.A.I.R. showcases the dedication to their craft in the quote below:
"A great designer of the past used to say that often perfect engineering works from the operational standpoint are also surprisingly beautiful. During the presentation to the public, a large number of enthusiasts commented about the pleasant sensations of lightness and strength they felt from Iside and the purity of the "round-body" action lines given the prototypes without engravings. The heart of the weapon, realised entirely from a full Monobloc forged by shaving removal, has seduced the enthusiasts in the most beautiful way, that is, without artifices, our way.

The "Iside" family, in its smooth bore versions, includes the "ISIDE" with manual extractor; "ISIDE EM", with "triple depth" laser engraved action and automatic ejector through large ejectors; "ISIDE TARTARUGA GOLD" with colour hardened action, gold subjects and wood recoil-pad and "ISIDE GARDENA" that has a double trigger / single trigger shooting system, ejector, divergent barrels, in order to have a large bullet group (oo) in shooting both shots with the rear double trigger actioned first. There is a wide selection of calibres: 12-16-20-28-410."
Range Time: F.A.I.R. ISIDE EM 
As I mentioned earlier, I took this firearm out on a couple of grouse hunting trips and I loved the weight and ease of maneuverability. It has a straight wrist which is welcomed when it comes to fast shouldering and the safety/barrel selector was also super easy, and above all, it was smooth. I exposed this gun to changes in weather and different temperatures and never had a single issue.
One morning it was that heavy, wet, and slow sort of holiday snow you see in movies and this is where my only gripe with the shotgun pops up. It has a sunken rib (the rib is not raised like most traditional shotguns and is sunken in between the barrels) and when in a snowy environment it tended to fill that rib valley with snow no matter how I held the gun on the walk. It is a very situational critique and I do not hold it against the gun at all. The sunken rib is a surprisingly comforting feature as it forces your eyes to be just on the horizon of the barrel.
As far as shooting this gun, the lightweight nature did not lend too much recoil. Although, if it were a 12 gauge I believe the recoil would be more severe if it weighed in remotely close. The gun is easy to quickly shoulder and the sunken rib is new to me in a good way. It made it easy to see my target rather than completely cover it. I do shoot trap quite a bit so I cannot say this gun made me look better by any means, but it definitely did not make it worse. It was genuinely a joy to shoot and eventually even get a grouse on what seemed to be some dud weekend trips.
While on one of my walks on an early and cold morning the bluing on the barrel came to life in a way that to someone like me who has hands-on experience with real deal bluing – it was entrancing – to say the least. The blue morphed to all sorts of gorgeous deep purples and blues while adjusting to the change in temperature going from my cabin to the outside world. It is honestly one of the coolest things I have gotten to see and it was indeed distracting while on the hunt. Although, not in terms of it getting in the way by any means, but in curiosity.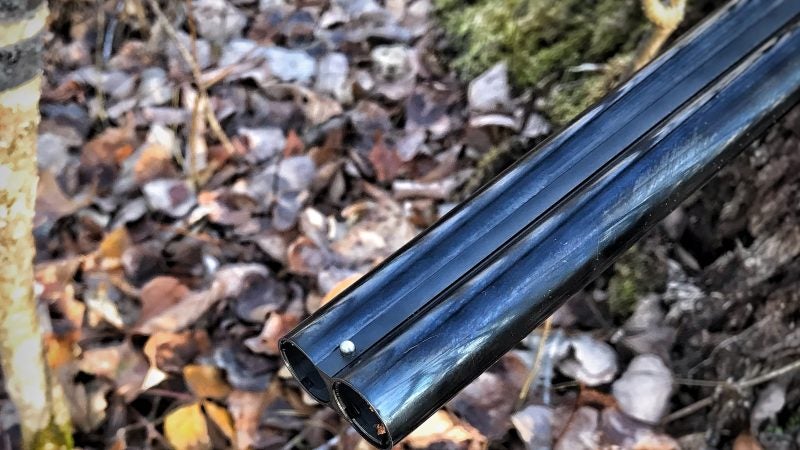 Final Thoughts: F.A.I.R. ISIDE EM 
I think the overall quality and craftsmanship represented in a single firearm can show a lot about where it comes from. This gun blew me away in how nice it was and I am sure it will be the best quality gun I have ever hunted with for a long time. It is versatile, light, and comfortable.
The only sad thing to me is that the price point excludes people who may not be able to afford such a gun. Quality does cost money though, so in that respect, I understand it fully. This gun demands the same love and care the second you pick it up as much as what was put into making it. I really liked it and think it is a fantastic tool that I am glad is out there for people to enjoy.
In closing, I want to say thank you to F.A.I.R. and IFG for allowing AllOutdoor and myself the opportunity to try out their ISIDE EM 20 Gauge. That is greatly appreciated. Also, we would like to know what all of you guys and gals think? Do you believe that this high-quality double-barrel shotgun is worth spending your money on? Would you take this out hunting? Would this be your go-to gun at the trap range? Let us know all of your thoughts in the Comments below! We always appreciate your feedback.