Chief Upland Debuts 1st Ever Customizable Front-Loading Hunting Vest
Adam Scepaniak 12.29.20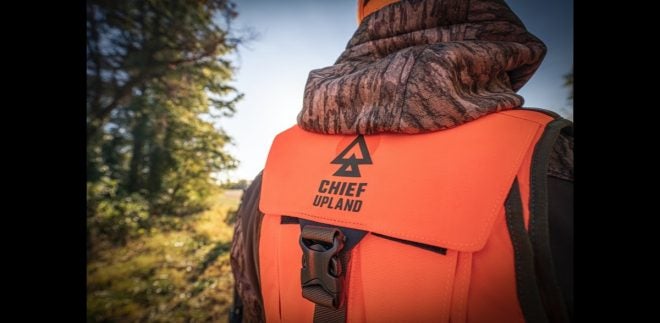 If you have ever done any amount of upland bird hunting in your life you likely have tried out your fair share of game vests. Most are very simply designed and leave you wanting more. More pocket storage, easier access, and the ability to tune it specifically to the type of hunt you will be undergoing on a given day.
Every different bird you could potentially hunt – pheasant, chukar, quail, rabbits or any other upland or small game – may require you to change your gear to make that day easier on yourself. Well, finally you can have the ability to tailor your game vest to your exacting needs with a Chief Upland hunting vest that is front-loading and customizable. All of the specifications can be read below as presented by Chief Upland:
Customizable storage
Universal fit (waist sizes ranging from 29" to 50")
Durable materials include 1000D Cordura®, Hypalon and leather accents, and rip-stop lining
Lightweight at 2.56 lbs.
Waterproof and briar-proof
Colors: Blaze orange and Earth tone
(attachments sold separately)

The MSRP for this 1st ever customizable, front-loading hunting vest is $159 from Chief Upland. They have teamed up with strategic developers, gear designers, and apparel engineers across the globe to design and develop the Over/Under vest. No matter your mission or your stature, you can setup and equip yourself for the day ahead with this vest. Jake Lindemann, founder and CEO of Chief Upland, goes on to explain the hunting vest further:
"Our time is invested to help our customers keep up with their dogs in the field, stay organized and comfortable, and hunt until their hearts are content…rain or shine, prairie or mountain.

Through factory relationships with experts in the apparel industry, we're able to produce and bring our market-disrupting gear to the hunting world at remarkably valuable and affordable prices."
So, looking at the Chief Upland Over/Under Vest System it authentically looks well-designed, meticulous in its layout, and it truly boasts a lot of features… but is it deserving of the spendy $159 MSRP? The next time you go chasing pheasants, grouse, or other small game would you use this vest? As always, let us know all of your thoughts in the Comments below! We always appreciate your feedback.