Federal Premium Expands Creedmoor Offerings in Gold Medal Berger Line
Adam Scepaniak 01.04.21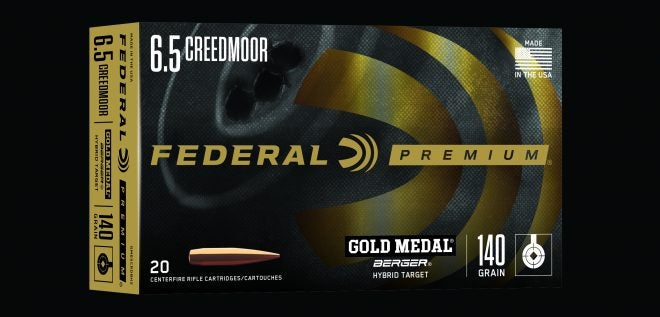 There are a lot of long-range rifle cartridges for hunters and shooters alike to pick from, but few are hotter than those that go by the name of Creedmoor. Understanding this, Federal Premium has expanded their offerings of 6.5 Creedmoor and 6mm Creedmoor in their Gold Medal Berger lineup for long-range shooters. Utilizing the high BC (ballistic coefficient) bullets produced by Berger Bullets, they have some of the most accurate boxed ammunition firearm owners can source for 6.5 Creedmoor and 6mm Creedmoor. All of the specifications for these new ammunition offerings can be read below as presented by Federal Premium:
Extremely high ballistic coefficient
Less wind drift and drop
World-class long-range accuracy
Gold Medal match primer
New 6.5 Creedmoor and 6mm Creedmoor

6.5 Creedmoor 140 Grain Berger Hybrid | GM65CRDBH2 | MSRP $41.99
6mm Creedmoor 109 Grain Berger Long Range Hybrid Target | GM6CRDBH2 | MSRP $42.99
Both of the new ammunition selections through the Gold Medal Berger line come in standard 20-round boxes with reasonable price-points for premium offerings of Creedmoor cartridges. While not many hunting seasons are open throughout the US currently being it is the middle of winter, one prey hunters could pursue with these rounds are fox and coyote for some predator control. Federal Premium goes on to elaborate about these new offerings through the Gold Medal Berger lineup:
"Federal has expanded the trusted Gold Medal® rifle ammunition line with new 140 grain 6.5 Creedmoor and 109-grain 6mm Creedmoor loads. These fast, flat-shooting cartridges have proven themselves in competition and earned the respect of elite long range shooters. Both rounds are loaded with the Gold Medal match primers, Federal® brass and specially formulated propellant."
I have been a long fan of the 6.5 Creedmoor cartridge since it was introduced by Hornady a little over 10 years ago, but I have not had the pleasure to shoot its little brother yet in the 6mm Creedmoor. Who in the reading audience owns a 6mm Creedmoor? Would you shoot either of these new ammo offerings through your rifle? As always, let us know your thoughts below! We always appreciate your feedback.