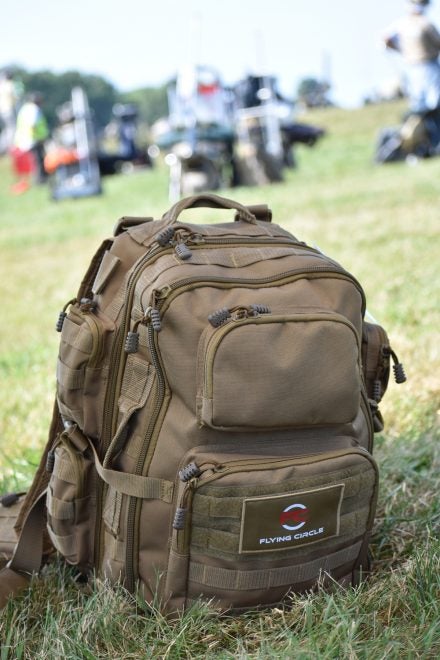 Holiday travel, time on the range, hunting trips – whatever your adventure may be, you need a concealed carry backpack that protects and stores all of your gear. The number of tactical style bags as well as traditional backpacks and briefcases available is overwhelming.
I never put much thought into gear. I bought whatever was on sale, and soon discovered why. Tears and rips at the most inconvenient times, broken zippers, more time and effort spent on warranty claims than the product was worth. I realized that while I could get by with textbooks and some paper, but once I started toting around valuable items or walking long distances, I needed something I could trust.
Stories make up America, and I love this one. Flying Circle Inc., out of Boerne, Texas makes tactical and military bags and luggage in the United States of America. Family founded and owned with a commitment to veterans, each product stands for more than just quality.
I put the Flying Circle Brazos Concealed Carry Backpack to the test at the 2019 National Matches at Camp Perry, Ohio – a test no other backpack had previously survived. By the end of two weeks of competition, time in the elements and hot sun, and stuffed with gear ranging from lens wipes to camera lenses, it was no worse for wear.
Though on the larger size for my five-foot three frame, it had room for everything I needed and some to spare. The zippered pockets, molle straps, and mesh eliminated the frantic digging I was used to every time I thought I'd lost my camera lens, hearing protection, or keys. There is a place for everything.
I was especially impressed by the strength and quality of the zippers. I had zero issues with caught fabric or separation. I must admit that I loaded it too heavily at times, but was duly impressed that the bag could hold more weight than I was comfortable carrying. A waist strap eased the burden, but at times I found that strap got in the way. It is very secure, with Velcro on the inside making it hard to remove and replace, so I chose to fasten it around the front of the bag when I was not using it.
The pack also has a pass-through back pocket that can be opened and slipped over a suitcase handle or used as a concealed carry compartment.
This military design bag comes in black, coyote brown, or MultiCam and is full of features:
More than 20 pockets
MOLLE webbing on front, sides, top, bottom, backpack straps, belt, and inside center pocket to clip on extras and add pouches
Velcro on front for name tape and patches
Small top front pocket with ID card holder
Larger bottom front pocket with inside pocket
Two spacious center compartments

mesh pocket and a MOLLE pocket with a Velcro closure for a tablet
padded laptop compartment to accommodate laptops up to 16", a hydration pocket, and an organizer panel with multiple pockets for smaller items

Hidden "pass through" backside pocket with zippers on both sides
Padded back and backpack straps with mesh lining for comfort
Small zippered pouch on one backpack strap
Sternum strap
removable waist strap with two small zipper pockets
Compression straps on sides
Grab handles on top and sides
Accepts up to a 3 liter hydration system
Water resistant, durable 900 denier polyester fabric
While for some adventures I opt for a smaller bag, for long days of shooting and photography the Brazos concealed carry backpack fits my needs. Regardless of what I have used it for, it is a rugged product that can stand up to much more than I put it through — and can store practically whatever someone wants/needs to carry.
Concealed Carry Options
Though my main uses of this pack did not include concealed carry, the pack does have a built-in pass-through pocket that can be used for such. While there are many different places that one could store a firearm in this unit, this is the most accessible pocket while wearing the pack.
The pass-through pocket is large, sizeable enough to fit a manila file folder, and is intended for use for concealed carry. The zippers on both sides allow the bag to be slipped sideways over a suitcase — or to allow access to a firearm with either hand. The pocket is not easily noticeable, but the fabric which conceals the zippers can make it a bit tricky to reach inside the pocket.
Though I do not have a takedown carbine, it appears roomy enough to store a small carbine rifle in pieces. In fact, it is so large that an unsecured gun will shift around inside. The inside of the pocket is smooth, which is both a plus and a minus… there is nothing for the gun to catch on, but there is nothing to keep it in place either. In other words, unless you just allow your piece to lie against the very bottom of the bag, you'd need to install Velcro and a holster or some other method to keep the pistol in one spot.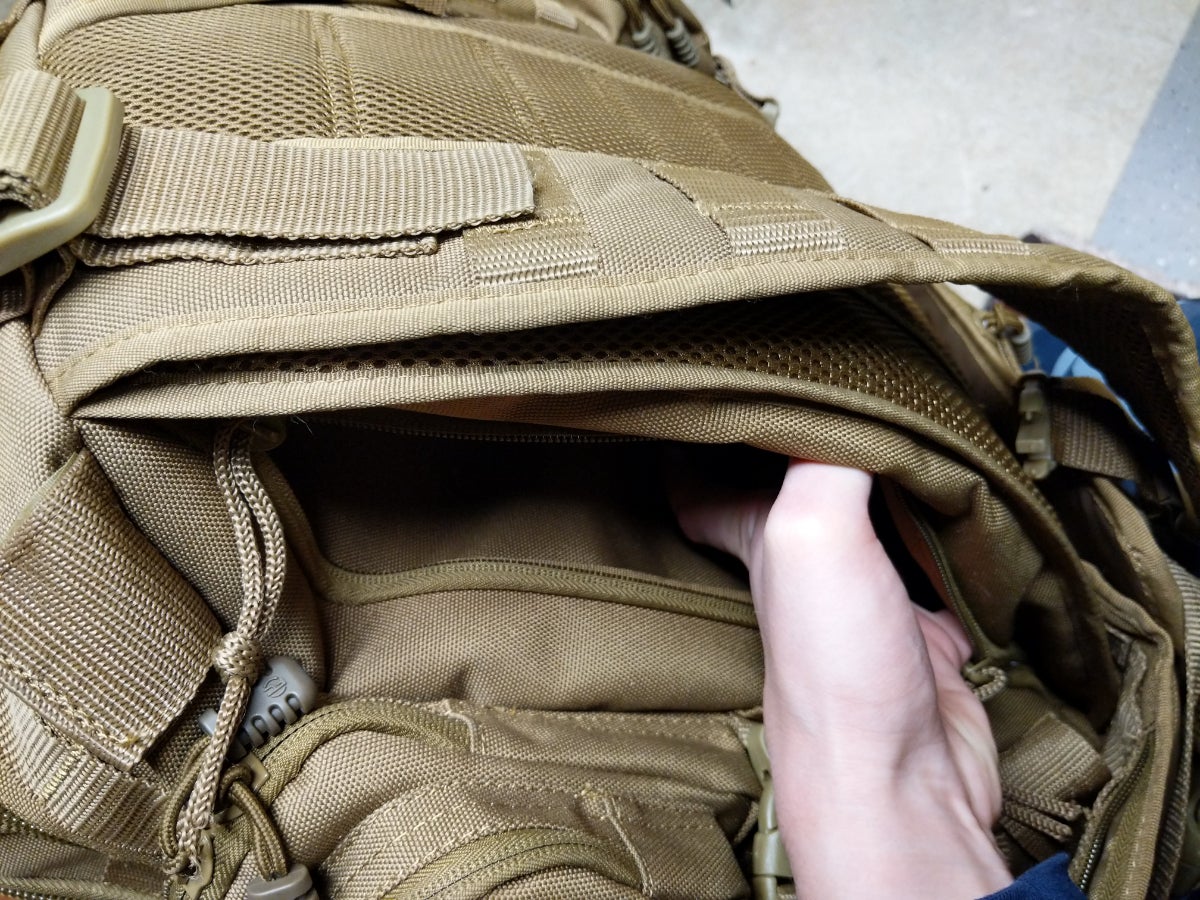 As a general rule, I would personally be more comfortable drawing from a holster for quicker and easier access than using a purse or bag. While this is a fantastic product for travel and carrying gear, I would likely use the pass-through pocket for an unloaded gun, sensitive documents, or other items I want close to my person.