Camouflage Ammunition?… CCI Debuts NEW Clean-22 Realtree Ammo
Adam Scepaniak 01.05.21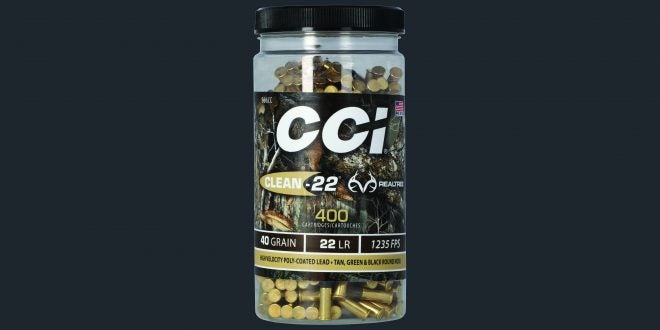 As we usher in a New Year that we all hope is filled with more guns, bows, ammunition, and filled hunting tags there will undoubtedly be innumerable new products unveiled to tempt our wallets with. One of the 1st announcements for 2021 is some new rimfire ammunition coming from CCI. Their Clean-22 series features polymer bullets to reduce lead fouling and also mitigates against lead buildup in silencers by as much as 60% – 80%. That series of clean rimfire ammo is getting another entry with the debut of Clean-22 Realtree!
New 400-round bottle with Realtree Edge™ camouflage
Polymer bullet coating greatly reduces lead fouling in the barrel without leaving residue
Cuts lead buildup in suppressors 60 to 80 percent
40-grain tan, green and black lead round nose bullets
Optimized bullet geometry for improved accuracy
High-velocity loading and reliable function in semi-automatic firearms
Clean-22 Realtree 40 Grain 22 Long Rifle | 400 Count Bottle | 1,235 FPS | 966CC
This ammunition not only boasts camouflage packaging, but the literal ammunition is camouflaged as well! The Green, Tan, and Black polymer bullets are a fun spin on traditional gray lead bullets and even a departure from CCI's normal coloring of red polymer bullets. The MSRP of $43.99 is for their 400 Round camouflage bottle. A Press Release statement given by CCI further elaborating on this ammunition can be read below:
"Concealment meets clean. New CCI® Clean-22® Realtree® bottles hold 400 rounds, and their
exclusive green, tan and black polymer bullet coating greatly reduces copper and lead fouling in
the barrel. The coating doesn't leave a residue and cuts lead buildup in suppressors 60 to 80
percent. The 40-grain round nose lead bullet's geometry has been optimized for accuracy and
is ideal for both targets and small game."
While this camouflage ammunition might not help you sneak up on squirrels any better, it is always welcomed news to see that CCI is producing more clean shooting ammunition with this offering of Clean-22 Realtree. Polymer bullets are looking like the future of ammunition – both rimfire and centerfire. So, is this something you would be willing to pump through your Ruger 10/22 of other rimfire firearm for sport or hunting? As always, let us know all of your thoughts in the Comments below! We always appreciate your feedback.