Carry the Sun into the Storm! NEW Vortex Optics Sparc Solar Red Dot
Adam Scepaniak 01.07.21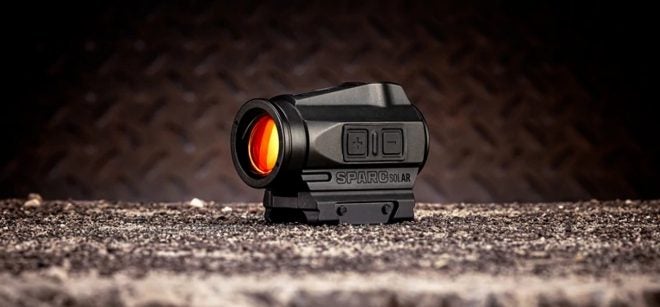 Vortex Optics might be making it rain with new products, but they are fully utilizing the power of the sun with one of their newest offerings. Vortex Optics has taken their Sparc Red Dot optic for shotguns, carbines, and modern sporting rifles and given it the power of the sun. They now have announced their New Sparc Solar Red Dot that boasts an insane 150,000 hour battery life (17+ Years) by utilizing both solar power and an actual CR2032 battery. The new tech built into this improved Sparc Solar will absolutely garner attention throughout 2021. Some of the highlights of the features can be read below as presented by Vortex Optics:
SOLAR POWERED, WITH AUTO D-TEC™ TECHNOLOGY: Automatically switches from solar to battery power
UP T0 150,000 HOUR BATTERY LIFE: Using solar and battery power
MOTION ACTIVATION CAPABLE: Automatically activates with motion after auto shut-off
DAYLIGHT BRIGHT 2 MOA RED DOT: For a clear and precise point of aim


The previously stated battery life is not a typo. This dual solar/battery powered red dot optic has quite possibly the greatest battery life of any red dot optic on the market – by a long margin. The Sparc Solar's Auto D-TEC™ technology automatically switches from solar to battery power when the sun can't power the dot. It also features 10 daytime and 2 nighttime illumination settings with a 2 MOA dot size. For those who might be curious "What's in the Box" with this product, it is as follows:
Tethered Lens Covers
T10 Torx Multi-Tool
Low Mount
Lower 1/3 Co-Witness Mount
Lens Cloth
CR2032 Battery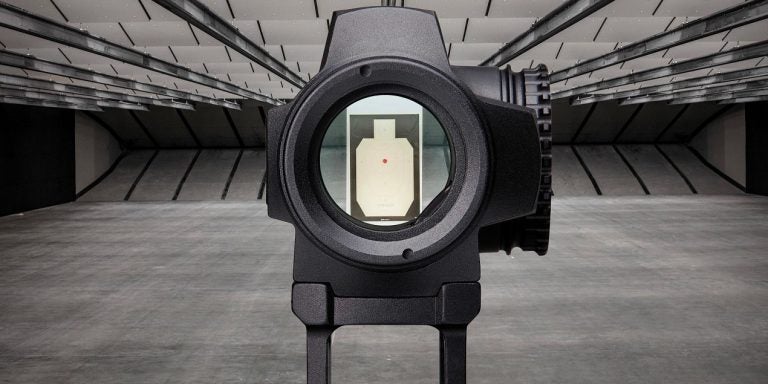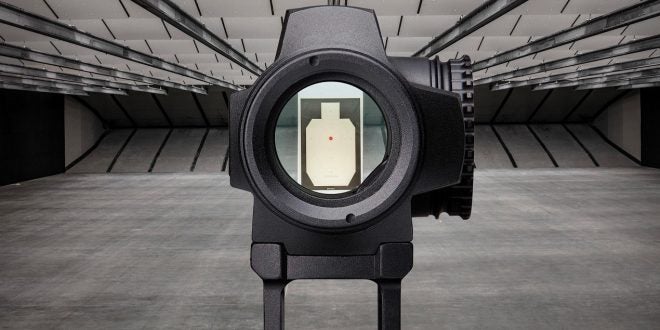 With the solar technology, multiple mounts to accommodate varying heights desired by shooters, and the Vortex VIP Lifetime Warranty you have a definite winner with the Sparc Solar if you are willing to pay the $399 MSRP asking price. With most Vortex Optics products they abound with features and benefits – like a laundry list – and this optic fits into that same category with 12 additional talking points:
MOTION ACTIVATION CAPABLE
SIDE, PUSH BUTTON CONTROLS
WATERPROOF
FLUSH, SNAG-FREE TURRETS
FULLY MULTI-COATED
DAYLIGHT BRIGHT ILLUMINATION
LOW-GLARE MATTE BLACK ANODIZEDFOGPROOF
2 NIGHT VISION COMPATIBLE SETTINGS
SINGLE-PIECE CHASSIS
SHOCKPROOF
14 HOUR AUTO-SHUTOFF
PARALLAX FREE
The firearm industry has no end to the amount of red dots available for shooters to choose from, but it appears Vortex Optics has brought us something authentically ingenious with this compact solar powered red dot. I own quite a few Vortex optics personally and genuinely love them. It will be interesting to see the popularity of this new offering throughout 2021. What do you think? Would you purchase one? As always, let us know all of your thoughts in the Comments below! We appreciate your feedback.