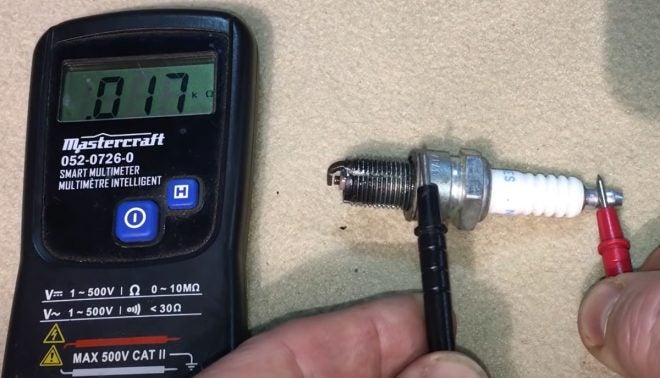 (Image: Screenshot from 'check a spark plug' video)
Small engines are pretty great, and I have gotten a lot of use out of them. They can also be extremely frustrating when they don't work as they should — and because I do a lot of work on Power King / Economy garden tractors as a hobby, I have run into more than my share of small engine problems.
Last summer I sold a tractor to a local guy, and pretty soon he was having trouble with intermittent spark. I wasn't about to leave him hanging, so I loaded up a bunch of tools and headed over to sweat it out in his shed, where the tractor was stuck with a non-running engine. After I tried just about everything else, I made the drive to the closest NAPA store to buy a new spark plug, which cured the problem.
If only I'd known Steve's little trick to check a spark plug, I probably could have saved everyone a lot of trouble by testing the plug even before I made the sale. Alas, the things I don't know are many… but now, I know one more. Watch this video, and you will too.
It's an easy way to test a small engine spark plug, to see whether it has too much resistance (and small engine plugs have different specs than vehicle plugs, FYI), has lost conductivity in the center electrode, or is shorted between the two electrodes. All you need is a multimeter, which you can get for cheap.
When you're troubleshooting an engine that's not getting spark, the spark plug isn't always the problem; there are all sorts of things that could cause a lack of spark. Knowing how to check a spark plug can help you narrow things down more quickly to save your time, money, and sanity.
Now that you know how to check a spark plug, diagnosing your small engine's problems will be a little easier. You're welcome!