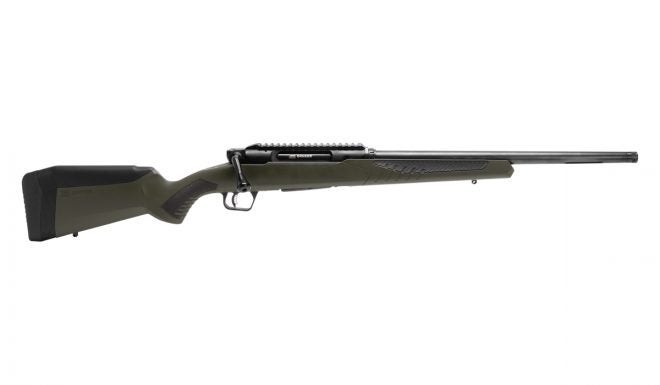 Savage IMPULSE Hog Hunter (Image © Savage Arms)
When it comes to bolt action rifles, Savage Arms is a definite giant. From their solid and sensible beginnings with the ugly-but-effective-and-affordable barrel locknut headspacing that allowed them to gain market share with the most reliably accurate rifles anyone could buy on a budget, they have only moved forward, continuing to raise the bar while adding features.
With their new IMPULSE line of straight-pull bolt action rifles, Savage has entered a new market previously reserved for rifles made outside the USA. The bolt handle can be easily swapped to the other side for left-handed shooters, and the angle of the bolt handle can also be adjusted to the shooter's taste. That, my friends, is cool.
Who cares about a straight-pull bolt action? Anyone who likes accuracy as well as speed; you can run the bolt much faster when all you have to do is pull back, then shove forward between shots. And that includes hunters, especially hog hunters who are often faced with a large group of destructive porkers and need to shoot as many as possible as quickly as possible. Which brings us to the Savage IMPULSE Hog Hunter.
This model is available in short action rounds (308, 6.5 Creedmoor) as well as long action (30-06, 300 Win Mag) but as near as I can tell by comparison, they only offer one length of action. This means a 308 IMPULSE has a receiver just as long as heavy as a 300 Win Mag IMPULSE. Hmmm. The aluminum receiver material will help with weight, of course.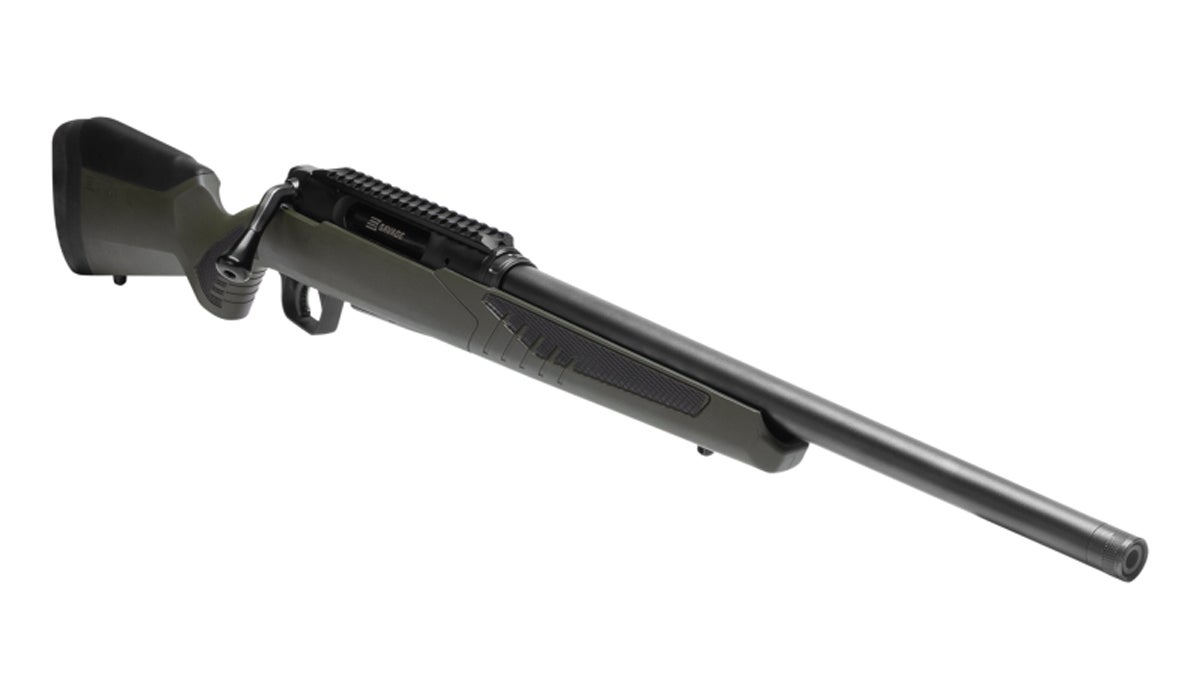 No sights are provided, and the Weaver/picatinny rail is machined directly onto the receiver. The muzzle is threaded (5/8″-24) for suppressor use, and a knurled thread protector is included.
The press release is below.
Savage Arms Debuts IMPULSE Hog Hunter

WESTFIELD, Massachusetts –- January, 2021 –- Savage Arms announces the new standard for hog guns: IMPULSE Hog Hunter. This straight-pull rifle is purpose built for thinning out wild boar. Hogs rarely appear alone, and the speed of the IMPULSE Hog Hunter's straight-pull action and its exceptional balance will allow hunters to get back on target fast.

"Hunting hogs with a conventional bolt action rifle is highly effective, but when there is a large drove of pigs to clear out, the ability to take multiple shots is critical," Jessica Treglia, Sr. Brand Manager at Savage Arms, said. "These new IMPULSE Hog Hunters will allow you to cycle the bolt with lightning-fast precision, stay on target without losing your sight picture, and the compact design is perfect for carrying in the dense brush hogs use for cover."

The IMPULSE Hog Hunter is designed for efficiency. With barrel lengths as short as 18 inches, these rifles are as maneuverable as they are fast. Their heavy barrels manage heat effectively, ensuring accurate follow-up shots. And each of the new IMPULSE Hog Hunter models are chambered for proven .30 caliber cartridges.

The IMPULSE straight-pull action is bedded in an OD Green stock featuring AccuStock®. Savage's AccuFit® technology makes adjusting length-of-pull and comb height almost as effortless as the IMPULSE's bolt throw. And the user-adjustable AccuTrigger® can be set from 1.5 pounds to 6 pounds.

Features:

Straight-pull bolt action rifle
Matte black aluminum receiver and carbon steel barrel
OD Green synthetic stock
AccuStock® and AccuFit® adjustable length-of-pull and comb height
User-adjustable AccuTrigger®
Heavy barrel, threaded (5/8-24")
Round knob bolt handle
Flush-fit detachable box magazine
Integral 1-Piece 20 MOA Rail

Part No. / Description / MSRP

57653 / IMPULSE Hog Hunter 308 Win. 18-inch barrel / $1,379
57654 / IMPULSE Hog Hunter 6.5 Creedmoor 20-inch barrel / $1,379
57655 / IMPULSE HOG Hunter 30-06 Spfld. 20-inch barrel / $1,379
57656 / IMPULSE HOG Hunter 300 WIN MAG 24-inch barrel / $1,379